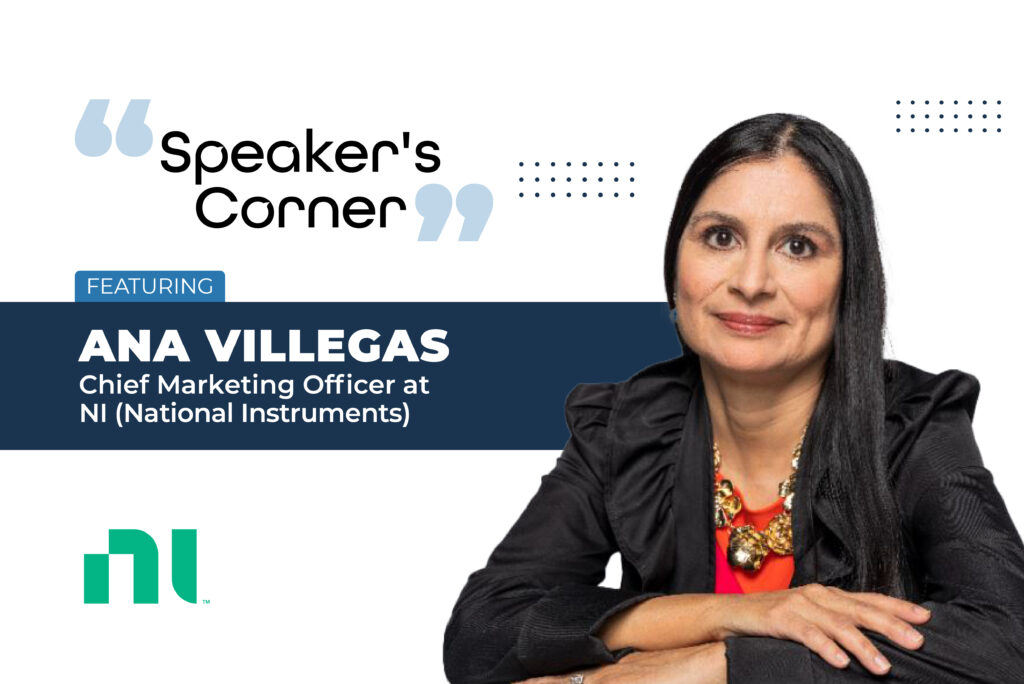 Speaker's Corner: Featuring Ana Villegas, Chief Marketing Officer, National Instruments (NI)
Tell us about National Instruments (NI)…
At NI, we partner with talented engineers and enterprises from around the world to help them push the limits of innovation through the advanced test, measurement, and analytics solutions. Our customers pioneer advancements in autonomous vehicles, 5G/6G, aerospace, life sciences, and other industries, and they use NI solutions throughout the product lifecycle to understand how their products are performing and where improvements can be made. Together with our customers, we're focused on taking on humanity's biggest challenges.
What are the challenges within the engineering industry today? What are the ways we can effectively mitigate risks?
The work-from-home environment we've found ourselves in accelerating the adoption of digital collaboration tools like Zoom and Teams, but it also pushed traditionally analog engineer workflows to more software-centric approaches. At the same time, we're also seeing increased adoption of virtualization, cloud, and AI throughout the product workflow to enable rapid development, prototyping, and testing. This helps companies increase products' speed to market while improving reliability and performance. Many recent innovations born out of necessity in the remote work environment of today will continue. In the engineering community, that means we will continue to see innovation around how they design, test, and manufacture products. The pandemic accelerated the inevitable adoption of previously advanced technologies like cloud data storage and software automation, and we fully expect that to continue.
The COVID-19 pandemic has led to an increase in marketing solutions- what are the trends within the sector?
The pandemic has accelerated digital transformation and brought marketing to the front of the customer experience. This transformation is enabling us to deliver better customer experiences and drive efficiencies with new approaches to engage customers in a more targeted and valuable way.
What is your number one goal as a speaker?
My goal is to share what I've learned and always learn from others. Our work is moving fast and the days where you went to school, got a diploma, and were set for life are over. We need to continue to learn new ways of marketing, and in order to learn from others, we need to contribute and share our own wins and challenges.
Could you share with us the points of discussion (the input that you provided) during the panel(s) at the DMWF Global Conference?
Sure, my talk at the DMWF Global Conference centered on a significant rebrand NI undertook in 2020 and the role the pandemic played in not only our planning and preparation but also the evolution of our story. We learned much about ourselves through the process and the link between brand, corporate impact, and power of being a force for good and hope in challenging times.
As a leader, what are the factors both professional and personal that drive you? What keeps you going?
Leading transformation and helping connect the dots and enabling a better world through my work is what drives me. To get there, we need to embrace diversity and help others along the way move up.
In your opinion, do digital events give you a similar level of feedback/result vis-à-vis the live versions? What would you say were the biggest pros and cons of both formats? Which do you prefer?
I will be very honest: Digital events are not the same as in-person events, but they are a great way to reach more people and remove barriers across the world. You can now join an event in Europe first thing in the morning and join a webinar in China before you go to bed. Doing this before the pandemic hit was impossible. There were very few virtual options and you were limited by what your (or your company's) budget allowed you to spend traveling to events.
In terms of pros/cons, virtual event experiences continue to improve and are enabling people to network with other virtual attendees, which is powerful.
What is your take on in-person events? Do you prefer in-person events as compared to hybrid or virtual? How soon do you think in-person events would return?
I like in-person events because of the opportunities to connect, but I think it's valuable to have access to both. We must continue to learn and evolve our capabilities in an agile way.
In your opinion, what are the top 3 challenges to returning to 'In-Person' events? How could we mitigate risks?
The top challenge continues to be the evolving nature of COVID. There are so many unknowns that it's difficult to predict where we will be in the future, how fast everything (and I mean all around the world) opens up again, and how willing our customers will be to attend in person.
The second challenge is the budget. Will companies still support and invest significant spending on travel for events? Is it a better balance to spend some of the budgets in efforts that give back to the community?
And third challenge is the balance between going back to in-person but still having some of your customers prefer the virtual environment. This means you need to make sure your event budget includes the incremental investment for a hybrid experience.
Eventible has recently launched a B2B Interactive in Person Event Tracker, tell us what you think? Do you think this is useful?
Yes, I find this tracker extremely useful. It consolidates a lot of information that doesn't have a "home" today and makes it easy to learn about in person events happening around the world.
Eventible.com is a review platform specially catering to B2B events. Given how review-driven our lives have become today, do you think reviews will bring in a level of transparency to the events industry? Would you rely on event reviews from other speakers if you had to make a speaking decision?
Yes, reviews are critical to navigating the amount of data/offerings we have in market. I would also like to see a review of the actual tool. Is the information gathering helpful for people? Are the reviews relevant and accurate?
Finally, do you have a favourite mocktail or drink? We'd be delighted to know.
Peruvian Pisco Sour (if you haven't tried it yet, google it, you can find Pisco almost anywhere now)
To visit the DMWF Global page on Eventible, click here. To review the event, click here.