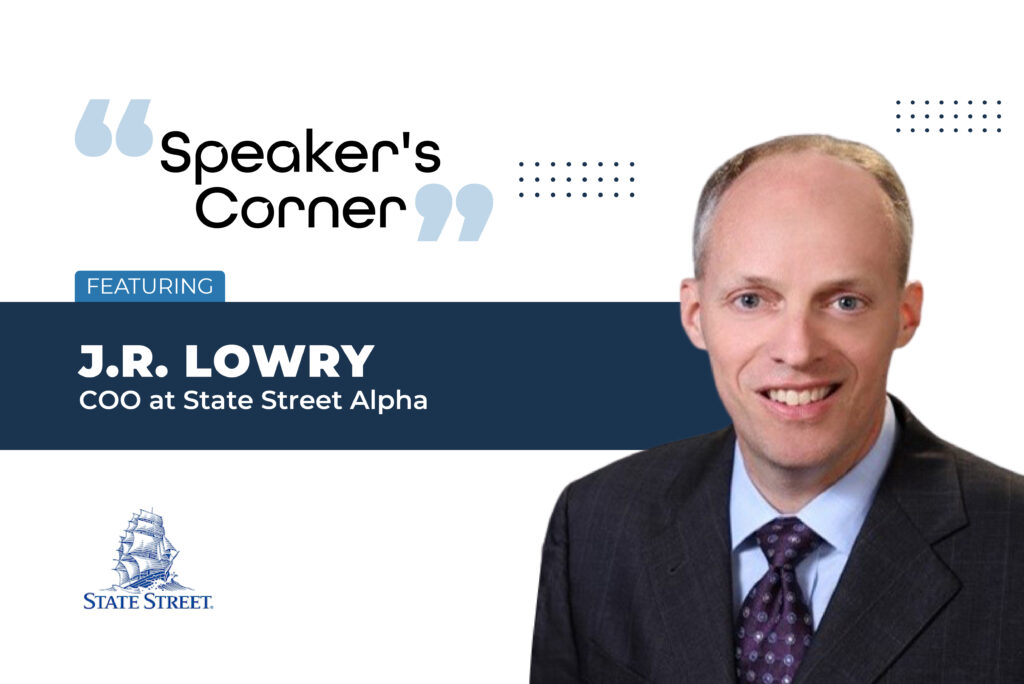 Speaker's Corner: Featuring J.R. Lowry, COO at State Street Alpha
How does having 30 years of experience across financial services and other industries help you in understanding and predicting market trends in today's volatile environment?
Having 30 years of experience means I'm not a young guy anymore! To answer your question, though, I was a management consultant for 12 years before moving into financial services about 15 years ago. During my consulting days, I worked on a large number of projects with dozens of companies across multiple industries, ranging from banking and insurance to telecom, high tech and oil and gas.
This experience helped me develop an ability to assess a wide range of situations – some strategic, some tactical, some crises – recommend a set of actions and mobilize execution. I also saw the Dot Com boom of the late 1990s and got first-hand exposure to how new ventures are conceived and funded and what they need to do to grow beyond the start-up stage.
The subsequent Dot Com bust gave me an appreciation for the hype vs. the reality. My more recent time in financial services – at both Fidelity and State Street – has exposed me to a number of different segments of the investment management industry. Over the past eight years or so, I've had steady interaction with the FinTech market, going back to before we were all calling it FinTech. So, I've seen the areas where new companies have focused in our industry. We've had tremendous innovation in that time period, and that's something that should make our industry proud.
Tell us a little about State Street Alpha, and your role thereof?
State Street Alpha is our integrated front-to-back investment management platform, serving both institutional and wealthy investors. The foundation of Alpha's technology layer is Charles River Development, the portfolio management software provider State Street acquired in 2018.
We've combined that with State Street's full range of services, spanning investment operations, fund administration and custody, data, analytics, and our capital markets capabilities in FX, securities lending, and electronic trading. Alpha is a core part of State Street's growth strategy and is now contributing to a substantial portion of our new sales wins.
Within Alpha, I'm the Chief Operating Officer. In that capacity, I do a bit of everything to help lead the business, including strategy, M&A, key initiative execution, risk management, and business operations.
What is your biggest objective as a speaker?
I'm on the "To Infinity and Beyond" panel with a number of FinTechs. One of State Street Alpha's core tenets is to give our clients choice by enabling an open architecture ecosystem, and that includes partnerships with selected FinTechs. My main objective is to convey how we look at working – the areas that are of interest to us, Fintech characteristics that are important, the different types of relationships we establish, and the ways in which we integrate with our FinTech partners.
Take us through the core points of the panel(s) you are participating in at UK FinTech Week 2021. What are you hoping to accomplish via your session(s) there?
We're focusing on the B2B FinTech space, and I expect the FinTech representatives on the panel will all have unique stories to tell about how their companies were formed, how they've grown since then, and how they work – or want to work – with large enterprises like the one I represent. Related to what I mentioned earlier, I expect we'll focus a lot on that interaction model between FinTechs and enterprises.
As a follow-up, do you feel that digital events give you a similar level of feedback/result vis-à-vis the live versions? What would you say were the biggest pros and cons of both formats?
Obviously, we've all had to adapt to a virtual event environment over the past year. In general, I think our industry – and others – have done a fantastic job in making it work and continuing to engage each other. And one advantage of virtual events is that participants from all over the world can participate in or later watch the sessions without having to travel to an event location.
Still, it's hard to beat the advantages of all being in one location, wandering the trade show floor, stepping in and out of different sessions, having those impromptu conversations, and being able to socialize together over drinks and meals. It will certainly be nice to return to doing in-person events at some point in the future.
As for speaking at virtual events, you don't have the same ability to see your audience and whether you're engaging them or not, other than watching the participant numbers to see if they're holding steady during your session. It's more a leap of faith, and you have to hope that you're coming across effectively.
As you know, our start-up, Eventible.com, is a review platform for B2B events. Given how review-driven our lives have become today, do you think reviews will bring in a level of transparency to the events industry? Would you rely on event reviews from other speakers if you had to make a speaking decision?
Technology makes it much easier to get reviews on events, topics, and speakers. That will help both event organizers and participants make more informed choices. That can only help make events better!
Finally, do you have a favorite/go-to cocktail? What is it?
Since this is a UK event, I'll say that I always enjoy a good gin-and-tonic, though I am usually a craft beer drinker.
To review UK FinTech Week 2021, click here.