Talking events with Michael Fauscette, Advisor & Former Chief Research Officer at G2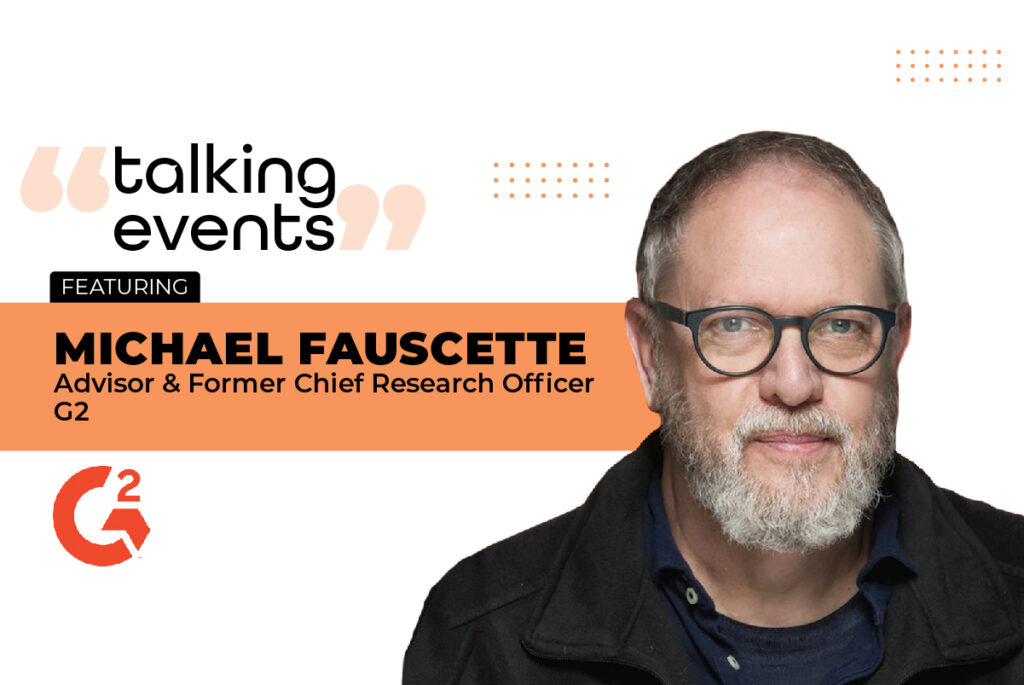 Currently an advisor to G2 and a board member at large at LocatorX. Formerly the chief research officer at G2, where he was responsible for helping software and services buyers use the crowdsourced insights, data and community in the G2 marketplace. Prior to joining G2, Mr. Fauscette led IDC's worldwide enterprise software application research group for almost ten years. He also held executive roles with seven software vendors including Autodesk, Inc. and PeopleSoft, Inc. and four VC-backed technology startups. Mr. Fauscette is a published author, blogger, photographer and accomplished public speaker on business software, customer experience, artificial intelligence, crowdsourced data, online communities and digital transformation.
You have been in software selling and research, besides being a leading speaker at B2B tech conferences and events. How do the learnings from these two facets of your career sync together?
Correct, I started my tech career working for enterprise software vendors including PeopleSoft and Autodesk. I've been an executive in 4 venture backed tech startups as well. On the research side I spent 10 years leading the software application research group at IDC. For the past 5 years I've been in a new type of hybrid research startup, G2, as the chief research officer. The combination of operating roles across a variety of ISVs and 15 years analyzing, understanding and explaining technology markets provides a broad perspective on the future of the tech marketplace and the impact of digital transformation on businesses.

As the former CRO at G2, you had a front row seat during a period of hyper-growth for the business? Tell us a little of what that was like? How did you approach building out your team during this phase?
When I joined G2 in 2016 we had less than 40 people in total and only 8 on the research team. We were just proving out product market fit and still experimenting with pricing and packaging optimization. We had about 66,000 reviews. Fast forward 5 years and we have nearly 400 people, >1.2M reviews and significant recurring revenue growing at 50-100% every year. The investment in resources and effort to scale at that "hyper" rate of growth is and should be a conscious by the executive team. There must be close coordination across all departments to hit company goals for hiring, revenue, website traffic and (for G2) completed and QA approved reviews. In addition, I'd recommend:
Building out an operations team to manage projects, consolidate and centralize administrative efforts, document processes and training, implement required systems and manage departmental goals.
Even though you are hiring quickly maintain the highest standards for your new employees. Better to take a little longer to find the "right" person for a position than to make a bad hire quickly.
Develop an organizational structure and plan that is already setup to succeed at your next level of growth and will scale quickly.
Establish clear and regular communications to all employees. There is a great deal of risk of misalignment when you're all moving so quickly.
I'm a big fan of daily standup department management meetings to feed the communication and maintain alignment.
You obviously need to have the "normal" business systems in place (like accounting, payroll, marketing automation, etc.) but you also need departmental tools like project management, team collaboration tools that facilitate joint synchronous and asynchronous work, open communication tools like Slack, a Wiki to capture and maintain community knowledge, a training tool that can provide just in time lessons on process to the team and any other specialized departmental tools needed depending on your specific function and business.
As a follow up to that I'd love to ask – what was at the core of trying to take all the data that the reviews were bringing in – and trying to turn that into a story, a narrative that would explain to the world at large, the sentiments of the users and the shifts in user preferences? What was the most accepted vehicle you adopted to deliver these messages – a buyer's guide report or something else?
The first step was to establish an organization that had the proper skills to make use of the data. For us that consisted of a market analyst team that had knowledge of the specific tech markets that we covered and a data team (data scientists and analyst) that had the skills to QA, prepare, analyze and visualize the data for use by the market analyst.
We put the whole team through a storytelling with data course and presentations skills training to provide a consistent level of knowledge and a common language and framework. We built out several different vehicles to make the data usable to different constituents. On the live site itself we have algorithmically derived comparison Grids and comparison reports that are real time representations of the data at any given time.
For the tech buyers we built a set of automated quarterly comparison reports based on the review data and algorithms developed and maintained by the data team. We publish over 6500 reports per quarter and growing. For ISVs we built insight reports that combined some automated data preparation with deeper analyst observations and interpretations.
Lastly, we provided access to data and insights reports to financial clients (VC, PE, buy and sell side firms, etc.) that supported their own data team efforts.
As you know, our start-up Eventible.com is a review platform for B2B events – in the times we live in today, where we can read reviews for our software products, service providers, Uber drivers, hotels, restaurants etc. – do you think event reviews will become indispensable for potential attendees in making event participation decisions? Or for speakers and sponsors to see what their peers are doing and then use the data points to inform their own decision making?
I'm a big believer in reviews for most everything, but then I'm pretty biased after my 5 years at G2. I personally use them for nearly every purchase from the restaurant I choose to order dinner to new automobiles. I have a former G2 researcher that is now CEO of a startup that provides reviews for freight shipping providers. Reviews are everywhere. Why wouldn't it make sense for there to be a whole ecosystem of reviews on events and event service providers?
Finally, Michael, tell us about your favorite books from the last year? Is there a book you recommended that all your team at G2 read?
I have a few depending on the audience. For leaders I am a big fan of "the 15 commitments of conscious leadership" by Jim Dethmer, Diana Chapman and Kalley Warner. I also enjoyed and highly recommend "Team of Teams: New Rules of Engagement for a complex world" by General Stanley McChrystal, et al. Lastly I think Reid Hoffman's book on hypergrowth, "Blitzscaling" is a must read for any fast growth startup.