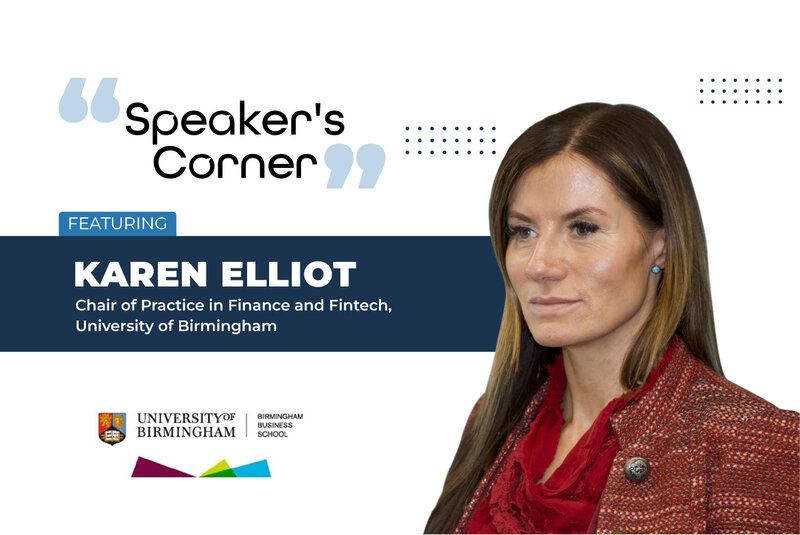 Karen Elliott is a distinguished 'Pracademic' in the field of FinTech, adeptly combining theoretical knowledge, practical application, and business acumen with a focus on Ethically Aligned Design for unbiased ML/AI data. As Co-Director of the FinTech MSc Programme at the University of Birmingham Business School, she shapes future FinTech leaders.
Karen's accolades include consecutive features on the 'Standout #35 Women in FinTech Powerlist' for Policy and Governance, showcasing her influence in FinTech policy. She actively champions ethical practices and equitable finance access, advising Incuto and serving as an impact council member at We are Digital. Karen's leadership is evident in transformative projects, like FinTrust and UKFin Network+, securing £8 million in funding dedicated to ethical AI and trust-building.
Beyond academia, Karen's commitment is far-reaching, from contributing to the Prime Minister's Champions Group for Dementia to driving corporate digital responsibility and supporting initiatives like Planet Positive and Digital Poverty Alliance. As a Zinc Visiting Fellow and RSA Fellow, she aids Founders in creating resilient businesses. Collaborating with CFIT, FinTech National Network, and others, Karen fosters the FinTech Ecosystem's growth, showcasing her dedication to an ethical and prosperous digital future.
In an interview with Eventible, she speaks about her background in detail, her main responsibilities and area of focus, the challenges that the finance and fintech industries face today, and much more!
Can you tell us about your background and how you became interested in the field of finance and fintech?
Karen Elliott: My background is not entirely traditional for an academic. Hence, almost 20 years in the industry, starting with systems testing in pensions management through other sectors. Now full circle in academia after joining Durham University and examining how data and digital technologies (ML/AI) impact socio-technical systems – social, economic, and environmental in the form of Corporate Digital Responsibility (CDR).
As the Chair of Practice in Finance and Fintech, what are your main responsibilities and areas of focus at the University of Birmingham?
Karen Elliott: I am the Co-Director of the MSc in Fintech therefore, my duties involve bringing industry and students together, helping to co-create modules, and providing internships for dissertations. In addition, I am one of the Directors of the UKFin+ Network, which runs until 2027 and is funded by the EPSRC for £2.5m. The focus is to bring academia and industry together in co-creating bids submitted to the Network for funding. In this sense, one of my passions is to create a synergy between theory and practice for better outcomes for the wicked problems facing financial services and society.
How do you see the role of academia in shaping the future of finance and fintech industries?
Karen Elliott: Linked to the above comment, closer relationships to ensure that knowledge exchange can take place and garner the next generation of talent pipeline into the UK industry. This also aligns with our partners CFIT who are developing innovation hubs for Fintech across the UK, and collaboration is the key to helping all citizens benefit from access to finance, thus increasing financial inclusion. This comes from addressing the digital divide in society to provide sufficient skills to reap the benefits in the digital era.
What are some of the current trends and innovations in the finance and fintech sectors that you find particularly exciting or promising?
Karen Elliott: The levels of innovation we are witnessing include acceleration around bespoke journeys for customers using open banking (soon to progress to open finance) APIs. Tempered against innovation, the introduction of ChatGPT requires critical thinking and responsibility. The stories of dystopian and utopian outcomes around data and digital technologies necessitate questioning the purpose of what or whom we are serving, i.e., an exit strategy, funding round, or an entrepreneurial spirit to do a little better for society.
With the rapid advancement of technology, how can finance professionals stay relevant and continuously upskill?
Karen Elliott: In my opinion, we are all part of an interdependent planet, and to stay relevant, we must question the energy we use in the digital era and how we can take personal responsibility in questioning how to continuously learn and create products with ethics in design at the forefront of our minds.
How does the University of Birmingham contribute to bridging the gap between academia and the practical applications of finance and fintech?
Karen Elliott: Relative to an earlier question, the UKFin+ Network is led by the UoB and runs until 2027 with this precise goal at the heart of its objectives. But these will not occur unless awareness is raised and collaboration takes place. As we launched in early July 2023, progress now focuses on growing the network between academia and industry to integrate theory and practice.
What challenges do you think the finance and fintech industries will face in the coming years, and how can professionals prepare for them?
Karen Elliott: During the current crisis level, the financial services (FS) face multiple wicked problems (problems that cannot be resolved but managed by the collaboration of diverse stakeholders). These include digital adoption skills and knowledge, specifically ethics by design, to think a priori about the unintended consequences of the use of ML/AI. Professionals can engage in CPD courses that are on offer via universities, and we are currently developing co-created courses with industry professionals. Environmental, Social, and Governance (ESG) is another major challenge. We have witnessed a change in the weather in the UK as most of the EU experienced extreme heat. The ability to gather, measure, and report realistic metrics for ESG remains challenging for FS. Akin to the Network, we are currently developing a venture with the industry to set up an ESG center where the industry can bring its problems and collaborative answers emerge.
In your opinion, what are the key factors that have contributed to the growth and adoption of fintech solutions in recent years?
Karen Elliott: We reside in a digital era. FS companies, even the incumbent banks, have reluctantly recognized that such solutions are here to stay, and skills must change to harness the innovation that can emerge. The key factor is efficiencies; ML/AI are effective at processing large or 'big' data must quicker than humans. This has reduced the overheads for traditional FS and led to online or digital as opposed to physical solutions. On the one hand, this has permitted humans to tackle the problems that ML/AI cannot and, in essence, be more creative. On the other hand, the accelerated growth has not benefited those displaced by technologies such as cashiers in supermarkets. Furthermore, cohorts in society who reside in the digital divide, i.e., are not connected and pay a poverty premium due to the lack of connectivity or digital skills and are subject to automation of existing bias that compounds the divide. As with all innovations, pros and cons occur.
How important is a collaboration between traditional financial institutions and fintech startups, and what benefits can it bring to both parties?
Karen Elliott: The incumbent FS institutions are large, and they suffer from legacy problems of issues in their technology stack. Hence, the development and agility of smaller startups can complement and provide solutions for the incumbent. Indeed, we have seen mergers and acquisitions to this effect. The Open Banking movement spurred PSD2, and this has benefited both sides in placing the customer at the center of a financial journey (if they do not reside in the digital divide).
What advice would you give to students or young professionals looking to build a career in the finance and fintech sectors?
Karen Elliott: I already do understand the benefits of theory and practice one without the other loses something. Furthermore, the responsibility of future innovation cannot be one based on profit motives alone. This is where CDR enters the picture in being part of the puzzle to ensure that we learn from past lessons and engage in useful products while trying to address the digital divide. Technology is a great enabler when critically evaluated and constructed with philosophical questions in mind.
What strategies do you employ as an educator to help students understand complex financial concepts and the implications of fintech innovations?
Karen Elliott: I ask how they envisage the financial world, bringing FS professionals to enlighten them about what they can expect in the industry. Furthermore, opens them to concepts of complex adaptive systems and wicked problem thinking, how to critically question what we have done and where we can progress. Interdependence is how we survive as humans, and in digitizing society, we have merely automated existing physical products and services primarily for efficiency savings to an extent placing the customer in control with easy-to-navigate apps and services. But we only tend to think about security, privacy, and aspects of preserving the planet when something goes wrong, and we experience to 'darker' aspects of technology – bias, refusal for loans without being able to explain the algorithms and who questions them, etc. To explore the potential and ask how we can do better. Do we really understand how deep and machine learning inform AI – presenting the socio-technical issues and how they can prepare and potentially address them in future roles?
How do you see the regulatory landscape evolving for fintech companies, and what impact might it have on the industry?
Karen Elliott: I am working with fintechs who are using technology to automate the law and regulations into code that can be used, for example, to assist in 'real' ESG assessments.  We work with the FCA and Bank of England as part of the network to understand FS's macro-level obligations and micro-level interpretations. As you point out, this area is 'evolving,' but innovation is enabling part of the answers, which collaboratively we can explore and produce tested viable solutions.
What role does sustainability play in the future of finance and fintech, and how can these sectors contribute to addressing environmental and social challenges?
Karen Elliott: The Centre of Excellence in ESG that we are creating in a joint venture between industry and academia is focused on addressing ESG and SDGs envisaged initially by the UN. Unfortunately, many of the metrics and targets are being 'washed' that is, KPIs are not a true reflection of any aspect of these directives. To tackle ES and G, much work is required; FS in the digital era is only accessible by those who can afford connectivity and, once connected, possess the financial knowledge to benefit fully, not partially. Consumer Duty from the FCA is a step towards addressing the inequalities however, whether this is 'better' is yet to emerge as CD rolls out this year. More is required to address these barriers. At present most equates to 'lip service'.
Can you share an example of a successful fintech project or initiative you have been involved with and what lessons were learned from it?
Karen Elliott: I currently advise multiple startups on their new ventures as a Visiting Fellow of ZincVC. Likewise, I am currently working with funding from Innovate UK to assist several fintechs via student support in solving socio-technical issues in their companies. The lessons I have learned include that all solutions begin and end with people, from DevOps engineers throughout the development process, including testing products/services with a more diverse group of stakeholders. Collaboration is the key ingredient.
How do you stay updated with the latest developments and research in finance and fintech? Are there any particular resources or publications you recommend?
Karen Elliott: To me, every day is a school day in terms of continually learning and updating. Most, whether an FS professional or in academia, resources include hundreds of academic journals across computer science – such as Human-Computer Interaction – see the CHI conference held annually, IEEE journals spanning socio-technical issues. Organizational Theory to examine updates on how change can be implemented. Books authored by academics and industry, such as Advances in AI, i.e., Beyond AI. Online organizations such as ForHumanity, Radix, All Tech is Human, and so forth. Industry sites such as Finextra, The FinTech Times, The Paypers, FinTech Futures…
How was your experience at the Fintech Week London 2023, and what was your biggest takeaway?
Karen Elliott: Fintech Week London 2023 brings together aspects of the discussion above. First, access to the latest thinking from industry, government, and regulators, and consultancies, tempered with academic consultation, presentations, and insights. Second, networking events raise awareness of the UKFin+ Network and demonstrate the benefits of collaboration to enhance the synergy between theory and practice. My biggest takeaway is that responsibility and sustainability are coming to the forefront of the event narratives, similarly, financial inclusion. However, more than words must occur to make more societal impact and proceed to do 'better' in FS.
Eventible.com is a review platform catering to B2B events. Given how review-driven our lives have become today, will reviews bring transparency to the events industry? Would you rely on event reviews from other speakers if you had to make a speaking decision?
Karen Elliott: Ultimately, that depends on a variety of factors, not least the perceived trust of the speaker and in deciding if the content is informative. Many of these are hard to measure because quality is subjective and differs between readers. Personally, transparency is a concept premised on making points clearly and presenting a picture of what is 'reality' as opposed to the 'ideal' status of the industry.