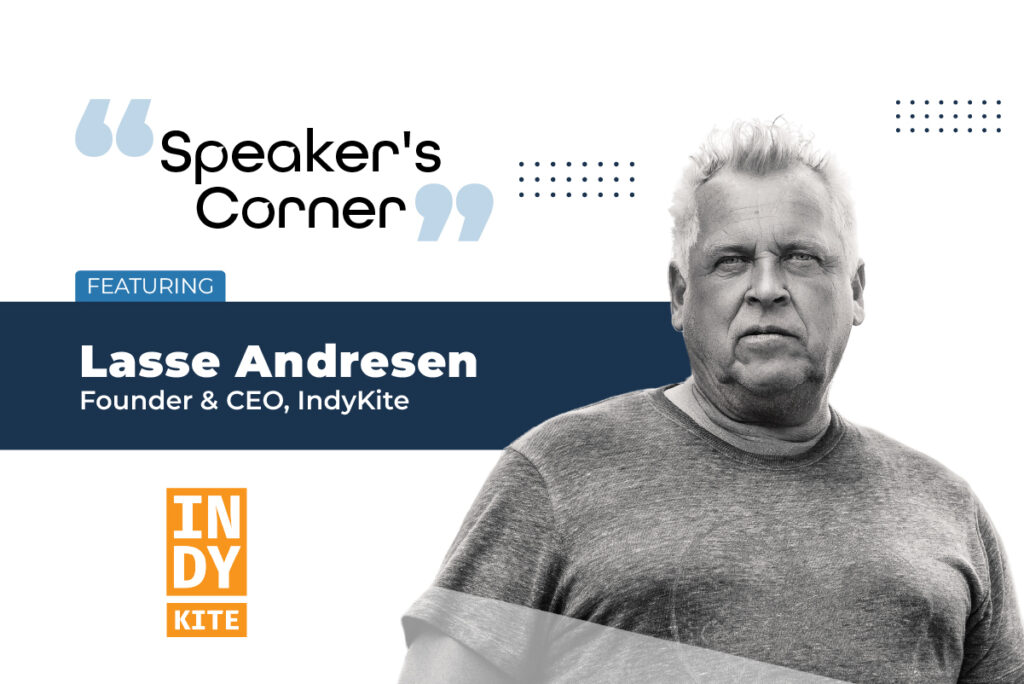 Lasse Andresen is a dynamic and passionate individual who is a remarkable entrepreneur renowned for his boundless creativity and unwavering enthusiasm. With an innate ability to convert ideas into thriving and disruptive businesses, he has established himself as a true powerhouse in the entrepreneurial realm.
In his latest entrepreneurial endeavor, Lasse assumes the roles of Founder and CEO at IndyKite, an innovative startup focused on creating the identity platform for the future, known as Web 3.0. Through IndyKite, Lasse is revolutionizing the conventional approach to Identity and Access Management (IAM) services, shifting the paradigm from mere cost prevention to the generation of substantial business value.
Prior to his current venture, Lasse played a pivotal role as a co-founder of ForgeRock. Under his leadership, the company soared from its humble startup beginnings to emerge as a prominent industry leader. By the time of its IPO in 2021, ForgeRock had garnered a staggering valuation of $2.8 billion, a testament to Lasse's exceptional vision and leadership.
Beyond his entrepreneurial pursuits, Lasse finds solace and inspiration in his passions outside the business world. As an avid keyboard player and cyclist, he embraces the harmonious melodies emanating from his instrument and relishes the freedom and exhilaration of pedaling through scenic landscapes. Splitting his time between the picturesque coastal city of Stavanger in Norway and the vibrant city of San Francisco, Lasse has carved out a life that effortlessly blends creativity, ambition, and a deep appreciation for the arts and nature.
In an interview with Eventible, Lasse speaks about his journey so far as an entrepreneur, the idea behind starting IndyKite, the company's mission and vision, his experience at the European Identity and Cloud Conference 2023, and more! Read along.
Can you tell us about your journey as an entrepreneur and how you came up with the idea for IndyKite?
I've always been full of ideas, and when I see a gap in the industry, I want to solve it. I've been working in the tech industry for a long time, and I've learned a lot about how technology can disrupt markets, provided you are making it better in some way.
I saw this again and again, as CTO in Sun Microsystems, through co-founding and leading ForgeRock, which became a market leader in Identity and Access Management (IAM), and now founding and leading IndyKite. If you make it better, the market wants it. I see a huge opportunity in the identity space to make it better.
New technology and ways of thinking are something I always pay attention to. While I was at ForgeRock, I became good friends with Emil Eifrem, founder of graph technology company Neo4j. Learning more about graph technology, I saw some incredible opportunities for how it could be applied in an IAM context and really change the way businesses think of and handle identity data.
But to really take advantage of it, we need to overhaul the way IAM products are built, using corresponding data not as an add-on but at the core. This is what led me to start IndyKite – I want to develop IAM products that are much more suited to modern applications and ways of working in a way that the market wants them – fast, interoperable, and creating value.
● What unique challenges did you face when launching IndyKite, and how did you overcome them?
There are always challenges along the way when starting something new, but I have a strong belief that if you bring great people together, great things happen. And I see that every day with the team.
We had some tense moments when the Silicon Valley Bank (SVB) drama happened, but we managed to escape unscathed.
Other than that, we have had a strong journey so far, great backing from our investors, a great team, and a really collaborative company spirit.
● How would you describe IndyKite's mission and vision? What sets your company apart from other players in the market?
Our mission is to provide businesses with a privacy-compliant, stack-agnostic, and easy-to-implement layer to their existing set of IAM and data management tools. By doing this, we enable them to take highly sensitive identity data and safely and securely extend and enhance its use – leveraging identity as a force multiplier and a creator of business value.
Building from there, our vision is to unlock the potential of identities on the Internet of Everything. Enabling everyone to achieve value from identity knowledge – creating a new benchmark for transparency, trust, and accountability in the connected world.
We see our uniqueness in how we leverage a connected data core to solve and extend IAM use cases. It means there is more data at your disposal (so you can ask more complex questions), it's more flexible, more intelligent, and allows you to do so much more than you can with current IAM solutions.
● Can you discuss some of the key features and innovations of IndyKite's products? How do they enhance the customer/user experience?
Zooming into IndyKite's flagship product, Knowledge-based Access Control (KBAC), it enhances user experience by leveraging real-world context. This context allows businesses to design new authorization flows based on relationships between people, systems, and things.
So, access/authorization can be granted based on relationships rather than a mix of individual attributes. And it's dynamic with real-time data and external to the applications, making things much easier to manage on the developer side.
KBAC can enable new use cases like third-party or delegated authorization (e.g., for a child to pay up to a certain limit using a parent's account within a supermarket loyalty app).
As a highly granular authorization solution, it also means that the user can have more control over how their data is shared or accessed by third parties and that the UX designers can choose when to ask for certain consents (rather than a catch-all on sign-up).
Zooming out, businesses can use all the enriched and contextualized identity data to enhance business systems, build (or ingest into) recommendation models to improve customer offers, and design better customer journeys. It's a win for businesses and a win for end-users.
● Can you share any memorable success stories or milestones that IndyKite has achieved since its inception?
A favourite for many of the team was our first company gathering in Italy. We are a global, remote-first team, so having everyone come together for a week, stay in a beautiful old castle with incredible food and wine, and collaborate was just amazing.
We've also had some exciting internal wins with products out the door and in use by the industry, the first clients coming on board, the first big event presence, etc. After only 18 months, I'm really excited by what we have achieved.
● What strategies does IndyKite employ to build and maintain strong relationships with its employees and customers?
The most important part of maintaining a good relationship with clients is listening to them. We have spent many hours and traveled great distances to spend time with our clients and workshop their challenges and future roadmap features they want to see. It's always inspiring for us to see how they want to use our products, which helps drive our innovation and development.
● In a rapidly evolving industry, how does IndyKite stay ahead of the curve and continually innovate?
A big part of staying ahead is actually to look ahead. Much of the industry seems only to want to look behind them. We know Web 3.0 is coming, we know decentralization will be popular in the future, we know there are already more devices than humans online, we know data is currency, etc. These are not short-term trends or predictions.
We need to be building technology for the future while still solving the challenges of today.
● How do you approach sustainability and environmental responsibility within IndyKite's operations and product development?
As a software company, we are primarily focused on how we can contribute to a better world via the development of ethical technology.
We have a very strong focus on privacy and user advocacy in developing our products. Security and privacy are table stakes, and businesses need solutions that empower users and protect sensitive information and systems while still creating business value.
● How do you foster a culture of teamwork and collaboration within IndyKite? Can you describe the dynamics of your team?
We have a global remote-first team, but many IndyKiters are based near our three office locations. The team works across time zones and collaborates across disciplines. We have a very social and fun vibe, lots of great coffee and comfy couches, and there's always great energy in the team.
● As a leader, what is your management philosophy, and how do you motivate your employees to perform at their best?
I believe in setting the direction, finding great people, and letting them do their thing.
Finding the right people in a startup often means finding those that can get stuff into orbit, not just maintain orbit. Those that can think strategically and also get their hands dirty. Those with initiative can also work in a team and cheer each other on.
Beyond that, I always give encouragement, support, and feedback and talk regularly to the whole team, both collectively and individually.
I think it's also important to be agile, take risks, and encourage the team to do the same. We have no plan B – but we can adjust plan A as we grow and learn.
● Can you discuss any plans for expansion or new product launches that IndyKite has in the pipeline?
We have just launched an early access program for Trusted Data Sharing that enables granular, user-owned data permission management. This is a really cool new product that solves data-sharing challenges for businesses that work as part of an ecosystem: It's also good news for the end-user: more control and choice with a smoother experience.
● How was your experience at the European Identity and Cloud Conference 2023, and what has been your key takeaway?
EIC 2023 was an incredible conference! I've attended for many years, but being able to introduce IndyKite to the identity world was incredibly fun and special for me.
They even let me on stage with a microphone and let me make inappropriate jokes!
The biggest takeaway was the people – meeting, discussing, and talking with people from all corners of the industry. They are incredibly important discussions and connections that only happen at events like EIC.
You can see some highlights and my keynote here.
● Eventible.com is a review platform catering to B2B events. Given how review-driven our lives have become today, will reviews bring transparency to the events industry? Would you rely on event reviews from other speakers if you had to make a speaking decision?
Yes – reviews are really helpful. There are dozens of events, and unless you've been before, it's hard to know which events deserve your time and are worthwhile.