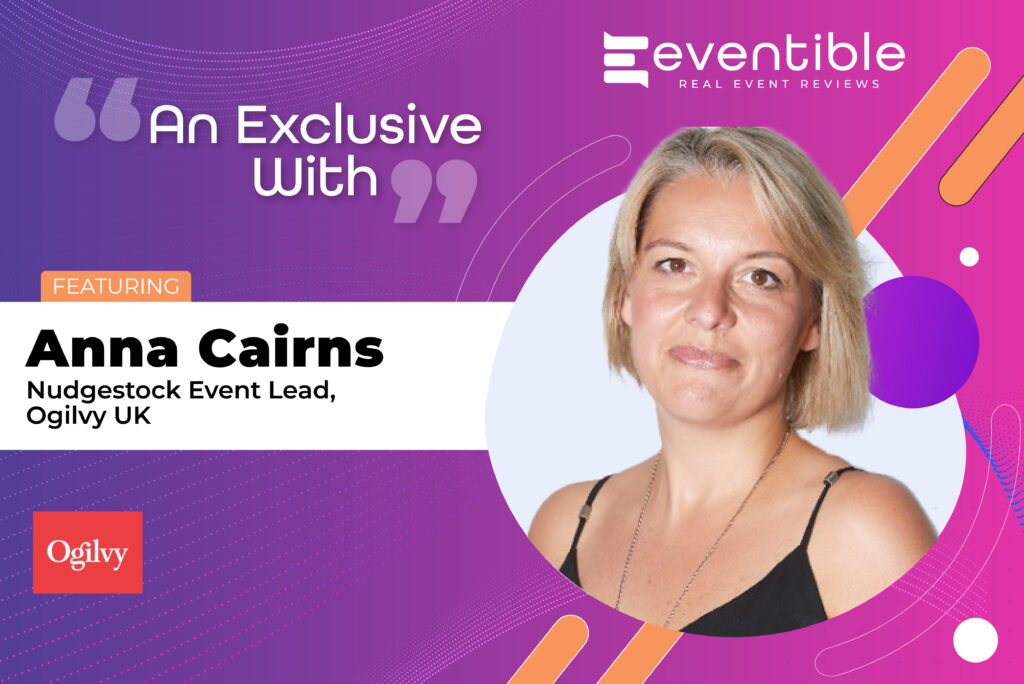 "Social media played a big part in bringing our audience to the Nudgestock 2021 festival" – Anna Cairns, Nudgestock Event Lead, Ogilvy UK
Nudgestock 2021 was applauded not only by its attendees but by a lot of event profs for being user-friendly and being designed and programmed so well. No small feat indeed! What we'd love to know and share with our readers and a wide community of event profs is how you did it, your learnings, observations, and thoughts as you put this event together.
Firstly, going into the event design, what were some of the known perils that you wanted to avoid?
We were aware that there have been a lot of conferences transferring online during the pandemic, and also aware that the world was starting to suffer from screen fatigue. So we wanted to make sure we offered something that was easy to watch and stood apart from everything else.
We opted for a relaxed Magazine show feel and ensuring that we could encourage as much interaction, globally as possible, either through social media, the chat function, or offering ideas to our live workshop that ran throughout the day.
Before any event kickoff, audience acquisition is often a dreaded part. How do you approach this? What were some of the things you decided to do differently here to ensure registration quotas were met?
We were lucky to have a large Nudgestock database we could reach out to and spread the word about the event. With the help of our fantastic network within Ogilvy meaning, we could also share a great comms campaign to all markets. This year was the first year we invested in some great creative which definitely helped in getting the word out.
Once the registration is done, how do you keep the excitement and willingness to attend going in the registrant's mind – there's so much distraction competing with your event – how did you find success here?
Once you were registered for the event you would then receive regular email updates, teasing out the great content we had to offer. Again having a great global comms team spreading the word on Social media helped enormously.
How did you approach audience engagement? What were some of the aspects consciously brought in to ensure audience stickiness and participation?
Social media played a big part in bringing our audience into the festival. We encouraged them to comment on what they had watched and shared their experiences of the day. There were prizes for the best tweets and we had the brilliant Fiona Uwagwu sharing this life on-air throughout the festival.
We embedded the chat function into the stream so the participants we able to come together and comment on the day. It was a great place to network. As part of the chat function, we were lucky enough to have partners Instapanel onboard, their objective was to gather video (and text) feedback from attendees to spotlight during the event, both in the video stream and on social media.
After each speaker, Instapanel posted a questionnaire invite link in the YouTube comments to solicit responses. Lastly, we also included an audience workshop made up of creatives, designers & behavioral scientists who worked together on a new product launch.
Throughout the 12 hour broadcast, we harnessed the power of our audience for inspiration. By the end of the festival, we presented some visualized ideas to the founder & the Nudgestock audience to show the power of disciplines coming together. ​
Post-event, how did you make it easier for your audience to come back to reference material? Do you measure some of these things in terms of audience perusing or coming back post-event to the materials you put up?
Our event live stream was made available immediately after the event on YouTube, and we had bookmarked segments in the 12-hours video, for our audience to click and watch different speakers easily. We also sent follow-up emails to the database to encourage them to watch our videos, and short videos on social to encourage people to get in touch with us.
We worked with our partners to develop post-event content – surveys related to the Big BS Workshop in continuing engagement with Nudgestockers, and also written summaries of Nudgestock which catered to people's different preferences to consuming content. We also were able to track our email click rates and open rates for post-event emails, and have seen increases in our view rates since the event ended.
Finally, I would love to know how you look at and process post-event surveys? How much of that feedback is considered for the design of the next edition?
We were very lucky to have Trinty McQueen as a partner of Nudgestock this year and they compiled an absolutely brilliant event survey for us that helped us understand what worked, what they wanted to see more of, and who attended. Having this information has helped enormously with plans for next year's event.
At Eventible.com – our platform allows event attendees to share their event experiences on a public-facing platform – would you be comfortable with your attendees doing that?
Yes, absolutely, we really value our audience's feedback.