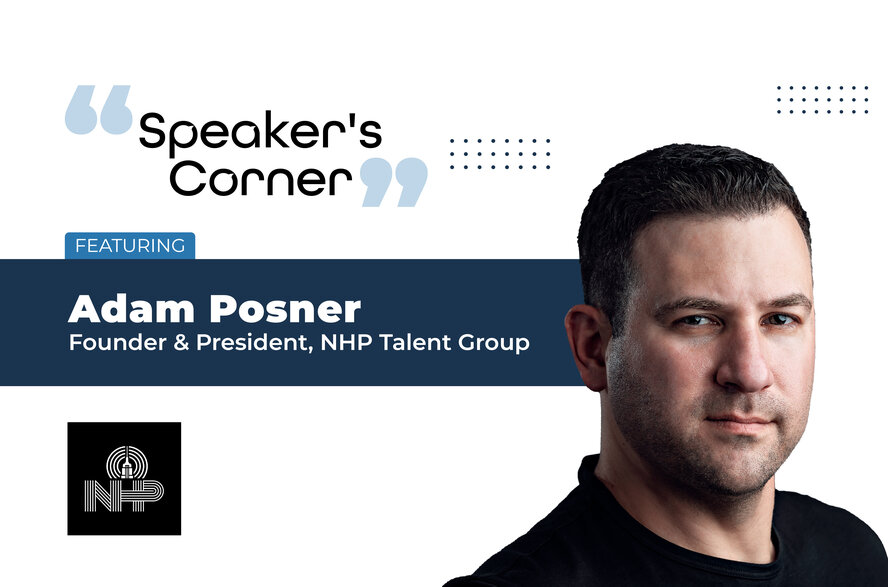 Adam Posner is the Founder and President of NHP Talent Group & Probably Nothing Talent. NHP is a boutique NY-based talent consultancy specializing in talent access for senior-level roles within Digital Marketing, Media, eCommerce, and Product and Content Creation at startups, Creative Agencies, and Brands.
Meanwhile, Probably Nothing Talent, which launched in January 2022, focuses on all Web3-related roles across Blockchain, Crypto, and NFT's.
He is also the host of the top global career podcast, ThePOZcast- showcasing experts to help you harness your inner tenacity to drive your life and career forward.
He has produced and aired over 250 episodes and half a million downloads with top guests like Kevin Smith, Gary Vaynerchuk, Chris Jericho, Kara Goldin, and Tucker Max, to name a few.
Before pivoting into the world of recruiting, Adam spent 15 years working within the NYC advertising and marketing industry. He has led account management and digital strategy at American Express, SIRIUS XM, and digital ad agencies in NYC like VaynerMedia and EP+Co for major Clients like Verizon, Pepsi, and British Airways.
Having worked with such a diverse range of clients has instilled in him a unique perspective to truly understand their Career DNA and ensure a good fit on both sides of the recruiting equation. In addition, he brings expert advisory on the Talent Acquisition process, employer branding, and recruitment operations.
Over the years, Adam has built a strong reputation in the industry by always putting relationships first while balancing his client's business needs and candidates' career goals. A true power connector, Adam has the unique knack to identify opportunities, synergies and connect the gap.
Now after speaking at the World Staffing Summit, Adam Posner speaks to Eventible about his growth strategy, the future of the Human Resource industry, the challenges plaguing HR, and so on an so forth. So without further ado, let's get on with the interview.
What is the story and philosophy behind NHP Talent Group? What was your motive behind starting it?
After working in the NYC ad industry for 15 years, I felt that my strengths needed to be utilized, and I was unhappy. I pivoted into the world of recruiting for marketing, media, and advertising and landed at a great search firm, Onward Search. After two years of learning the art and science of recruiting, I felt confident that going out on my own was the right move, and I haven't looked back. I named the company "NHP", my daughters' initials, so I would always have my north star in focus.
How does maximizing the value of technology contribute to delivering great employee and customer experiences?
Anything that makes an employee's job more efficient and improves communication will enhance their overall employee experience.
What, according to you, is the future of HR? What is the one thing HR must improve moving forward to maximize value?
The most significant innovation is the role of the HRBP (Human Resource Business Personnel). This personnel should be a true HR pro who is deeply embedded within a company's actual business, truly understands the objectives, and can develop hiring strategies based on these and execute them.
How has the COVID-19 pandemic changed the way we work today? What trends do you see coming into force after the pandemic?
If anything, Covid has shown that *most* employees can work anywhere if they get the job done. It comes down to employers giving trust, options, and flexibility. I am happy to see that Hybrid seems to be the way of the future, allowing employees to have a choice and employers to have a central physical office for those who want to come in. As humans, we aren't meant to work in silos; physical human interaction is essential for building authentic relationships in my professional experience.
Please tell us about the rise of Web3 jobs. Given that these roles exist in many industries, including Blockchain, Crypto, and NFTs. What do you think is challenging for recruiters in these newer industries?
The biggest challenge for recruiters will be to keep up with the technology and skills required for these roles. We must always be learning and upping our game. The best way to do this is via interviews with candidates and understanding their background and experience relative to the roles we cover. It's also critical to be able to advise your clients, both internally and externally, on best practices in this new world, especially with so many fractional employees and a global candidate pool in many cases with decentralized workforces.
What do you believe is the biggest challenge in the human resource industry today?
Managing expectations and bad PR.
What factors, professional and personal, drive you as a leader? What keeps you going?
To give more than I take. To always be sharing, learning and growing as a leader to build a fantastic company that I am proud of and employees that truly enjoy working here. Plus, great clients!
Since I am sending you the questionnaire on the day of the World Staffing Summit, I will have to ask you the question in the past tense. How was your experience at the Summit? What was your biggest takeaway from the summit?
The team curated a fantastic day of panels with top-notch speakers. They were well-organized and on top of everything.
Since last year we have seen the comeback of many in-person events. What is your take on in-person events? Do you prefer them over hybrid or virtual?
I love in-person events, especially when I am speaking or moderating. In my opinion, nothing will replace real-life events and networking.
Eventible.com is a review platform catering to B2B events. Given how review-driven our lives have become today, will reviews bring transparency to the events industry? Would you rely on event reviews from other speakers if you had to make a speaking decision?
Oh, 100%. Especially as budgets continue shrinking, decision-makers must evaluate every dollar spent on the learning and industry events. An unbiased review would be invaluable.