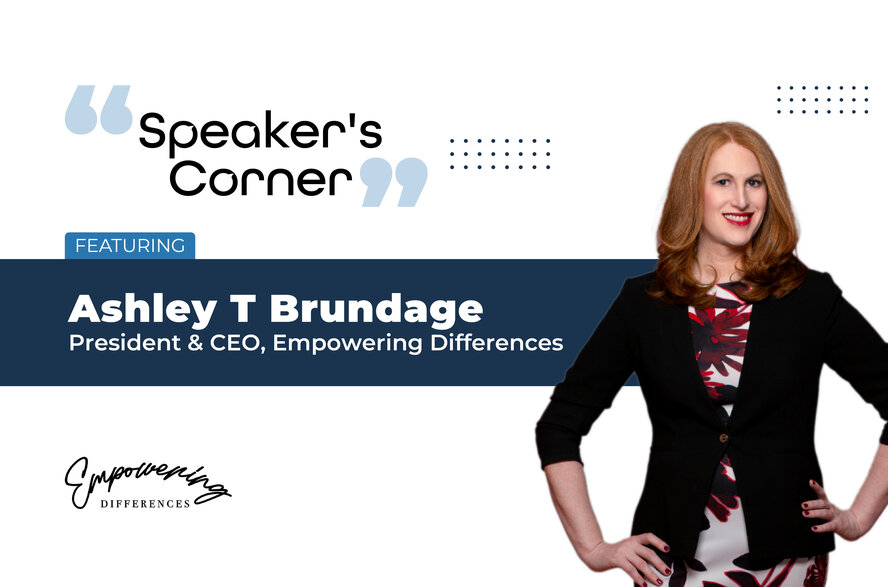 Ashley T Brundage is the President and CEO of Empowering Differences. While seeking employment at PNC Bank in the United States, she identified openly during the interview process as a woman of transgender experience.
Subsequently, she was hired after facing years of harassment, discrimination, and homelessness. These factors led her to start her second career as a means of survival while researching empowerment & differences.
She took a role in the bank as a part-time teller and then rose to national Vice President of Diversity & Inclusion in less than five years. She captured her research as a 4-Step process of empowerment to cultivate change in her new book and online leadership course. Ashley credits her success to those closest to her for providing actionable allyship, including her two teenage sons, Bryce and Blake.
After speaking at the PCMA Convening Leaders early this year, she gets up, close, and personal with Eventible about her journey so far, Empowering Differences, her growth strategy, her book, and more! So what are we waiting for? Let's get started.
What is the story and philosophy behind Empowering Differences? What has been your motive behind starting it?
I decided to research how empowerment was impacted by the top 10 common differences we have as humans after I was forced to overcome harassment, discrimination, and homelessness by choosing to empower all of my differences. Many people I interacted with had concern over my gender difference since I am a proud woman of trans experience, but overcoming my education and socioeconomic class were the ones that needed the most empowerment. This led my research to create a 4-Step Process of Empowerment as a leadership model and all the assessments and other leadership programming my company offers. I leveraged this leadership model to gain employment as a part-time bank teller. Then, I grew my career in 4 years to become the national Vice President of Diversity, Equity and Inclusion for PNC Bank in the United States.
What are the critical factors that have led to the company's success over the years?
Empowerment is very much tied to our framing of how we see ourselves, so people have to be confident that they can grow and accomplish anything they want to do, and personally, I am no different. I needed to know that I could step away from my corporate DEI job at PNC Bank to focus full-time on running my global leadership development training and consulting company. So being confident is incredibly important in any business venture you are jumping into.
How and why do you think it's crucial for companies today to create the right employee experience?
Employee experience is crucial right now because we have so much media and technology at our fingertips every moment. People want to be empowered in everything they do, and they expect the organization is building a plan surrounding this for them. Retention should always be of higher importance than recruiting. You need to think about intentional leadership development programming that features people across all differences so it can resonate on some level with all people.
How do inclusiveness and diversity contribute to delivering great employee and customer experiences? What are the things that must still improve moving forward to maximize value?
Well, I don't recommend using the term diversity at all since it is highly problematic since some people will change the channel when they hear that word because they don't feel it applies to them and they are not diverse. But the definition of diversity is the presence of differences that make us all unique. I recommend building a complete organizational leadership training program that teaches all the concepts found in DEI but framed as leadership for all people, then addressing those that are from historically underrepresented groups by providing them with curated leadership development programming to aid in their career ascension.
How has the COVID-19 pandemic changed the way we work today? What trends do you see coming into force after the pandemic?
I think we are making meetings more inclusive as a by-product of the pandemic. It is more acceptable to have a virtual meeting and hybrid events; these give access to people who might not have been able to be in the room. The technology for these meetings is getting better, and it is also neat to be able to click a button and be in 6 different cities throughout your work or event day. That can bring us together more, especially as we look to more time zones when planning events and gatherings.
What factors, professional and personal, drive you as a leader? What keeps you going?
My kids, most definitely. I have two young men, almost 16-(Blake), and 18 years old (Bryce). They are the whole reason I am still alive today. My boys provide the love, compassion, and support I need to fight each day against inequalities.
You have written a book by the same name- Empowering Differences. How has the overall experience of writing the book been? How have people received it, and what did you take back from that experience?
Publishing a book is way more accessible than it was years ago. I found the experience very manageable, and I recommend hiring a development editor to aid in the process. The book has won a few awards and has 5-star ratings on several websites. Still, the best feedback is the messages of people growing in their careers by using the 4 Empowerment Steps and engaging with the 10 Empowering Actions through all of the ten common differences we have!
What have been some of your growth strategies over the years? What's the one thing that you would like to share with us.
My own annual leadership conference was a crucial element in my growth plan. This set sail in a big way by introducing my conference as the Voyage of Empowerment, a 5-night conference on a cruise ship. I brought together a fantastic group of people for this new conference, and I am looking forward to sailing again from September 16-21, 2023, from NYC to Bermuda.
How was your experience speaking at PCMA Convening Leaders? What was your biggest takeaway from it?
This conference was fantastic; I enjoyed sharing parts of my empowerment research through gender differences. I also enjoyed listening to the other speakers; all the trade show experiences were terrific.
Eventible.com is a review platform catering to B2B events. Given how review-driven our lives have become today, will reviews bring transparency to the events industry? Would you rely on event reviews from other speakers if you had to make a speaking decision?
I would read them but attempt to combine speaking with the person and seeing them talk on their YouTube channel.