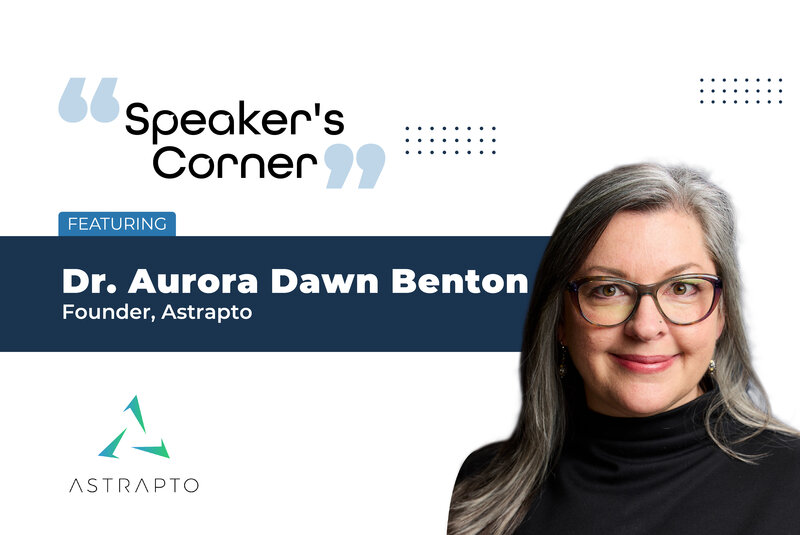 Dr. Aurora Dawn Benton is Founder and Chief Change Maker of Astrapto LLC, which advances positive impact in hospitality, travel, and events. Her passion is making sustainability practical and approachable. Aurora's clients include World Wildlife Fund, Sodexo Live, Direct Travel, Hard Rock International, Accor, Hilton, and the Baltimore Convention Center.
She has been a thought leader in industry initiatives such as the Event Industry Council's (EIC) Sustainable Events Standards and she was the curriculum designer for the EIC Sustainable Event Professional Certificate course. Aurora has a Doctorate in Business Administration in Social Impact Management.
In a conversation with Eventible, Dr. Aurora speaks about her journey so far, factors that drive her professionally and personally, her growth strategies and key takeaways from the recently concluded, PCMA Convening Leaders. So what are we waiting for? Let's get started.
What is the story and philosophy behind Astrapto? What has been your motive and story behind finding it?
Astrapto means to illuminate, and my mission is to shed light on social and environmental issues and empower the workforce to address them. When I started the company, what stood out to me most was how negative, critical, alarmist, esoteric, and elitist the sustainability specialist field came off as. I wanted to be a different kind of voice. The top brand values for Astrapto are to make sustainability practical and approachable.
What are the critical factors that have led to the company's success over the years?

For my clients, to who I deliver training and workshops, I love how I engage every level of the organization in their role in sustainability. I can break down the issue to how it applies to someone who might think they are incapable, responsible, or interested in solving it.

For the clients, I create sustainability strategies, programs, and reports; I give them the confidence to move ahead in what is usually new territory. Again, because I'm so focused on making it practical and approachable, I meet them where they're at. I've been told that I'm more reasonable and less preachy than others in my field. That's not always easy because most companies need preaching regarding their social and environmental performance, but if I do that, I will get nowhere with them.
What factors, professional and personal, drive you as a leader? What keeps you going?

At the heart of what I do is my desire to see everyone have the opportunity for dignity in their work. It's why the very first issues that brought me into this space were providing job opportunities for those with barriers to employment and eradicating slavery in supply chains.

Over the years, I became interested in the environmental side; it's all part of a holistic system. This dignity in work theme also translates into my passion for enabling and empower staff up and down an organization to participate in the effort and joy of sustainability. Through my online green team course, I've helped more than 130 young professionals launch green teams in their place of work.
How was your experience speaking at PCMA Convening Leaders? What was your biggest takeaway from it?

I was pleased with how well attended the sustainability sessions were and to see sustainability initiatives front and centre. Columbus did a fantastic job of leaving a great impression of a city I didn't know or consider visiting before this event.