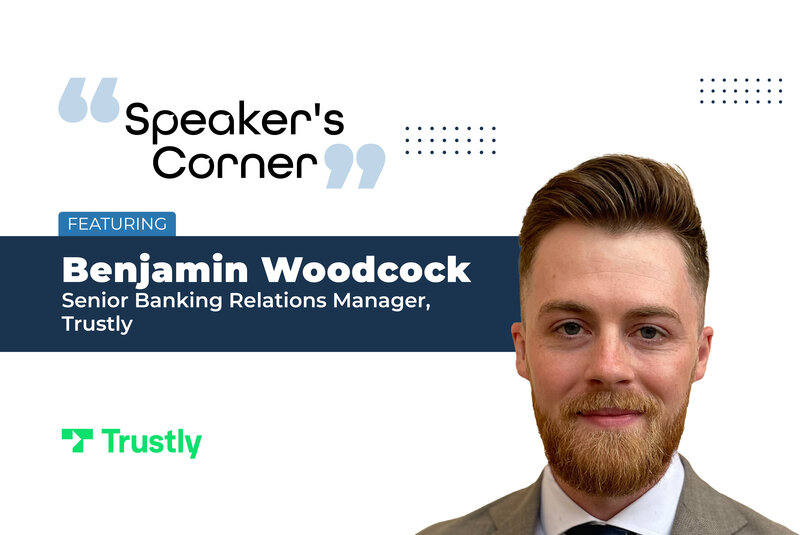 Benjamin Woodcock is a payments expert specialising in Open Banking and payments innovation. As a self-professed 'payments geek', Benjamin has a deep understanding of the payments landscape and industry trends. Having previously led cross-border Instant Payment initiatives at Swift, Benjamin now works at Trustly where he applies his expertise towards the vision of a consumer experience that balances unrivalled UX and bank-level security.
In conversation with Eventible, Benjamin speaks about his journey so far, his role as the Senior Banking Relations Manager at Trustly, ways to facilitate instant Payments at scale and across borders, among other things. So what are waiting for? Let's get started.
Everyone has a story to tell? What's yours? What's your journey so far been like?
Well, originally I intended a career in the British Army. After being part of an officer training scheme in the UK for five years, I decided instead to pursue a career in technology. I started my career at FactSet, working with market data, then to a small hedge fund treasury optimisation fintech. I joined Swift in 2019 as a Product Specialist working on GPI and quickly found my niche. I loved the innovation in payments and working with domestic and regional initiatives. After a lot of learning, in 2020, I took the role of Payment Market Expert and relocated from London to Stockholm to focus on Nordic and pan-European payments. In early 2022 I made the best career move and joined the global leader in Open Banking – Trustly.
So tell us a little about your role as the Senior Banking Relations Manager at Trustly.
As a team, we are responsible for maintaining and growing our relationships with our partner banks, as well as spearheading initiatives that support the proliferation of our products and services, which touch a wide range of topics and stakeholders. I'm focusing on our UK expansion, working together with the UK banks and our commercial leads to build better products for our customers, as well as being involved in several stakeholder groups on behalf of Trustly that are looking to pave the way towards the next iteration of Open Banking in Europe.
Having some payments expertise, I'm also keenly involved in a few cross-functional initiatives which require knowledge of domestic and regional clearing and settlement mechanisms. Essentially, I do what I can to help the company move in the right direction, and it usually involves talking about payments!
What critical factors have led to Trustly's success over the years?
A continuous focus on delivering a better, faster way for customers to pay in / payout, rather than just integrating the basic functionality available in standardised integrations. We started with cross-border transactions, with a plethora of large customers in sectors like investment and remittance, which meant we needed to solve very complex problems early on in our journey; ultimately, we were able to scale from a very stable base. We've also always had strong relationships with the banks, with whom we have both a cash management relationship and a pure Open Banking integration relationship. As a result of these partnerships, and not just being a consumer of their APIs, we have had much more progressive and flexible dialogues, leading to our ability to provide best-in-class solutions in multiple markets.
Can you highlight how we can facilitate instant Payments at scale and across borders?
Banks in all countries and regions must adopt the instant schemes available, such as SCT Inst in the Eurozone, Faster Payments in the UK or FedNow / RTP in the US, and maintain high-quality APIs to facilitate third-party connectivity into them. Within Open Banking, Third Party Providers, whose entire businesses can be built on offering a simple and easy way to connect to these schemes via a user's bank and hence leverage the instant infrastructure, can then widen their coverage and the availability of Instant Payments will genuinely scale. Linking the regional Instant Payment rails is a challenge, but the unique collection model of Trustly allows for a cross-border solution with a local feel. We must also work closely with the regulators to ensure that consumers and businesses are adequately protected without diminishing functionality whilst aligning with the risk appetite of banks.
How can the industry bring more innovative solutions to real-time payments to consumers and businesses?
There are a few factors to this. Firstly we need to be aware of the requests and pain points from consumers and businesses. Real-time payments are undoubtedly desirable, but over what corridors? Which use cases would benefit the most from innovation? We need more comprehensive cooperation among industry actors, including both banks and fintech, to benefit from the super infrastructure that already exists across much of the globe. The holy grail would be cross-border interoperability between instant schemes, which is certainly part of the conversation already.
Secondly, the application of real-time infrastructure towards end consumers needs to continue to develop. Open Banking gives companies such as Trustly the ability to offer a great customer experience, and innovative solutions, to a broad audience based on the functionality of underlying real-time infrastructure, but it's not without its challenges. We have a theoretically aligned region within Europe but see elements of fragmentation with differing rules and customer experiences within domestic jurisdictions. Suppose we can offer a genuinely pan-European real-time payment experience. In that case, this could catalyse growth towards international, cross-border real-time payments in high demand. The upcoming PSD2 (Europe) and PSR (UK) reviews should widen the playing field for coordinated innovation between all actors while protecting consumers and businesses.
What is your vision for the future of the industry you are operating in?
A smooth customer experience will drive increased customer loyalty, catalysing a more comprehensive adoption of alternative payment methods across borders and merchant industries. The acceptance of instant payments for both low and high-value transactions will result in increased operational efficiency and a considerably more streamlined payment process for local and international merchants, solving some of their most long-running and intense issues whilst simultaneously reducing costs. Non-card payment methods, such as Trustly, will dominate the payments space by offering best-in-class experiences for both merchants and customers.
How has the COVID-19 pandemic changed the way we work today? What trends do you see coming into force after the pandemic?
The emergence of hybrid working has helped to close the gaps between teams and has allowed for a level of collaboration unseen before the pandemic. Being able to have employees based within local markets and where there are hubs for specific roles has been of great benefit to companies' ability to develop great products. Local expertise with a global reach seems to be a widely adopted trend.
What factors, professional and personal, drive you as a leader? What keeps you going?
It's easy to stay motivated when you work with such a brilliant team at a market-leading company at the cutting edge of innovation. Knowing that our work has a direct, tangible impact on people is a great feeling.
What have been some of your growth strategies over the years? What's the one thing that you would like to share with us?
I've worked in a few different parts of the industry, and one thing I've always tried to do is prioritise learning. If you see every day as an opportunity to learn, you'll continue to grow and add value. That means leveraging the knowledge of the people you work with, but also other people in the industry. Don't be afraid to ask questions!
Have you set any future goals for the company? What are they?
To continue bringing to market best-in-class products (like Pay N Play 2.0 or Trustly Express) and grow our user base and transaction volumes to help make Open Banking a resounding success in Europe and the UK!
How was your experience speaking at Sthlm Fintech Week? What was your biggest takeaway from it?
It was brilliant. I felt privileged to share the stage with such well-accomplished industry experts and share my take on some really important topics at such a well-organised event. My biggest takeaway was that as regulation changes loom, in this era of customer centricity and technological adoption, we will need to rely on standardisation to have a chance of widespread market adoption.
Since last year we have seen the comeback of many in-person events. What is your take on in-person events? Do you prefer them over hybrid or virtual?
There can be no comparison. Hybrid or virtual events can't hold a candle to in-person events, and it's so exciting to have returned to some form of normalcy on that front!