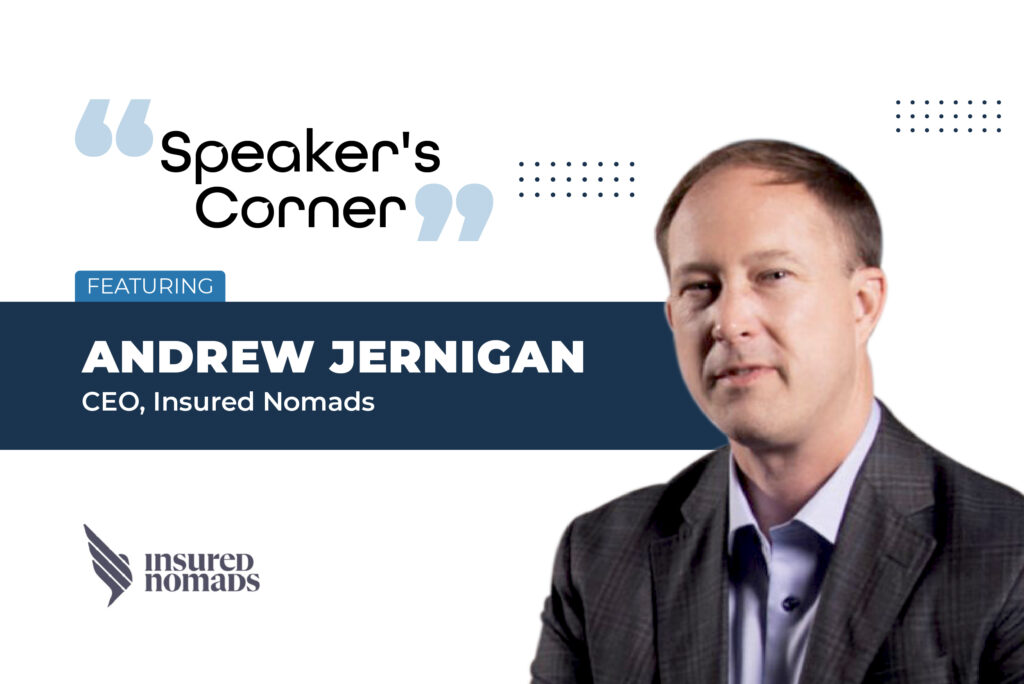 Speaker's Corner: Featuring Andrew Jernigan, CEO, Insured Nomads
Tell me about Insured Nomads, its work and projects…  
We make your travel as safe and smart as staying at home. A global work revolution is underway during a time of significant uncertainty around the world – from health, safety, security, natural disaster, mental health and beyond.  We are using AI technology to empower safe and intelligent remote work and leisure travel.  Cashless insurance as a service, embedded API integrations, GPS tracking for transient work teams, ancillary travel support features, and an engaging community support within an intuitive and simplified customer journey is what we have engineered as the evolution of insurance for the revolution of travel.
What are the challenges within the HR industry today?
The unleashing of the 'work from anywhere' movement has revealed an unprecedented need for both the employee and employer for compliant duty of care programs and insurance for the combination of business and leisure coverage – especially cross-border.
How has the COVID-19 pandemic changed the way you go about business? What trends do you see for the future?
Travel technology solutions for awareness of current situations became a high priority. It led to our acquisition of a traveltech solution, Peanut, which is the best Google Chrome extension in the travel space to know current visa requirements, Covid-19 protocols, weather, and much more. Our native apps have evolved with trip delay reimbursement features, airport lounge access and more since those traveling are facing many more challenges than pre-pandemic.
What is your biggest objective as a speaker?
I love to educate and motivate.
Could you share with us the points of discussion (the input that you provided) during the panel(s) at the Running Remote conference? 
It was a session on Duty of Care, the responsibility a company/organization has for the wellbeing of it's team members. Protocols, policies, procedures, and vendors for the scenarios each person may face whether local or abroad. The use of technology and key collaborations that are needed for a compliant duty of care program were discussed.
 As a leader, what are the factors both professional and personal that drive you? What keeps you going?
My faith fuels me personally and professionally. Life is filled with unpredictable situations so it's key to me to refill my levels of hope on a daily basis. Pairing this with my passion for providing an outstanding service/product while giving generously to those in need are extremely motivating.
In your opinion, do digital events give you a similar level of feedback/result vis-à-vis the live versions? What would you say were the biggest pros and cons of both formats? Which do you prefer?  
In person events are preferred by far as the conversations during the event and the relationships made can often go deeper and further. On the flip-side, I have spoken and participated in well-organized virtual events that were extremely beneficial.
 What is your take on in-person events? Do you prefer in-person events as compared to hybrid or virtual? How soon do you think in-person events would return? 
In person events have resumed and will continue to grow stronger than ever before, while online events will remain a dominant force in the seasons ahead as well. There is fatigue occurring in an over-abundance of virtual events.
 In your opinion, what are the top 3 challenges to returning to 'In-Person' events? How could we mitigate risks?
There are two main factors that will reduce in-person event participation, a) cost of attendance (registration, hotel, flights, food: T&E), and b) cost of time away from the 'desk' working in the business. Keeping fees lower for in-person events through sponsorship, advertising and giving away attendance is highly recommended. Put open time on the calendar for work breaks, and spaces/pods for quiet calls/meetings during the in-person events.
Eventible.com is a review platform catering to B2B events. Given how review-driven our lives have become today, do you think reviews will bring in a level of transparency to the events industry? Would you rely on event reviews from other speakers if you had to make a speaking decision?  
Yes, I value review sites and would like to see this implemented in the event industry.
Finally, do you have a favourite mocktail or drink? We'd be delighted to know.
Caipiroska!
About Andrew: Andrew is justice driven and is passionate about protecting people, those from every country, and every type of work style. He is leading the leading insurtech/fintech solution for global benefits and international insurance to provide the globally mobile with a frictionless solution-set as required for the successful international lifestyle. He partnered with Not For Sale to support their work of providing intervention, rescue, protection and education – empowering vulnerable communities so that the exploitation of humans for trafficking is stopped. Insured Nomads: The evolution of insurance for the revolution of travel.