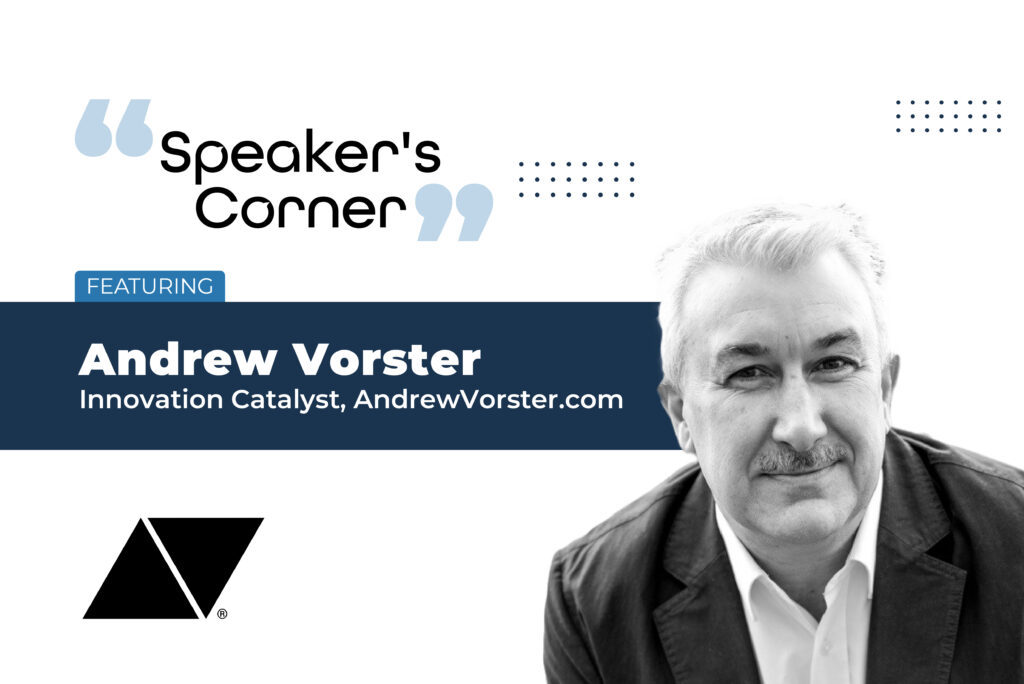 Tell me about your company, its work, and projects…
I'm a "Solopreneur" on a mission to help organisations and individuals THINK and BE more innovative in everything they do.
The long-term success of any organisation is largely dependent on its ability to continually adapt and respond to the constantly changing world in which we exist. Those organisations that cultivate the skills and culture of continuous transformation enabled and accelerated by appropriate governance, process and technology, are best placed to leverage change for competitive advantage and they are able to respond in a proactive manner to the impacts and implications that current and future changes will have on their staff, their business models, their industry ecosystem, consumer behaviours and society in general.
Responsive organisations such as these have the ability to shape the future, as opposed to simply reacting to it.
I'm not a consultant – they tell you WHAT to do (or you pay them to do it for you) – leaving you and your team without the business-critical knowledge and skills necessary to face the future. I prefer to "show you HOW" by sharing frameworks, tools and techniques through keynotes, workshops, mentoring and advisory services.
What are the challenges posed by the industry you operate in?
Ahhhh – I don't work in "an" industry, I work across ALL industries! Over the last 35 years or so, I've worked across Financial Services, Media, FMCG, Oil & Gas, Retail, Food, Hospitality, Travel, Health Care, Manufacturing, the Built Environment and many, many more. The need for innovation, change and transformation is ubiquitous across ALL industries but it might surprise you to hear that some of the biggest challenges are common across every single industry I have ever worked in – I call these "Monsters & Myths".
Monsters & Myths are the biases, beliefs, behaviours, misunderstandings, miscommunications and misconceptions that get in the way of getting things done.
The good news is that the "Magic" required to overcome these barriers and obstacles is most often found within the people that work in an organisation and I have a unique way of unlocking it (shameless plug J)
How has the COVID-19 pandemic changed the way you go about business? What trends do you see for the future?
The pandemic initially had a huge revenue impact on the public speaking side of my business as my entire pipeline of in-person events evaporated overnight when everyone went into lockdown.
It didn't however fundamentally change the way I go about my business as prior to the pandemic, I was already fully set up in my home studio to virtually deliver all my services to my clients across the world, from Jamaica to New Zealand and everywhere in-between.
I think that one positive that came out of the pandemic is that the majority of people are now far more open to virtual delivery and (thankfully) I believe we will see more of a demand for virtual keynotes and workshops.
Of course there is an art to doing virtual right – you can't just simply take what you did in a physical environment and repeat it virtually! Speakers that have never previously delivered in a virtual environment face a steep learning curve when it comes to both technology and delivery of virtual sessions.
What is your biggest objective as a speaker?
To WOW my audience and exceed my client's expectations.
Could you share with us the points of discussion (the input that you provided) during the panel(s) at the FinTech Week London?
I moderated the closing panel titled "The Good, The Bad & The Ugly" at FinTech Week London. The objective was to provoke the audience's thoughts and conversations long after the event was over. We covered: –
Are we talking about the right things?
Are we focussing too much on the "next" before we actually do the stuff that needs to be done?
Can we ban "legacy thinking" please?
Are we "educating" the audience (and should we be?)
What is the point of ESG and D&I metrics if they drive real change?
Can we focus on Blockchain and NOT Crypto please?
As a leader, what are the factors both professional and personal that drive you? What keeps you going?
Constant curiosity, an insatiable thirst for knowledge and a sense of adventure – these are the three primary driving forces in my life.
In your opinion, do digital events give you a similar level of feedback/result vis-à-vis the live versions? What would you say were the biggest pros and cons of both formats? Which do you prefer?
As much as I love technology, I love human interaction even more. In my personal opinion, there is nothing quite like live, in-person interactions.
Digital events are great for reducing our impact on the environment due to travel and there is no doubt about the time saving aspects – but you just cannot recreate the same level of serendipity that takes place in a face to face event – and these interactions are often far more valuable.
The biggest problem with virtual events is the tendency for people to "second screen" by working on something else at the same time as listening to you – their attention is almost always diverted across multiple things at the same time.
What is your take on in-person events? Do you prefer in-person events as compared to hybrid or virtual? How soon do you think in-person events would return?
I absolutely prefer in-person events and they can't return fast enough for me! I've seen a marked increase in in-person events this year and in every single one that I've attended, people have been overjoyed at the opportunity to be face to face once more.
In your opinion, what are the top 3 challenges to returning to 'In-Person' events? How could we mitigate risks?
The obvious health fears over another pandemic are obviously a constant cause of concern for audiences. Being responsible adults will go a long way to mitigating this risk ……
I think there is a heightened awareness of the environmental impact of travel to in-person events post pandemic. I think organisers of large events that attract huge global audiences that travel in to a single location will come under scrutiny. The risk could be mitigated by offering virtual attendance or rather holding multiple, smaller, regional events instead.
There is a danger that many "bosses" refuse to allow their employees to attend in-person events now that virtual events are so common and of course far cheaper for employees to attend. The key here is to ensure that the value of an in-person event greatly outweighs the virtual counterpart.
Eventible.com is a review platform catering to B2B events. Given how review-driven our lives have become today, do you think reviews will bring in a level of transparency to the events industry? Would you rely on event reviews from other speakers if you had to make a speaking decision?
I frequently ask speakers that I know, for their opinions about an event organisation I haven't worked with beforehand. But I'm not sure if I could trust the opinions of speakers that I don't know personally / professionally. While review sites are useful to a point, I am wary about the proliferation of fake reviews and (lack of) honesty that exists on review sites.
Finally, do you have a favourite mocktail or drink? We'd be delighted to know.
RUM is my preferred poison – I love a "Dark and Stormy" to quench a thirst.