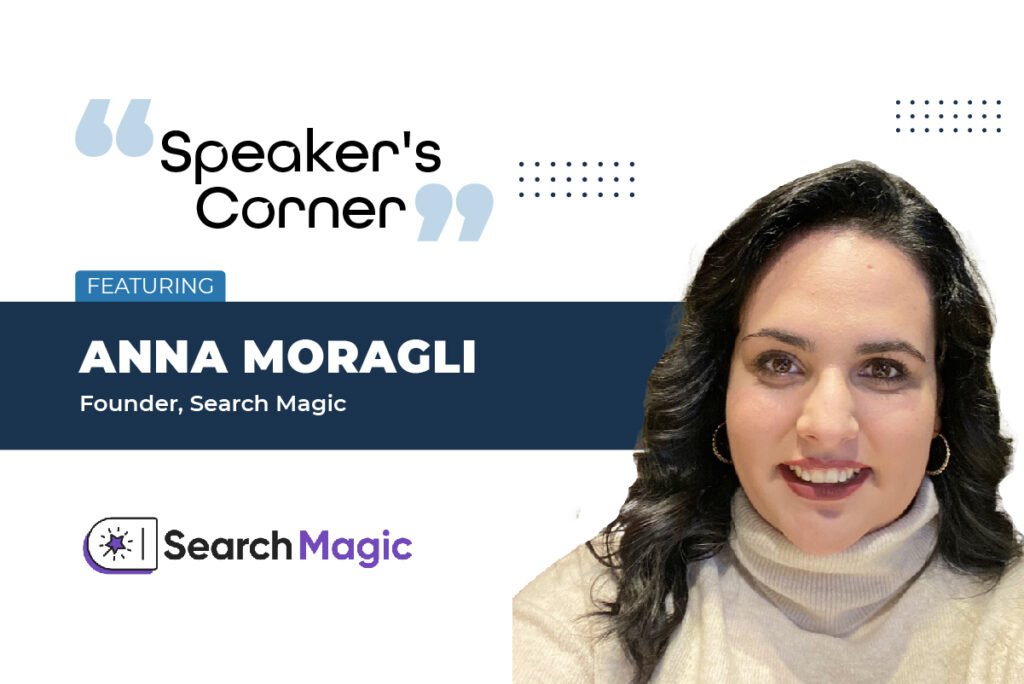 Speaker's Corner: Featuring Anna Moragli, Founder, Search Magic
Cyber & Data Security (aka security breaches.) are key challenges in the eCommerce sector today, says Anna Moragli, Founder, Search Magic.
Tells us more about Search Magic and the value-add or its role in optimizing online e-commerce stores?
Search Magic works with eCommerce and SaaS companies around the world. We help them install our proven SEO system (10+ case studies) in 9 months and add up to 100K additional traffic without sacrificing their budget on paid ads. In many cases, we've helped companies minimize or even substitute their Social Media Ads and budget with SEO, while getting 14x traffic from Organic channels
Tell us about the ways in which eCommerce stores and SMBs can adopt strategy for effective growth in the e-commerce space?
As we're in the middle of a pandemic crisis, the stakes have never been higher for online shops trying to compete with huge marketplaces like Amazon and Walmart. But this could be taken as an opportunity, instead of a problem.
Some of the effective strategies & tactics, I've seen working well:
Implement Google Shopping Ads
Add schema (structured data) in product categories & product pages
Optimize for Voice Search
Create videos for product pages
Optimize product categories & product pages, based on search intent
Make offers & issue coupon codes
Be consistent with newsletter creation
You will need to follow SEO and paid advertising tactics, working together, to nail USer Acquisition and bring the traffic and then you will need Email Marketing & Personalization Tactics to bring these users back to your website and make them buy.
What are the top 3 challenges in eCommerce today? How can we mitigate these challenges and risks effectively?
Back in the day, you could sell just about anything and make tons of money. There was low competition and access to products was limited. Now, Amazon is a major competitor to almost everyone and technology is now affordable.
Some of the biggest eCommerce challenges I've seen are:
Cyber & Data Security (aka security breaches.)
There is a lot of information involved in an eCommerce store and just one minor technical issue with data can cause severe damage to all the daily operations. The solution to this is keeping a data backup and adding some protection plugins from hacking.
Customer Loyalty
Customer retention in eCommerce is a key to success. Having visitors or existing clients that are not coming back to your website is a common issue. As it can cost up to 10 times more to acquire a new customer than retaining an existing one. A solution could be to improve customer service and keep talking to your clients via email, blogpost and SMS.
Converting users into paid customers
This one might be the biggest challenge of all. Your website might have tons of traffic, clicks and impressions but they aren't making sales. To solve this issue , you have to make an in-depth audit and see what are the conversion problems. Then you need to check mobile version, any technical issues, speed.
What is your biggest objective as a speaker?
My goal is to deliver actionable presentations that make my audience understand the topic and make them capable to implement the next day, what they heard. Share knowledge, engage and inspire people, learn new things and connect.
Could you share with us the points of discussion (the input that you provided) during the panel(s) at the Ad World Conference 2021?
Focused on an advanced link building concept, the key takeaway from my session were:
– Why acquire existing websites instead of writing more content or reaching out for backlinks?
– Acquiring for content vs for backlinks
– What industries does this work on?
– Building vs. Buying a Domain: Costs and Benefits
– The end-to-end process for acquiring website assets
– How to evaluate the potential of a website (Calculator of potential new traffic + rankings)
– Finding acquisition opportunities
– Negotiating, closing the deal, and next steps
As a leader, what are the factors both professional and personal that drive you? What keeps you going?
It's not just me and my business partner, Bill, anymore. I have a team to look after and when I look at all of them, they give me the drive I need to make my business grow and scale more each day. I love the process of collecting feedback and making big discussions about how we want things to go. I set specific goals both personal and professional every 3 months, and I just go after them.
Also, one of my biggest motives I think is that I love what I'm doing, and I love even more sharing it with others. It sounds cliche, but it's true. One more source of motivation is my business partner and best friend Bill. I have his support all the way and it's precious to me.
Eventible.com is a review platform specially catering to B2B events. Given how review-driven our lives have become today, do you think reviews will bring in a level of transparency to the events industry? Would you rely on event reviews from other speakers if you had to make a speaking decision?
Definitely would help. Reviews are really helpful to make a decision.
Finally, do you have a favorite mocktail or drink? We'd be delighted to know.
A caipirinha cocktail.
To review the Ad World Conference 2021, click here.
About Anna: Anna Moragli is the Founder of Search Magic and SEO Consultant. She works with companies around the world, helping them implement cutting-edge SEO processes, from link building strategies to site structure and technical setup. Anna has experience in ranking content for some of the most competitive keywords in the world. She has created a sustainable system that drives consistent growth online for eCommerce businesses and SMBs and drives tidal waves of organic traffic. Using this method, Anna scaled one of her eCommerce clients from €20,000 per day to € 50,000 per day in revenue, in just 9 months. And this is not the exception to the kind of results her clients have learned to expect from her. She was the Head of SEO in GrowthRocks, an international growth marketing agency. Anna revamped the entire SEO service, which led to achieving 10+ successful cases. She has also hosted Marketing workshops and training programs like Growth Hacking Academy, Content Marketing Academy and co-founded SEO Academy, having trained 100+ individuals in the last 3 years. Some of the great companies I've worked with: Nestlé, Elle, GE Healthcare, 11888, Xrysos Odigos – Greek Yellow Pages, Septona, Gregorys, Volton, ofarmakopoiosmou.gr.