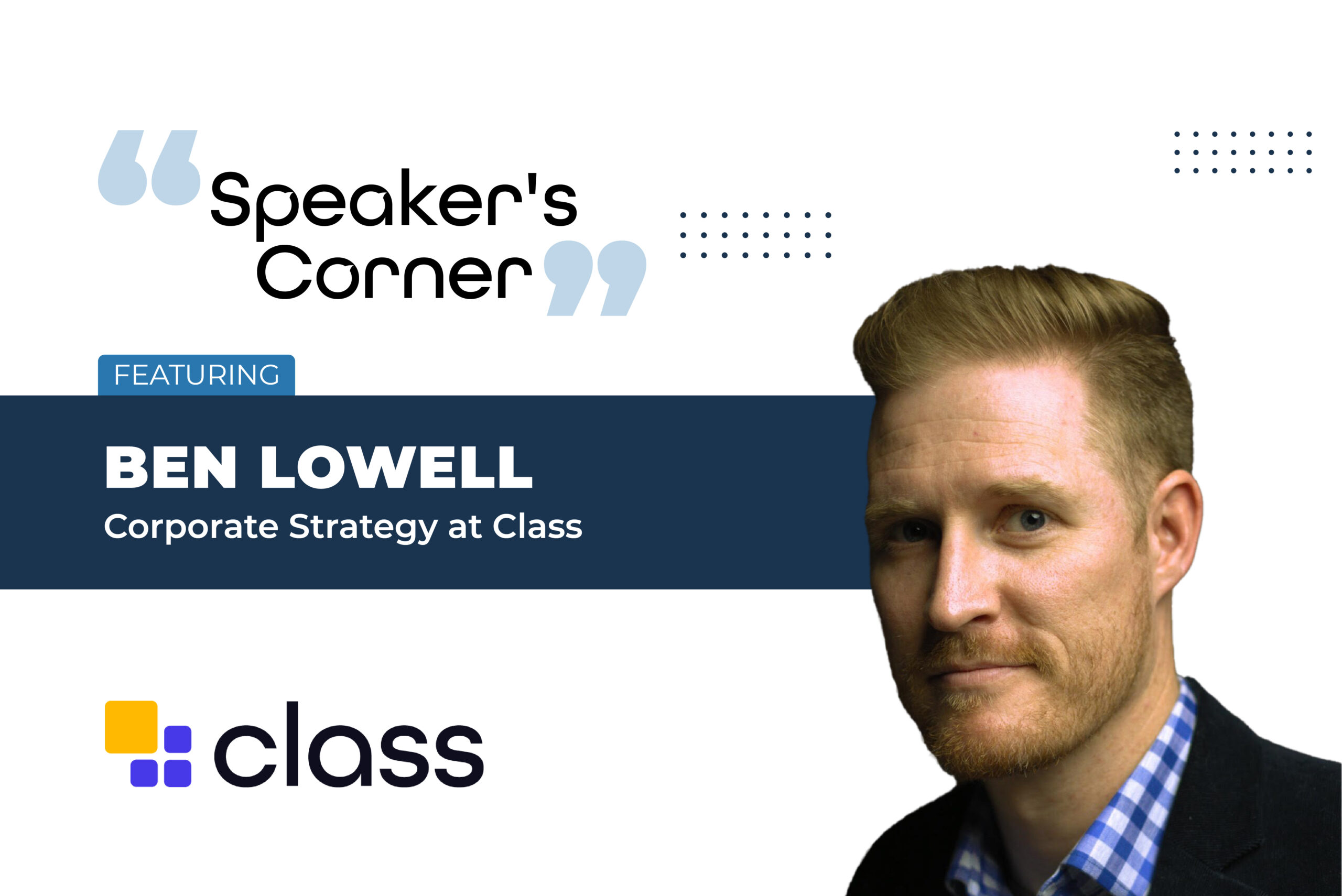 Speaker's Corner: Featuring Ben Lowell, Corporate Strategy at Class
Tell me about your company – it's work and projects…  
Class Technologies is a software company dedicated to enhancing the virtual learning experience. Our founder and CEO, Michael Chasen, is the founder and former CEO of Blackboard and has spent 20+ years in EdTech. During the pandemic, he watched with frustration his kids and their experience with remote learning and from that, the idea for Class was formed.

Our main product is an incredible virtual classroom that works with Zoom. It offers teachers and students an enhanced learning experience while still allowing for the flexibility of remote learning. In addition to a large number of universities and K12 school systems, we have a large number of corporations who are interested in Class for training, educating, and collaborating with their global teams. 
The HR industry is vast and often has its challenges, what are the challenges that most affect your business? Are you engaging in any kind of problem solving?  
HR teams are always looking for ways to improve the learning experience for their employees. The Covid Pandemic has forced organizations to re-think their L&D delivery model. Class is providing a technology that gives facilitators/trainers more.
The COVID-19 and the pandemic has mandated change in the way we go about business and operations. How has this time influenced you? What are the trends you see within the sector? 
Our company was born out of the Covid Pandemic. Many businesses are changing their policies related to remote work. Everybody was forced into remote work during the height of the pandemic, but so many organizations are realizing that remote work is not only possible, but preferred. As a result, remote learning is here to stay. Businesses have adapted to these scenarios and are in need of better technology to more effectively support their employees when not in-person.
Could you share with us the points of discussion (the input that you provided) during the panel(s) at the Diversity, Equity & Inclusion Event?
In the most recent panel we discussed how we can unlock human potential by embracing emotion at work. We concluded that embracing emotion really means being authentic and real with people at work. We don't have to hide our true selves. If we are authentic, our colleagues are more likely to trust us. If we are more trusting with our teams, we will increase team performance and satisfaction. 
As a leader, what are the factors both professional and personal that drive you? What keeps you going?
I am a coach and a creator. My core drivers are impact and creativity. I love helping people identify their strengths and drivers and creatively educate and teach them how to find joy in continuous learning and improvement. 
What is your take on in-person events? Do you prefer in-person events as compared to hybrid or virtual? 
I think it is like comparing apples and oranges. I like both types of events. I don't prefer one over another inherently. I think they both have their virtues and their purposes. I would rather focus on maximizing the impact of both types of events as opposed to selling one over another. Unfortunately, I've participated in poorly executed in-person events as well as virtual events. I've also witnessed successful and extremely impactful events. I would rather understand what characteristics make each type of event more successful. 
Eventible has recently launched a B2B Interactive in Person Event Tracker, tell us what you think? Do you think this is useful?
Conceptually, it sounds like it would be very useful. 
Eventible.com is a review platform specially catering to B2B events. Given how review-driven our lives have become today, do you think reviews will bring in a level of transparency to the events industry? Would you rely on event reviews from other speakers if you had to make a speaking decision?
If I felt like the information and review were credible, I would be very interested in the feedback from other attendees/speakers to help me decide if these events are worthwhile.
Finally, do you have a favourite mocktail or drink? We'd be delighted to know.
My drink of choice would be a Coke Zero or, if I'm in Puerto Rico, a Piña Buena. 
About Ben: Ben has had a variety of learning specific roles during his career including facilitator, instructional designer, Jr High Spanish teacher, director of E-Learning, learning consultant and learning strategy. He has worked in 3 separate educational software companies focused on customer success, consulting, sales and strategy.