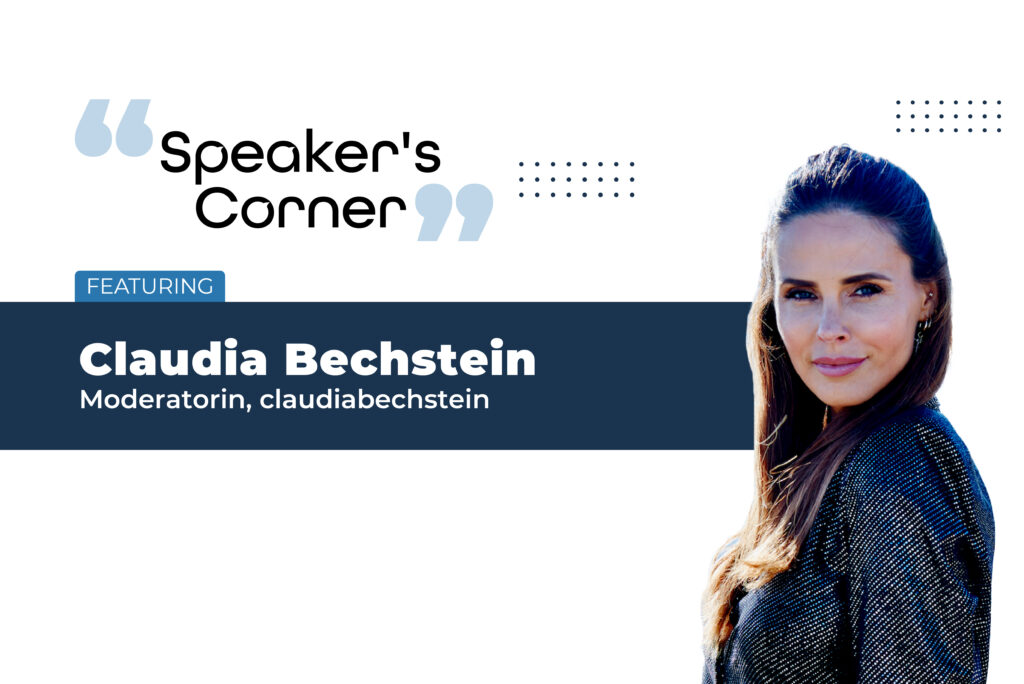 Tell me about your company, its work and projects…     
As a business psychologist (MSc.) and business moderator, I have been leading online, live and hybrid formats for many years. This includes classic events, congresses, galas, press conferences, award ceremonies and of course online and TV productions. In selected topics I really like to host panel discussions, talk rounds, start-up pitches and Q+A sessions. It is these concepts that give me the opportunity to dive deeply into subject areas. I mainly work in tech-oriented industries with a focus on digitalized transformation processes, AI, new work, metaverse, data solutions and of course sustainability on all levels.
Right now I am especially looking forward to the upcoming BESTIVAL in Berlin. One of the most important events for MICE, travel and event businesses. Innovations and sustainable developments are in the focus and I am very excited about the speakers and content and how my city Berlin will develop in the field of tourism and events in the next years.
Being a host and moderator is an incredibly interesting profession that immerses me in new exciting worlds every day.
What are the challenges in the industry you operate in? 
Challenges on the side of my customers clearly lie in transporting their infotainment on various (social) platforms: How can they pass on all the important information to their clients and still create an entertaining event concept. The technical possibilities are developing rapidly. With the use of modern technologies, events can be produced entertainingly and lasting. However, you need good partners at your side who will support you.
On the other hand, as a presenter, I have to constantly educate myself, deal with new technologies as well and, above all, keep up with the movements on the market. Living in a world that changes daily, that is challenging, volatile and complex is incredibly fun for me. Dealing with these components and finding the best solutions for my clients is challenging but also inspiring. The goal is always to implement the best possible event together, which is perceived as a highlight for all participants.
How has the COVID-19 pandemic changed the way you go about business?
The pandemic was very successful for me from a professional point of view. After the first few months of uncertainty, many companies started creating high-quality online events, coming from, ZOOM get-togethers". I have already been in front of the camera a lot before. This experience has helped me to quickly switch to online-only formats. The demand for entertainment, knowledge transfer and infotainment was still very high. Later, after live audiences were allowed again, conferences were implemented in high-profile hybrid concepts.
These formats continue to exist, however, many companies organize live events again, especially during the summer months.
What trends do you see for the future?  
I see many trends, but of course, they all have to do with digitization. As I mentioned at the beginning, technology is constantly improving, effects are becoming more real, more exciting, and more tangible. LEDs have already replaced the green screen. VR/AR is also part of launches and presentations at trade shows. This technology will certainly be used at live events in the future.
Holograms, also in 3D, will replace virtual speakers and experts in the future to avoid long travel. Companies are already developing their own corporate metaverse, where online and offline worlds merge.
What is your biggest objective as a speaker?
At the moment, I continue to steadily pursue my goal of being involved primarily in terms of content. There are some topics from my private and professional environment that inspire me. Financial intelligence, investments and business constructs are a pillar that I find incredibly exciting. I can imagine myself in the future additionally as a motivator and speaker on stage.
Could you share with us the points of discussion (the input that you provided) during the panel(s) at the 'Greentech Festival Berlin 2022' Conference? 

Yes, of course, I am grateful for the question. Because together with the experts on our panel, we want to help to raise awareness for a carbon-free future. "Net-positive impact: business that draws down, cleans up and grows back" was our topic and we discussed various starting points.  Nespresso has been cooperating with the Rainforest Alliance since 2003. In the panel, Marco Lescher, Customer Care and Services Director, Nespresso Germany, went into the individual points of this triple-A program.  Nespresso is committed to regenerative agriculture that not only helps the climate, but also the local coffee farmers what I think is so important.
Therefore Stephanie de Heer, Senior Director – Global Marketing and Communications at Rainforest Alliance was a perfect link for our talk. She is responsible for developing, managing and advancing a strong and consistent brand identity and message for the organization. Exciting – as mentioned – are the cooperation approaches already taken with Nespresso and of course the 2020 certification program.
Bart Oor, Business Developer at The Climate Foundation has been working on a positive, motivational approach in the areas of insecurity in a changing climate and marine permaculture. One topic we talked about is mitigating climate stress in agriculture. Bart shared insights on a project about fertilizing with seaweed in the Philippines: The Climate Foundation was testing and deploying the next phase with the objective of reviving the seaweed farm economy hand-in-hand with local cooperatives and local government. Efforts like marine permaculture mitigate global warming while restoring ecosystems and ensuring food security for billions of people through this century.
Made of Air produces carbon-negative materials to actively address climate change. Allison Dring is Founder & CEO of Made of Air. With her company, Allison develops carbon-negative materials for use in diverse industries. The big trends in the future are in the building environment. In addition, we talked about the biggest challenge in using these new materials, like the upheaval that is being caused here in the classic industry of the plastics tradition.
I hope I could give you some insight into the main topics. The panel was recorded and you can watch the discussion on the Greentech Festivial channel on youtube and learn a lot more from the experts, like that a positive and motivational approach can be implemented much more successfully when it comes to reducing carbon.
In your opinion, do digital events give you a similar level of feedback/result vis-à-vis the live versions? What would you say were the biggest pros and cons of both formats? Which do you prefer?
Yes definitely, but of course that varies from person to person. I am used to not only being live on stage, but also in front of the camera. Often the audience is involved with actions like QA sessions, mentimeters or live viewers. I don't necessarily need a live audience to get a feeling about feedback.
Pro live:
-Direct acting with the live audience
– Direct and personal interactions
– You can immediately recognize the mood of the audience
Con live:
– Content fizzles out and cannot be utilized afterwards
Pro digital:
– Sustainable use and exploitation of all content
– A much larger number of viewers is possible, even worldwide
– Digital events are also more sustainable from an environmental point of view, as there is no need for travel, catering, power consumption, waste etc.
Con digital:
– The personal exchange, handshake among the guests is missing
– Side events or get-togethers after conferences should not be underestimated. here, networks are formed, co-operations are entered into and business  is often done right here.
I clearly prefer hybrid events. The more versatile and interactive, the better!  
What is your take on in-person events? Do you prefer in-person events as compared to hybrid or virtual? How soon do you think in-person events would return? 
We can already see that personal events are coming back very strongly. This year I have already hosted large events with more than 2500 live guests. We are all going to concerts, festivals and trade fairs again. We'll have to see how this develops in the fall and winter months.
In your opinion, what are the top 3 challenges to returning to 'In-Person' events? How could we mitigate risks?
Long-term planning, guest management, downtime costs. These parameters are challenging for every event planner. We have experienced that specifications and guidelines can change quite quickly, events have to be cancelled or postponed. I think the risks cannot be completely eliminated. The summer months are quite good for planning larger live events. Otherwise, hybrid concepts are certainly interesting for some companies, since the event can take place in any case and the recordings or live streams can also be made available to a larger number of guests.
Eventible.com is a review platform catering to B2B events. Given how review-driven our lives have become today, do you think reviews will bring in a level of transparency to the events industry? Would you rely on event reviews from other speakers if you had to make a speaking decision?  
Absolutely! Reviews help to better assess my work and how it is received by the customer. However, we should also get into the habit of not just writing a review if something didn't work out. Praise, compliments are important as well and it helps to evaluate my work and do a good job.
Finally, do you have a favourite mocktail or drink? We'd be delighted to know. 
The virgin mojito with little sugar! Even without Rum It gives you the feeling of drinking a delicious fresh cocktail. I never drink alcohol on the job, so this drink is refreshing and tasty and with just under 50 Kcal it's also okay on a diet perspective 😉
 Is there anything else you'd like to share with us?
Stay positive – in all directions. We live in a VUCA world, change is on our daily agenda. Only if we are able to react in a relaxed and flexible way we will have a chance to survive with our business. In addition to all the adversities we experience in connection with the entire event industry nowadays, we should not forget that in the end it should be fun for everyone. It's important to be understanding if something doesn't go so perfectly.
And this is where I come in: An experienced moderator will be able to solve small problems charmingly. In the end, what counts is not necessarily perfection but the output and how the guests perceived the event.