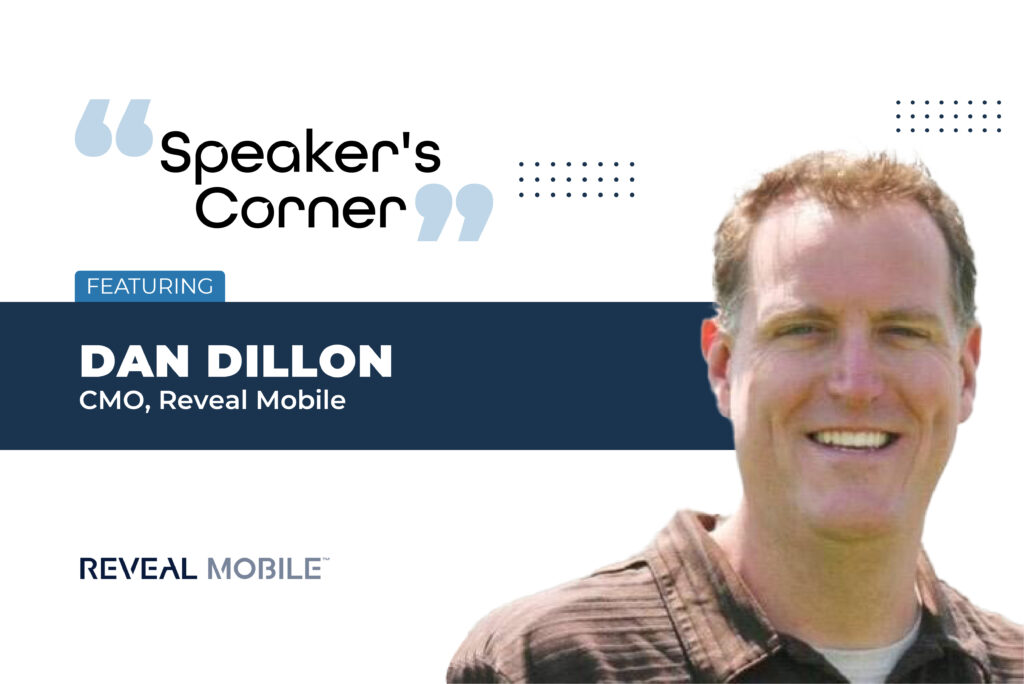 Speaker's Corner: Featuring Dan Dillon, CMO, Reveal Mobile
Tell us about Reveal Mobile…
Reveal Mobile provides agencies, retailers, brands, and media and entertainment companies with a geofencing marketing platform called VISIT Local. The platform gives these companies all the tools marketers need to better understand their customers, reach them based on places they go, and measure the impact of their ads. VISIT Local is the one powerful, easy-to-use geofencing solution that gives digital marketers greater control campaigns. And attribution is built in.
Have there been any changes in consumer behavior due to the pandemic?
We have seen clear shifts in consumer behavior due to the pandemic. While a good portion of commerce has moved online, 80% of all consumer shopping still happens in physical stores. That means marketers are continuing to spend ad dollars on customer acquisition on social media, out of home, programmatic display, OTT, and other channels.
What is your biggest objective as a speaker?
My goal was to educate my peers on how to optimize a traditionally low-performing lead generation channel.
Could you share with us the points of discussion (the input that you provided) during the panel(s) at the B2B Sales & Marketing Exchange Conference?
I shared how Reveal Mobile has used content syndication to generate leads, sales opportunities, and revenue by promoting thought leadership and best practices in geofencing and location-based marketing.

As a leader, what are the factors both professional and personal that drive you? What keeps you going?
What keeps me going is generating a winnable pipeline every day for our sales team. I love being able to attribute marketing investments to top-line revenue. With the channels we run, we're seeing better than 700% ROI on our marketing spend. That means the work my team is doing is bring in $7 for every $1 we invest.
In your opinion, do digital events give you a similar level of feedback/result vis-à-vis the live versions? What would you say were the biggest pros and cons of both formats? Which do you prefer?
Virtual events generally do not deliver the same level of value as in-person events. That said, we prefer in-person events. The highest quality interactions happen when we're in the same room as our prospects and customers. That's true not just in business. It's true for all relationships.
In your opinion, what are the challenges we are likely to face while returning to 'in-person' events?
The main challenge in returning to in-person events is making sure people feel safe. It's the very foundation of Maslow's hierarch of needs, so if we don't feel safe, we really can't do much else. Once people feel safe, the next biggest challenge is reaching buyers on their terms. In-person events are ideal for this because people who attend clearly want to prioritize the event and be present with vendors. The last big challenge with returning to in-person events is partial attendance. Events that used to tout thousands of attendees now are seeing a small fraction of that.
Eventible.com is a review platform specially catering to B2B events. Given how review-driven our lives have become today, do you think reviews will bring in a level of transparency to the events industry? Would you rely on event reviews from other speakers if you had to make a speaking decision?
A review platform for events is very valuable. Generally, marketers have relied on event organizers for testimonials and proof points. Allowing everyone to weigh in on a specific event gives more control to the marketer to know more about each event, the good and the not so good.
Finally, do you have a favorite mocktail or drink? We'd be delighted to know.
I love this question because I'm a teetotaler. Pretty much anything that involves ginger and citrus.
About Dan: Dan Dillon is CMO at Reveal Mobile. He is responsible for all aspects of Reveal Mobile's marketing strategy, execution, and measurement, centered on generating qualified demand, sales pipeline, and MRR. He has nearly 20 years of software marketing experience, with expertise in marketing and sales alignment, revenue marketing, positioning and messaging, content marketing, and PR. Prior to Reveal Mobile, Dan held senior marketing leadership positions at Mobile Reach, Automated Insights (acquired by Vista Equity Partners), Litera (merged with Microsystems and The Sackett Group), Perceptive Software (acquired by Hyland Software), and Cerner.