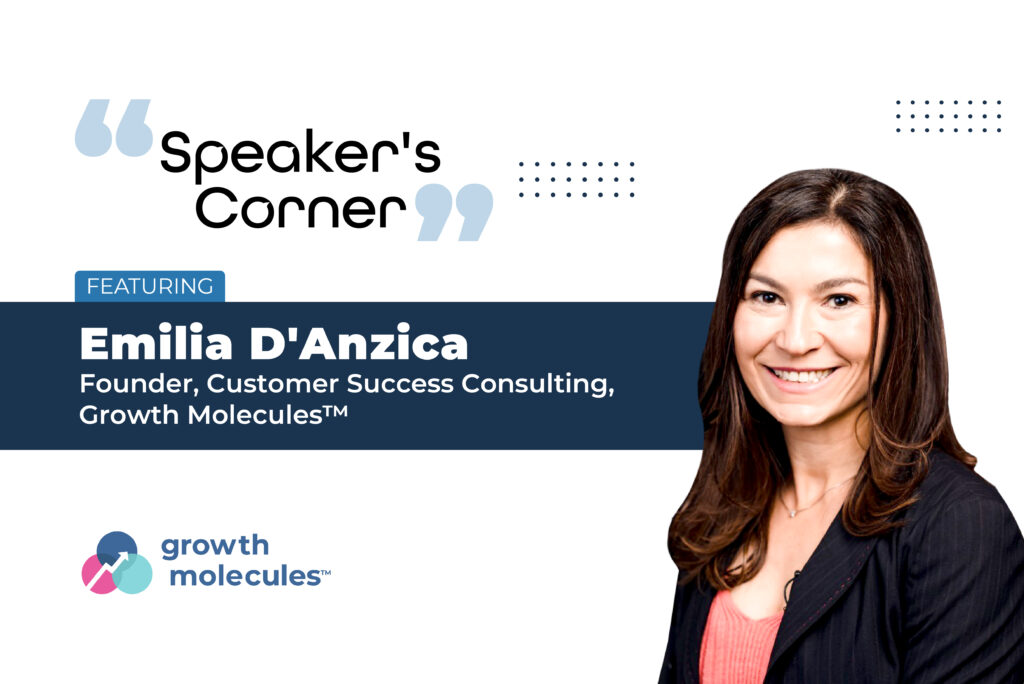 Tell me about Growth Molecules, their work and projects
Growth Molecules™ is a management consulting firm specializing in helping companies retain and expand customers. We focus on business-to-business software as a service (SaaS) companies that are seeking to build and optimize how they ensure product adoption. We offer diagnostics, recommendations, coaching, playbooks, training, and workshops to help you and your company grow. We also have a CSA Accredicated Academy that enables customer success professionals to develop essential business skills.
We have 5-Star Reviews on G2.com and companies like Amplitude, Gainsight, Aurora Solar, and Square as clients.
Top Services that Growth Molecules offers:
1. Assessment and Playbooks: Building tactical and educational customer success programs covering programs from inception to edification. For a smooth flow from implementation to adoption, renewals, and support. We help companies build customer journey maps
2. Corporate Training and Workshops: Delivering virtual, hybrid, or in-person sessions, customized to meet your team's needs. Training and equipping your team for Customer Success Kickoffs, workshops, and customizable learning experiences.
3. Technology Focus: We assess your technology stack and help you select the best-in-class platforms and implement them. As integrations partners, we help you maximize your investment. We have Gainsight & Churn Zero certified experts on our team to support you from onboarding to ongoing enablement.
4. Strategic Guidance: Fractional leadership, board advisors, & executive coaches to provide expert advice to achieve definite goals while evaluating growth capabilities with expert advice. Deep expertise in evaluating technologies, strategies and program.
What are the challenges in the 'customer success' service industry today?
The war and the fluctuating economy isn't helping companies who want to partner with management consulting firms right now. Tech companies are laying off employees, and until a company has a customer retention challenge, they don't seek support from a firm like ours unless they have a churn problem or their leadership is proactive in creating a best-in-class customer experience from the beginning. Seeq, a software with advanced analytics capabilities to the industrial process manufacturing sector, is a good example of a company who we collaborated with from the beginning of their customer success program development and the growth results are incredible. Having more of these success stories to share will help us develop more relationships with companies who are afraid to invest in their customer programs with a company like Growth Molecules™ that has a team of experienced customer success leaders with proven success rates.
How has the COVID-19 pandemic changed the way you go about business? What trends do you see for the future?
It changed because we went from meeting face to face, to meeting over Zoom, and in most businesses we were used to meeting live. We have adapted, Growth Molecules™ Team, by having our meetings via Zoom in respects to our clients whio are still adapting to COVID/pandemic aftermath.
○ Putting together a group of people/team that wants to see the industry scale.
○ Ideally that business could go back to the experiences of doing live meetings, but would be good that all the companies that emerge because of the pandemic focuses on expanding their customer base and rate, strategy and plan a path forward for the marketing expansion side.
What is your biggest objective as a speaker?
I am dedicated to move people emotionally and to share stories that will enable them to be better citizens of the world and to take pride in their positions, regardless of the title. We are all owners of our own destiny and we should be proud of whatever job we hold. Whether
Could you share with us the points of discussion (the input that you provided) during the panel(s) at the 'B2B Rocks 2022' Conference?
Customer Success
It has to be part of your Go-to-Market (GTM) strategy. If you are not, you are leaving expansion opportunities on the table. When you present to boards, share weekly company updates, and host weekly GTM meetings, customer success as a function and focus of the company needs to be addressed. I am surprised by how many CEOs I meet today who say 'customer success is the #1 value' but the experience doesn't reflect what they say. Yet study after study from Harvard, Bain, and others show how customer retention and growth lead to growth. If you are still ignoring the customer experience, you are losing customers.
PLG isn't everything. Culture is.
PLG, Product-led-growth, is an over-used American term that will eventually have its time in Europe. When this jargon was shared at the event, the speaker asked the audience of 200ish people 'how many of you know what the term means?' maybe 5 of us raised our hands. I was at that point smiling because I agreed with the speaker. PLG works for 'some' companies but not all. For complex products, PLG isn't necessarily the best strategy. What I believe is everything is the company culture. It is contagious. It is what powers from the top down. If you have a leader in place that inspires, creates a culture of learning, growing, being curious, and wanting to create a customer and employee focused culture that go hand-in-hand, that is where creativity thrives.
When was the last time you sent your team an eNPS (employee survey), read the reviews, created a task force, and agreed on addressing the top three recommendations to improve customer, employee, and product experience? Each time we work with a client on one of these engagements, we focus on outcomes that achieve the greatest employee retention and satisfaction, customer experience, and what all leaders care about – company growth.
Community
I built my first community at Jobvite in 2008 and since then have built four others at companies, including Brightedge and Walkme. Communities around a common product and helping others while building your Klout, especially during and after the pandemic, is good. We are humans. We seek connection, and if online connection allows interaction around what we are good at, it can lead to company growth – look at Gainsight, High Logic, Salesforce, and many others – all purchased communities to build their businesses. Now is the time to build your own company. Meet your customers where they are, and if you are not in B2B, then online may not be the place…it might be on the golf course, on Meetup, and other places your clients like to be. If you want to learn more about communities for your clients, check out the session with Lloyed Lobo. It was my favorite session.
As a leader, what are the factors both professional and personal that drive you? What keeps you going?
Personal: My most recent adventure is writing and publishing a book, Pressing ON As A Tech Mom: How Tech Industry Mothers Set Goals, Define Boundaries And Raise the Bar for Success, Being a woman in tech is challenging, but being a mother makes it even more so challenging and that is why my co-author and business partner, Sabina M. Pons wrote this book. We want to empower women in the workforce and educate tech leaders about why moms belong and thrive in technology. The book is on Amazon and has numerous 5-Star reviews. I am constantly looking for new ways to develop myself, help others, and be a role model to my three children. As authors of this book we are continuously giving back to the tech community and speak at events, mentoring and supporting women. We are inspiring women to speak up, be okay with not being perfect, and making decisions that help them thrive in tech and as mothers.
Business: Launching Growth Molecules Academy, I never planned on building a CS Academy but how many of us do exactly what we planned to do at the onset of any dream? After empowering over 2,000 customer success professionals in the past year with our education programs, our team has been working hard to create live & on-demand programs to enable professionals at affordable prices. We offer best in-class instruction in a way adults learn with CSA Accredited programs that are actionable and helping professionals improve skills, job opportunities and confidence.
In your opinion, do digital events give you a similar level of feedback/result vis-à-vis the live versions? What would you say were the biggest pros and cons of both formats? Which do you prefer?
Pros of digital events, is the fact that nowadays there are a lot of work from home moms, which allow them to care of their children and family, and at the same time it allows them to work, have meetings (via Zoom), attend conferences and events without having to leave home.
Pros of live events, the connections between companies and co-workers, networking with other people from different industries and communities, also, the fact that many of these conferences are allowing you to travel and see other places.
Cons digital events, a lot of people don't give them enough importance when it's online vs in person, the distraction factor, we are easily distracted with stuff that is going around our house, kids, etc.
Cons of in person events, the fact that people is still scared and afraid of getting COVID (understandable) and the attendance of the events has lower down after COVID.
What is your take on in-person events? Do you prefer in-person events as compared to hybrid or virtual? How soon do you think in-person events would return?
Because of COVID we had to get used to online events, I am used to both virtual and in-person events, however, I rather do in-person events, because you get to interact with other professionals from the industry and you get to know about their company needs, but as I said above it would be good that all the companies that emerge because of the pandemic focuses on expanding their customer base and rate, strategy and plan a path forward for the marketing expansion side.
In your opinion, what are the top 3 challenges to returning to 'In-Person' events? How could we mitigate risks?
The fact that people are still scared because of COVID and now Monkeypox.
The expenses to support an event (travel, hotel, etc.).
That companies need to have a backup plan in place to care for the health of the staff and attendees.
Eventible.com is a review platform catering to B2B events. Given how review-driven our lives have become today, do you think reviews will bring in a level of transparency to the events industry? Would you rely on event reviews from other speakers if you had to make a speaking decision?
Event reviews give people an opportunity to understand if they should invest in sponsoring the event and/or attending. People have dietary restrictions, hotel requirements, and travel limitations so it is important to know early on what they should be expecting. As well, is the event a sales pitch or a rich content driven gathering.
Finally, do you have a favorite mocktail or drink? We'd be delighted to know.
I live in Sonoma County, a wine region of California and I grew up with my father making wine in the Okanagan Valley, Canada, a wine region on Canada. As a result of my upbringing, I typically only drink wine.