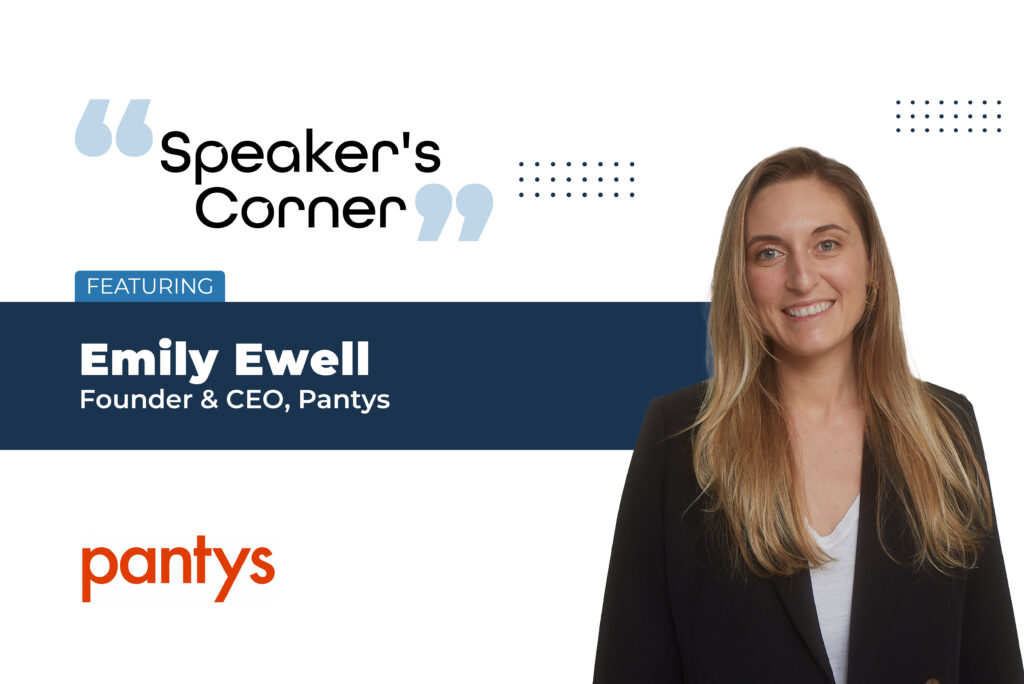 Tell me about your company, its work, and projects…
Pantys is the leading fashion femtech brand in health and sustainability globally. We are a certified B Corp and the first lingerie brand globally to launch carbon labels – making all our products 100% carbon neutral. We launched with a core line of menstrual underwear with our proprietary technology that is the first and only clinically approved absorbent line technology in the world in partnership with Johnson & Johnson. Today, we have the largest Instagram following of any menstrual underwear brand and work closely with our community to help us identify unmet needs and bring new innovations to market. We now offer one of the largest product portfolios with fashion lines for menstruation, maternity, incontinence in intimate wear, swimwear, and a trans boxer for men who menstruate.
When we look at the problems we're trying to solve we look through two main lenses: people (social impact) and the planet (environmental impact). Socially our number one priority is menstrual poverty and through donations and government education programs working to bring access and information to help solve this issue. We also believe that reusable menstrual products will help close the gap on period poverty since disposable products need to be provided monthly, and our products provide access for years (up to 100 uses). On the environmental side we launched with a focus on eliminating menstrual waste and the billions of single use products discarded annually and take over 500 years to decompose.
Over time we started looking at our product lifecycle and became very careful about the raw materials we use. All of our underwear are made with biodegradable fibers Amni Eco Soul, a Brazilian technology, that biodegrade in 3 years vs. 100 years for traditional nylon. We also actively track and work to reduce our carbon footprint so we can offset it from cradle to grave. As a B Corp, we strongly believe in social and environmental accounting, not just financial accounting, as the future of responsible business.
What are the challenges posed by the industry you operate in?
Our biggest challenge has been constant since the day we launched: consumer education. We know that our product brings more comfort, freedom, security, sustainability AND economy to menstrual cycles – so why wouldn't everyone use them? Changing consumer behavior and preferences is one of the most challenging things you can do in a market. Menstrual product preferences are highly cultural as well – if you grew up in the USA or UK, for example, your mom probably taught you to use tampons. If you grew up in India or Brazil, it's possible you have never tried a tampon and perceive "internal" menstrual products as taboo. Fortunately, all traditional menstrual products are used with a pair of underwear – and this is why we believe our product has huge potential to become the largest category in the feminine care segment. We receive messages from customers daily describing how our product has changed how they relate to their menstrual cycle, that they "forget" they're on their period. Our products are also fashionable and fun – which makes menstruation also fashionable and fun. We have girls and teens that come to our store to buy underwear before they are menstruating and leave excited to have their first menstruation – what a revolution! We are dedicated to bringing the reuse movement in menstruation by delivering a world-class technology, cool design, relevant branding and real-life storytelling of the impact we're delivering.
How has the COVID-19 pandemic changed the way you go about business? What trends do you see for the future?
The pandemic dramatically accelerated the shift from offline to online in ALL markets, but profoundly in Latin America. As a region that is more brick-and-mortar, we saw a lot of large players shift strategic focus and media budgets into digital channels. While this drive an ecosystem-wide boom in innovation and opportunities, it also increased competition for digitally-native startups which are now competing with players with larger established budgets in Facebook and Google.

What is your biggest objective as a speaker?
My largest objective is to inspire others to see Pantys as a true example of how companies can do well, while also doing good. Sustainability isn't a marketing tool for us to try to sell products – it's 100% build into the DNA of our company. Impact and creating real relationships with customers, enables us to build communities around the lifestyle shift from disposables to reusables in the feminine hygiene and fashion industries. It is such a privilege to be able to share our journey and inspire other young entrepreneurs and bright minds to make the future of commerce with a stakeholder mindset and therefore, more conscientious.

Could you share with us the points of discussion (the input that you provided) during the panel(s) at the Fórum E-Commerce Brasil 2022?
I shared a case of our SEO journey as the first player in Latin America for menstrual underwear. We have the first position for all key words in Google "menstrual underwear" "absorbent underwear" and as a result have as many searches for our brand "Pantys" as the entire category in Brazil. We have done very diligent work to support our organic and branded search relevance and this has been a primary driver of our overall marketing efficiency.

As a leader, what are the factors both professional and personal that drive you? What keeps you going?
Since a young age I decided to dedicate my life to working in healthcare. I am 100% driven by impact. As long as we are making a difference in people's lives – through more comfort, ressignifying menstruation, delivering better health, eliminating millions of disposable menstrual products from landfills – we are going to have a business. Coming from a corporate background, I had a "cushy" lifestyle working with talented teams all over the world. However, many large corporate projects do more to promote people's careers than necessarily deliver real market impact. Having the ability every day to see the impact we are building with Pantys is what motivates me personally and professionally. I also love building relationships with our team and partners which have been a huge part of our success.

In your opinion, do digital events give you a similar level of feedback/result vis-à-vis the live versions? What would you say were the biggest pros and cons of both formats? Which do you prefer?
Post-pandemic, I think we'd all say digital is 99% as good as a live event. In many cases the time saved with travel is more sustainable and efficient and makes many events possible, even with a busy schedule.
What is your take on in-person events? Do you prefer in-person events as compared to hybrid or virtual? How soon do you think in-person events would return? I think in-person is coming back strong as people are "excited" to get together. I spoke last week at the DigiTalks event in São Paulo and was overwhelmed by the number of questions and people that came up to speak to me afterwards. If digital can replicate this level of engagement moving forward – I believe hybrid will be the way forward!

In your opinion, what are the top 3 challenges to returning to 'In-Person' events? How could we mitigate risks?
In person events are (1) a huge undertaking to organize (2) very expensive and (3) have geographic restrictions that limit the possibility of speakers and participants.

Eventible.com is a review platform catering to B2B events. Given how review-driven our lives have become today, do you think reviews will bring in a level of transparency to the events industry? Would you rely on event reviews from other speakers if you had to make a speaking decision?
Absolutely! It can be hard to gauge the quantity of viewers, audience profile and overall quality of an event if I haven't previously attended. It would be wonderful to hear other speakers' feedback before committing to talk.

Finally, do you have a favourite mocktail or drink? We'd be delighted to know.
French martini