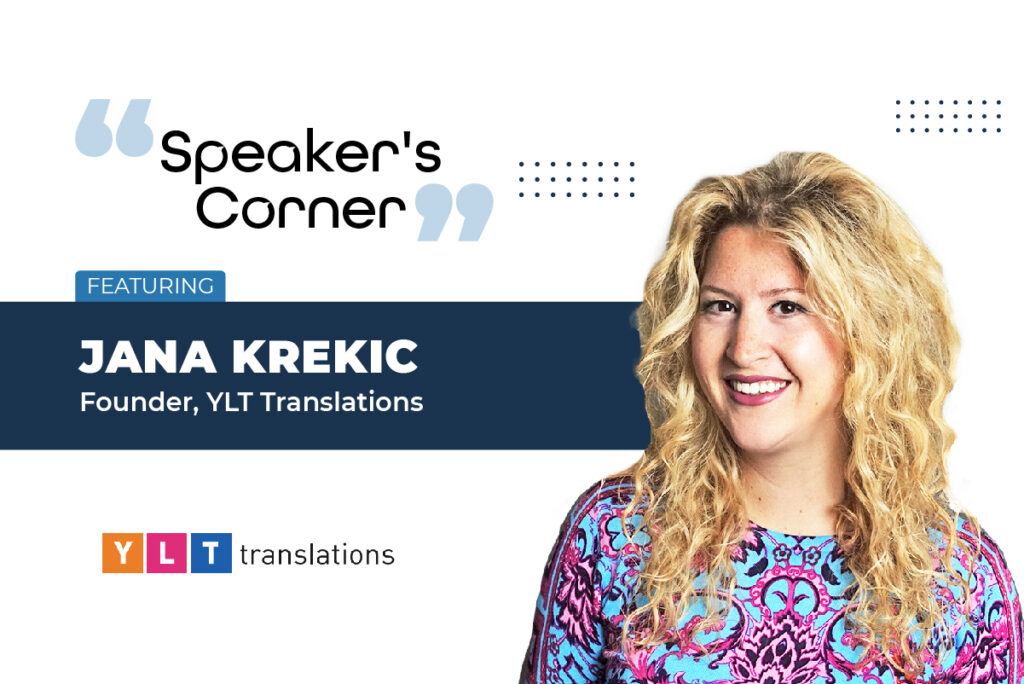 Speaker's Corner: Featuring Jana Krekic, Founder, YLT Translations
In the e-commerce sector, being out-of-stock is a key challenge owing to the pandemic-induced supply chain delays, says Jana Krekic, Founder, YLT Translations, in her interview to Ranjana, Managing Editor, Eventible.
Tell us about YLT Translation's core business? What are the regions you cater to?
We are an Amazon dedicated translations agency that helps sellers expand to all global marketplaces. We don't do regular translations, we offer localized and optimized sales copies, so sellers can boost their sales. We help sellers expand to UK, Germany, France, Spain, Italy, the Netherlands, Sweden, Poland, Mexico, Japan, Canada, UAE and Brazil.
What are the regions you cater to? What are the key challenges within the e-commerce sector today?
There are many challenges, but one of the most important ones is to be never left out of stock. Many sellers are struggling with pandemic-induced supply chain delays that have raised freight costs and kept popular items out of stock. Also, freight costs have gone up, and this is also affecting sellers' inventory.
We are moving digital at a very fast pace, what are the trends we are likely to see in the next few years?
The trends I see are:
Diversifications and not putting all eggs in one basket.
It's going to be very interesting to see how Amazon will handle cryptocurrencies on its own platform, and the rumour has it they are going to create their own.
TikTok becoming an amazing sales channel
Creating more environmentally responsible brands
What is your biggest objective as a speaker?
I want to try to bring international marketplaces closer to sellers' mindset. To deliver unique and interesting content that sellers can apply to their business immediately. To make them realize what are the main steps and mistakes when expanding to international marketplaces with help of various case studies and numbers.
What are the points that you will be discussing during the panel(s) that you are participating in at the Ad World Conference 2021? What are you hoping to accomplish via your session(s) there?      
My talk was something not a lot of people know about TikTok – TikTok's ads and how they can help you scale your business in a way you have not heard of before
As a leader, what are the factors both professional and personal that drive you? What keeps you going?
I have a big team of 60 team members, and when I look at all of them, they give me the drive I need to make my business grow and scale more each day. Apart from my team, every 3 months I set our OKRs and I tend to check on them every week – this is where I set my goals, and sometimes when I don't feel that motivated, I like to revisit some of the old ones and see how much we have accomplished. I have a lot of energy and I always need a place to channel it. What helps me with this is to exercise with my personal trainer. I also love meditation and dancing.
In your opinion, do digital events give you a similar level of feedback/result vis-à-vis the live versions? What would you say were the biggest pros and cons of both formats? Which do you prefer?
First of all, I can't wait for the live events to finally start taking place. Online events have their own charm, but they can in no extent compare to the live events. Live events are not only talks and content, they are networking and meeting people and your clients face to face. Nothing can replace that. And that is my favorite part in all the live events – meeting people and networking to late hours.
Eventible.com is a review platform specially catering to B2B events. Given how review-driven our lives have become today, do you think reviews will bring in a level of transparency to the events industry? Would you rely on event reviews from other speakers if you had to make a speaking decision?   
I think Eventible.com is a very interesting platform. I would definitely love to check the feedback of a conference that I want to attend. I would think of it as a Glassdoor for conferences.
Finally, do you have a favourite mocktail or drink? We'd be delighted to know.
My two favorites are JD on the rocks and prosecco.  
About Jana Krekic: Jana is a certified translator, international speaker, e-commerce consultant and also the founder of a 7-figure Amazon dedicated translations agency – YLT Translations.  She has had over 5 years of experience working with various 7 to 9-figure Amazon sellers and is very passionate about her work. Recently the agency has partnered up with the fastest growing unicorn – Thrasio. Jana was also a business development manager in one of the biggest North European online eCommerce platforms for 8 years where she had gained a lot of experience with online businesses. She doesn't only lead the team of 60 people, but also completely understands E-commerce and Amazon and has created an Amazon dedicated translation agency that helps sellers scale their businesses across different international marketplaces.
You can follow Jana here, also to review the Ad World Conference 2021, click here.