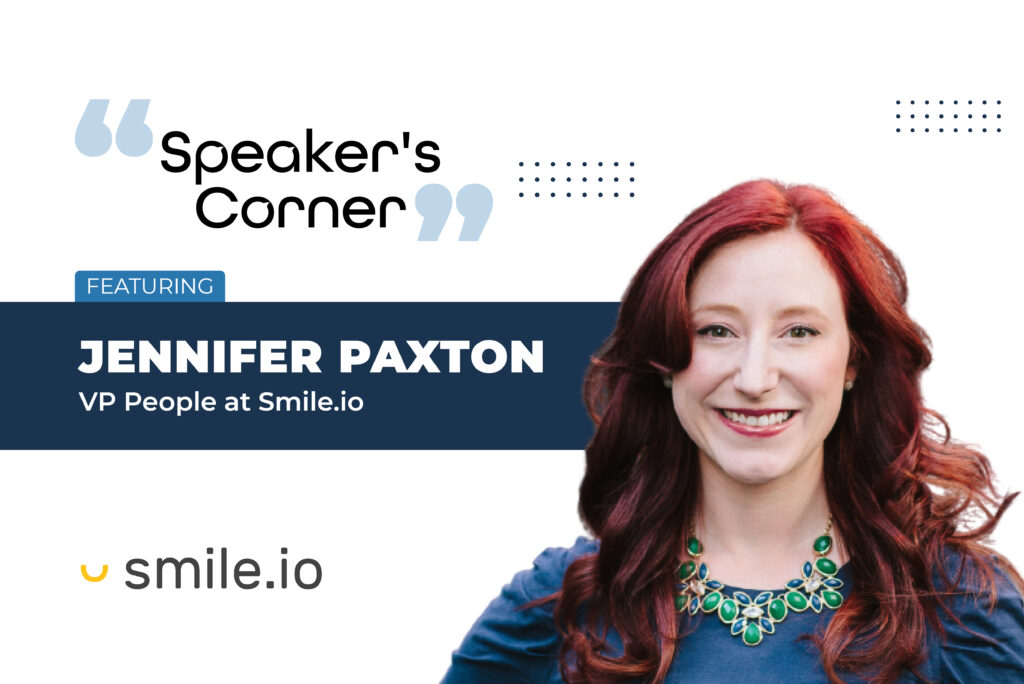 Speaker's Corner: Featuring Jennifer Paxton, VP People at Smile.io
Tell me about your company – it's work and projects…
Smile.io is the world's largest loyalty platform, providing easy-to-use reward programs that help scaling ecommerce brands transform one-time sales into repeat, loyal customers. Over 80,000 brands use Smile points, referral, and VIP programs to maximize their acquisition efforts and turn transactional purchases into passionate brand advocates that can't help but come back again and again.
 The HR industry is vast and often has its challenges, what are the challenges that most affect your business? Are you engaging in any kind of problem-solving? 
Smile is a fully remote, globally distributed team so one challenge that we will always face is keeping the balance between synchronous and asynchronous communication and continuing to foster a sense of community as of teams grow and as we add in more folks from various timezones, some of which may not overlap with the majority of the team.
As of now, we have a few things in place to help problem-solve for both of these things. We relay on documentation and have some guidance synchronous and asynchronous communication, some "how-to guides". In addition to that, we have been keeping up engagement with various new slack groups that bring together employees with the same hobbies or interests.
The COVID-19 and the pandemic has mandated change in the way we go about business and operations. How has this time influenced you? What are the trends you see within the sector?
The pandemic has influenced me personally in my way of working and how I go about building relationships with employees and managers. In past roles, my tendency was to work through something in a synchronous meeting, but with managers being in different timezones, I had learned to write out more of my thought process in a message first- this has cut down quite a bit on the "can we chat for a sec?" live conversations. It's also helping a ton to not have to context switch every minute of the day.
Trends- This isn't just specific to Smile but people are getting more autonomy to prioritize their work. We have employees that will take a few hours in the middle of the day for family time, or going to ride a bike etc then come back and work afterward, the blended life of a remote worker allows for a ton more flexibility.
As a leader, what are the factors both professional and personal that drive you? What keeps you going?
As a people leader, I'm really driven by Impact, I love to see how an event can bring people together or a project that I'm working on can foster career growth conversations. I'm also thrilled when I see people shouting out other members of the team, it goes back to my goal of building a supportive culture at a company.
In your opinion, do digital events give you a similar level of feedback/result vis-à-vis the live versions? What would you say were the biggest pros and cons of both formats? Which do you prefer?
I think that they are both very different. Both live and digital events can serve as platforms for learning and sharing knowledge but I find that with digital events, it is twice as hard to really build up the networking and community aspect of the event. It can be done but nothing can really replace seeing someone in person.
What is your take on in-person events? Do you prefer in-person events as compared to hybrid or virtual? How soon do you think in-person events would return?
Honestly, I like both. but for me right now in person events are a bit more of a logistical hurdle. I like the idea of having the option for both. I do think that there are already in-person events that are starting to come back, which is great, I would foresee more than average next week, to make up for lost time. For me having more options of events to go to will help. 
In your opinion, what are the top 3 challenges to returning to 'In-Person' events? How could we mitigate risks?
I think there are still some challenges with COVID protocols with in-person events right now. For our company, we are in 18 countries so right now getting everyone set up with their covid tests before they get on a plane and understanding any other travel restrictions between the different countries is a bit of a challenge.
I do also think that navigating people's comfort zones around bigger groups of people is still a factor.
Also for me personally, I'm re-learning how to act in person. It's not the same but I went to a kid's birthday party and found it a bit exhausting remembering how to carry on an in-person conversation, before COVID, I got my energy from in-person convos. (I'm sure this is also even more challenging for folks who were less extroverted before COVID)
Eventible.com is a review platform specially catering to B2B events. Given how review-driven our lives have become today, do you think reviews will bring in a level of transparency to the events industry? Would you rely on event reviews from other speakers if you had to make a speaking decision?
I do think that having reviews of events would be useful. I think about it from the recruiting side when I'm thinking about if we should go to a certain recruiting event or not, if there was a place where I could see other Talent Acquisition professionals' feedback from the event previously, that might sway me to go (or not to go) to the event.
About Jennifer: Jen Paxton heads up all things People at Smile. Over the past 10 years, she has developed a passion for building and scaling startups; giving employees the structure and support they need to flourish and grow. She loves coaching managers, fostering a culture of feedback, and building out programs that will help build a sense of belonging. Jen is a mom of two girls, loves being outdoors, eating tacos, and drinking her weight in loose teas.
To view the event on Eventible, click here; to write a review, click here.