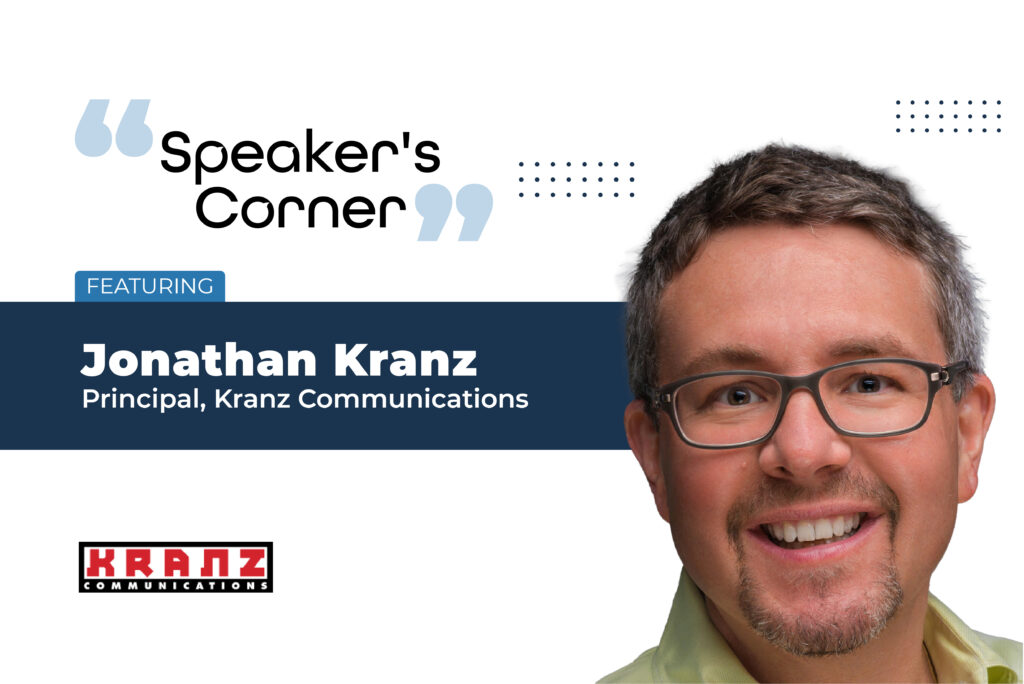 Speaker's Corner: Featuring Jonathan Kranz, Principal of Kranz Communications
Tell us about Kranz Communications – its work and projects…
For the last 26 years I've been a B2B copywriter with concentrations in high tech, healthcare, financial services, and professional services. I cut my teeth in direct response, then as the web transformed marketing in the 2000s, I moved into content marketing – before it even had a name. In fact, I believe that my 2006 article in MarketingProfs, "8 Killer Alternatives to Crummy Collateral," was one of the first, if not THE FIRST published article to make a case for what would become known as "content marketing."
In addition to writing, I lead customized, in-house marketing writing training programs for large organizations, and conduct workshops that translate marketing persona research into relevant marketing themes.
What are the challenges within copywriting & content creation industry today? How is your company working towards dealing with or solving these challenges?
The challenge today is the same as it always has been: reaching audiences through relevance. Our problem is progress itself. The abundance of available options – a new social media platform seems to rise, like volcanic islands in the sea, every week – has many marketers chasing trends rather than focus on the essentials: who's our market? What do they want? How can we leverage their desires and fears to our advantage?
There is no one solution. That's why I spend a lot of time listening to my clients and probing for overlooked opportunities.
In what way has the COVID-19 pandemic affected the demand for marketing and content creation solutions? which are the trends within the sector?
I think COVID-19 has had more impact on our work processes (Zoom, remote collaboration) than on the substance of our work.
What is your biggest objective as a speaker?
Professionally, it's to expand my reach through direct connections with my audience. Personally, it's to relate to colleagues on a real level: beyond the buzzwords, what truly works? And how can we apply our insights to our daily efforts?
Could you share with us the points of discussion (the input that you provided) during the panel(s) at Content Marketing World 2021?
I led 2 workshops, a Marketing Writing Masterclass in which we addressed the fundamentals of effective storytelling, projecting empathy, and "teasing" interest; and a Professional Services Forum focused on relationships: your communications serve as a stand-in for what it would be like to work with you and your firm – how do you shape these expectations favorably?
As a leader, what are the factors both professional and personal that drive you? What keeps you going?
What keeps me going? The bills. . .
Years ago, I read a wonderful book profiling a handful of cops: who they are, what they do. One of them was a ballistics expert esteemed by peers all over the world. Yet, unlike his colleagues, he was not a gun collector; the only guns he owned were his service revolver and his grandfather's old pistol. He took enormous pride in his work, but he was not an enthusiast.
I'm much the same way. I'm VERY proud of my work and what I can do for clients, but I don't live for marketing – I reserve my passion for music, mycology, friends, and family.
In your opinion, do digital events give you a similar level of feedback/result vis-à-vis the live versions? What would you say were the biggest pros and cons of both formats? Which do you prefer?
Digital wins for convenience – but nothing else. My workshops and training sessions are all built around live, active exercises fulfilled in-person; the feedback I provide, to groups and to each individual, is where the deep learning develops. Digital events have value, but just don't facilitate the same depth.
What is your take on in-person events? Do you prefer in-person events as compared to hybrid or virtual? How soon do you think in-person events would return?
Think historically. Call them "fairs," "conventions" or "conferences," professionals have been gathering since the Middle Ages to swap ideas and promote trade. This isn't likely to stop. In-person events are already returning, and I think they're likely to stay. BUT now they're going to compete with virtual options.
In your opinion, what are the top 3 challenges to returning to 'In-Person' events?
Demonstrating value: Is it really worth the time, effort, and money to participate in person?
Fear, uncertainty, doubt – the unholy trinity of paralysis.
See numbers 1 and 2.
I think that's a short-term issue that will fade relatively quickly. The real issue is the new competition with digital: now in-person events have to aggressively sell the advantages of live engagement.
Eventible.com is a review platform catering to B2B events. Given how review-driven our lives have become today, do you think reviews will bring in a level of transparency to the events industry? Would you rely on event reviews from other speakers if you had to make a speaking decision?
Do you rely on Yelp? Do you trust the reviews that swamp us on LinkedIn, Facebook, etc.? If you do, then sure, a review platform may be helpful. If you're skeptical of online reviews (I am), then the value is somewhat diminished, a "grain-of-salt-your-mileage-may-vary" kind of thing.
Finally, do you have a favorite mocktail or drink? We'd be delighted to know.
I like a spicy Bloody Mary made with real tomato juice (not that corn syrupy, premade mix BS) and white rum. Otherwise, I'm a beer or wine kind of guy. (I love bourbon, but it doesn't love me back.)
To review Content Marketing World 2021, click here.
About Jonathan: Jonathan Kranz is the author of Writing Copy for Dummies and a copywriting veteran now in his 26th year of independent practice. His clients include AT&T, Dow Jones, Elsevier, Fidelity Ventures, Harvard Business School, HP, Liberty Mutual, Nuance, Symantec and many others too numerous to list.  A popular and provocative speaker, Jonathan offers in-house marketing writing training sessions that help organizations create content that establishes authority, attracts leads, and builds market presence. Jonathan has conducted workshops for companies such as Hattaway Communications, Kaplan, Schlumberger, Symantec and Xerox, and for professional development events led by groups such as the Content Marketing Institute (Content Marketing World) and MarketingProfs.