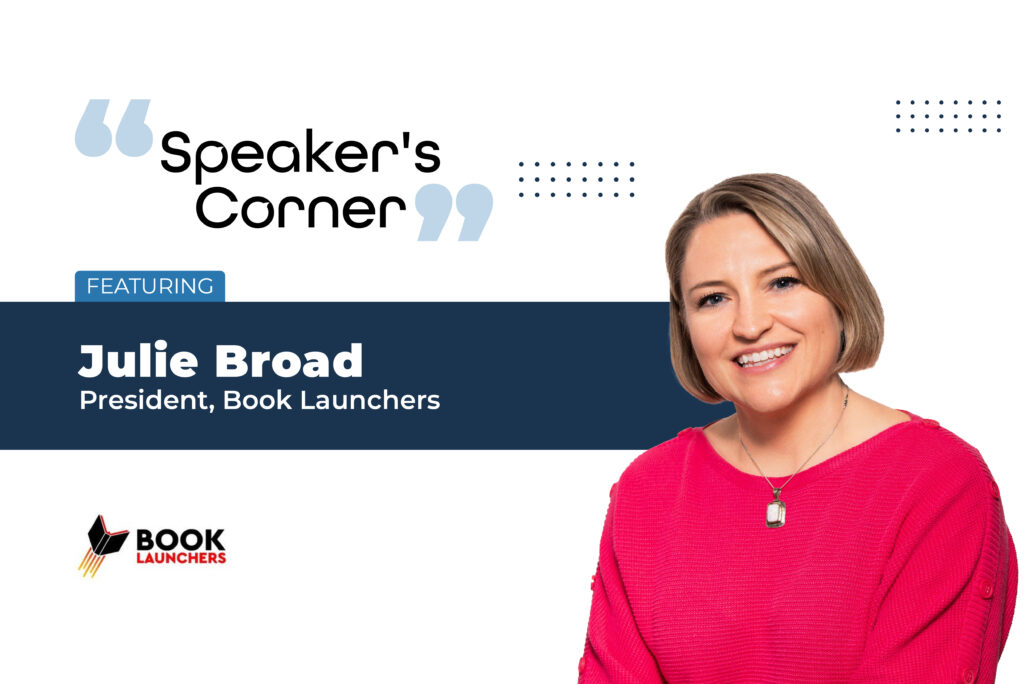 Speaker's Corner: Featuring Julie Broad, President, Book Launchers
Tell me about Book Launchers, its work and projects…
We are a professional self-publishing firm helping professionals and subject matter experts write, publish, and promote a non-fiction book to build a brand and grow a business. We focus on helping our authors write books that people actually want to read, with our #noboringbooks process. Our recent launches include books like Tell Her She Can't, Motherpuppin' Adorable, and the Maestro Monologue. They are diverse but all fun and interesting reads.
What are the challenges for a self-publishing firm such as yours today?
Our biggest challenge is consistently finding the highest quality talent. We produce books that are top quality – as good or better than a traditional publisher. That requires hiring and training the best people. As we have grown it has felt like we're in a never-ending search for talented writers, editors, designers, and book marketers.
How has the COVID-19 pandemic changed the way you go about business? What trends do you see for the future…
The biggest change for us is that I've implemented empathy training for the team. I want our team to realize that an author being upset about something in their book that is minor is often a really big sign that they are having a really hard time in their life. Understanding that everyone is dealing with big things behind the scenes is always important but in the last 18 months, it's been even more important. We have also implemented mandatory health and wellness days to ensure the team is taking care of themselves. Self-care is vital to staying healthy and many people put themselves last after their work and their family. We are paying people to take time off to take care of themselves now.
As an established author and president of Book Launchers, what insights and tips can you provide to first-time authors ready to debut their book?
Marketing a book successfully starts well before your book is done. You have to be clear on who the book is for, the problem or offer you're making to that audience, and where you're going to find that audience. The most successful books are more as a result of the connection to the audience than the book itself. Many great books don't sell because they either weren't positioned clearly enough for one audience or they never had a clear audience, to begin with.

If you do have a clear audience, ask yourself where are they hanging out? Who do they listen to or read? Can you connect with the people they are already paying attention to and strike up some sort of mutually beneficial relationship to reach that audience? Again, this is easier to do when you're not looking for something in return, but it is the best way to market a book.
What is your biggest objective as a speaker?
Deliver massive value to the audience so they can walk out and take action to have a bigger impact on their business or community.
Could you share with us the points of discussion (the input that you provided) during the panel(s) at FinCon 2021?
Building a brand and a business with a book is really about having audience clarity and knowing what you can provide that audience that is a little bit different from the others in your space. Spelling that offering out in a book allows you to showcase your expertise and grow your brand. But, before you write anything, you really need to know what the outcome of your outcome is for that reader. It's not about having a retirement plan, it's about making sure your wife or husband doesn't have any more stress about your financial future so you can stop fighting. Or, it's not about paying off your debt, it's about sleeping at night that you know you can help your kids pay for their university. You have to dig deeper and not be afraid to go niche with your audience and the outcome in order to stand out in a crowded space.
As a leader, what are the factors both professional and personal that drive you? What keeps you going?
I'm a creator so I always want to be creating and helping others do the same. And, when you create things with a purpose you can also have a powerful impact on the lives of others. It's a wonderful thing to be able to help people, even people you never meet, and leave the world (or even just a person) a little better off because of the work you did.
In your opinion, do digital events give you a similar level of feedback/result vis-à-vis the live versions? What would you say were the biggest pros and cons of both formats? Which do you prefer?
After 18 months of digital events, I'm ready to go in person all the time. With the exception of a couple of more intimate coaching groups that translated well to digital, I found that nothing compared to the networking and casual conversations that come up in a live event.
What is your take on in-person events? Do you prefer in-person events as compared to hybrid or virtual? How soon do you think in-person events would return?
Personally, as a speaker and sponsor, I really only want to attend in-person events. The digital options were not a suitable replacement for having conversations or connecting with people face to face (even if the face was half-covered). For events that are focused on delivering content with a mastermind component, I think digital is a good replacement. Conferences though – where the primary benefit of attending comes from the people you meet – are not as well digital.
In your opinion, what are the top 3 challenges to returning to 'In-Person' events? How could we mitigate risks?
Many people are very fearful of being in person again. Travel is much less appealing right now for people – especially internationally. The restrictions of having to wear a mask make it really hard for hearing impaired people and just networking in general. It's not a perfect world but I have felt safe at the in-person events with increased sanitization, more social distancing, and less crowded networking events.
Events seem to be taking care to spread people out vs squish in as many people as you can into space, offer hand sanitiser everywhere people are shaking hands, and do offer hybrid or video replay options to all attendees. If attendees can get the conference content through video replays they are less likely to attend if they are sick or someone in their household is sick. From there, I think risks are mitigated at the individual level by making the choices that are right for you. Take care of your health with better eating and exercise. If you feel off at all, stay home or stay in your hotel room (if you're already away when you start to feel sick) and wash your hands a lot more for a lot longer! It takes collective efforts on the part of individuals to keep everyone healthy.
Eventible has recently launched a B2B Interactive in Person Event Tracker – the tracker shows you in-person events going live in various parts of the world. Do you think this is useful?

Yes! I'd love to see that and can see how speakers and sponsors would all want to know that information too.
Finally, do you have a favorite mocktail or drink? We'd be delighted to know.

Cranberry and soda is my favorite!
To review FinCon 2021, click here.
About Julie: Julie Broad is an Amazon Overall #1 Best Selling Author, an International Book Award Winner, and recipient of the Beverly Hills Book Award for Best Sales book.As an entrepreneur and successful real estate investor, she was also awarded the Top 20 under 40 Award. Founder of Book Launchers, she started the company to help busy entrepreneurs and professionals build their brand and boost their business by writing, publishing, and selling a top quality book. In 2017, she also became a new Mom and moved from Vancouver Island, Canada to Los Angeles, California.