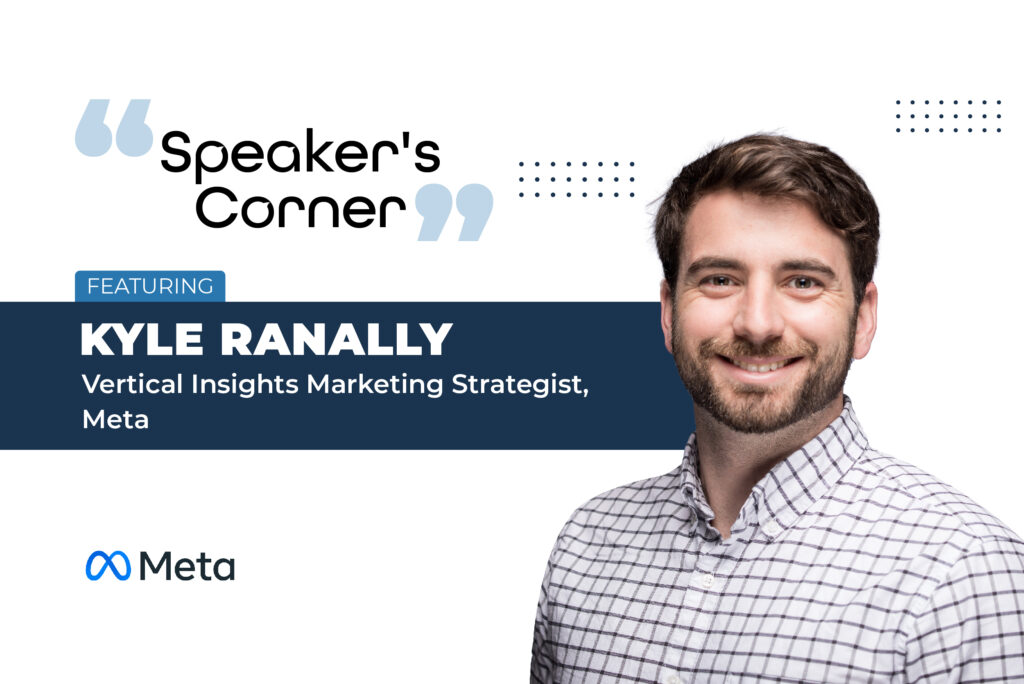 Speaker's Corner: Featuring Kyle Ranally, Vertical Insights Marketing Strategist, Meta
Tell me about Meta, its work and projects…  
Meta builds technologies that help people connect, find communities, and grow businesses. When Facebook launched in 2004, it changed the way people connect. Apps like Messenger, Instagram and WhatsApp further empowered billions around the world. Now, Meta is moving beyond 2D screens toward immersive experiences like augmented and virtual reality to help build the next evolution in social technology. Our mission is to give people the power to build community and bring the world closer together.  
How has the COVID-19 pandemic changed the way you go about business? What trends do you see for the future?
The COVID-19 pandemic has significantly accelerated digital adoption across all facets of life and business. Prior to the pandemic, Meta was already embracing video conferencing platforms and work-from-home policies, but these grew even more prevalent over the past two years. As the pandemic subsides in certain areas, it's now brought more hybridization to how we work, play and shop. People still really value seeing colleagues in an office settings, but they also appreciate the convenience and flexibility of working from home. I think this hybrid work environment will continue to grow as companies strive to accommodate better work/life balance.
What is your biggest objective as a speaker?
My biggest objective as a speaker is to help businesses achieve success by leveraging the most impactful trends and insights. Insights have the power to help brands and retailers uncover new opportunities and ultimately win in a rapidly evolving digital landscape. As an insights storyteller, my goal is to turn research and data into meaningful implications that inspire business and marketing leaders to reimagine their strategies.
Could you share with us the points of discussion (the input that you provided) during the panel(s) at the Ecom World 2022 Conference? 
During my keynote at Ecom World 2022, I shared insights about the next era of hybrid shopping. As the pandemic recedes, a new hybrid world of retail is emerging where physical and digital shopping are more interconnected than ever. This new era reflects no-compromise shoppers' desire to get the best of both worlds wherever and whenever. To them, it's all just shopping. So you have to make sure you provide a seamless experience and give them what they want to foster brand loyalty. For retailers to succeed in this new era, it's crucial to eliminate the friction associated with offline shopping and implement new technologies to make in-store shopping more efficient and exciting.
 As a leader, what are the factors both professional and personal that drive you? What keeps you going?
I'm always inspired by a good story, or something that challenges my current way of thinking. A lot of the time, it's easy to conduct research or find insights that reaffirm an already well-known belief. What drives me is finding those nuggets that really surprise people and make them look at something differently. To be a good insights storyteller, it really takes constant curiosity and a critical point-of-view to interrogate what might be new or interesting.
In your opinion, do digital events give you a similar level of feedback/result vis-à-vis the live versions? What would you say were the biggest pros and cons of both formats? Which do you prefer?  
I think virtual events are great at expanding speaking opportunities to people across geographies. Personally, I've had the chance to present at events based in South Africa, Brazil and Dubai during the pandemic that would have likely not been possible prior to 2020. As a result, this has also enabled us to learn from other speakers, cultures, and industries to fuel even more inspiration.
On the other hand, in-person events offer a different type of energy that can be really invigorating. It's great to present in front of a live audience to see how they're reacting to your content in real-time. These types of events also facilitate a lot of great networking opportunities, being able to meet with fellow speakers and/or attendees face-to-face.
 What is your take on in-person events? Do you prefer in-person events as compared to hybrid or virtual? How soon do you think in-person events would return?
I really enjoy both types of events, so I can't say that I have a preference one way or the other. I think both offer unique benefits for both speakers and attendees. Since they've been dormant for so long, I think a lot of people are eager to get back to in-person events. I've also had the opportunity to present at a couple of them recently, so I think they will become more common soon due to the high energy and networking aspects.   
 In your opinion, what are the top 3 challenges to returning to 'In-Person' events? How could we mitigate risks?
The top challenge for in-person events remains to be health and safety concerns in regards to COVID-19. The pandemic is still not entirely over, so there's a decent amount of risk associated with physical events. To mitigate this, it's helpful to show attendees how event organizers are taking precautions to prevent outbreaks of the virus, such as requiring vaccinations or masks for large in-door gatherings.
Another challenge of in-person events is the logistics. It take a lot of time and money to secure venues, transportation, catering, etc., so that poses more barriers than virtual events that would otherwise not require the same type of factors.
Eventible.com is a review platform catering to B2B events. Given how review-driven our lives have become today, do you think reviews will bring in a level of transparency to the events industry? Would you rely on event reviews from other speakers if you had to make a speaking decision?  
Reviews are extremely influential across a lot of different things, and I think the events industry is no exception. Having a trusted source to verify or validate speakers and events would be a powerful platform that can really help everyone. I'd personally take into account reviews from other speakers when evaluating potential speaking opportunities in the future.
Finally, do you have a favourite mocktail or drink? We'd be delighted to know. 
Old fashioneds are typically my drink of choice, but I enjoy any cocktails with a good bourbon base.
About Kyle: Kyle Ranally is a Global Vertical Insights Marketing Strategist at Meta (formerly Facebook). Over the past four years, he has been focused on uncovering global consumer insights and trends to help advertisers and the industry at large navigate the rapidly evolving digital ecosystem. In this role, he helps brands and retailers achieve success by identifying business opportunities grounded in a deep understanding of people's behaviors and expectations. He has been a featured keynote speaker at some of the largest advertising and e-commerce events in the world, including Ad World Conference, Ecom World Conference, Affiliate Summit East, and White Label World Expo.