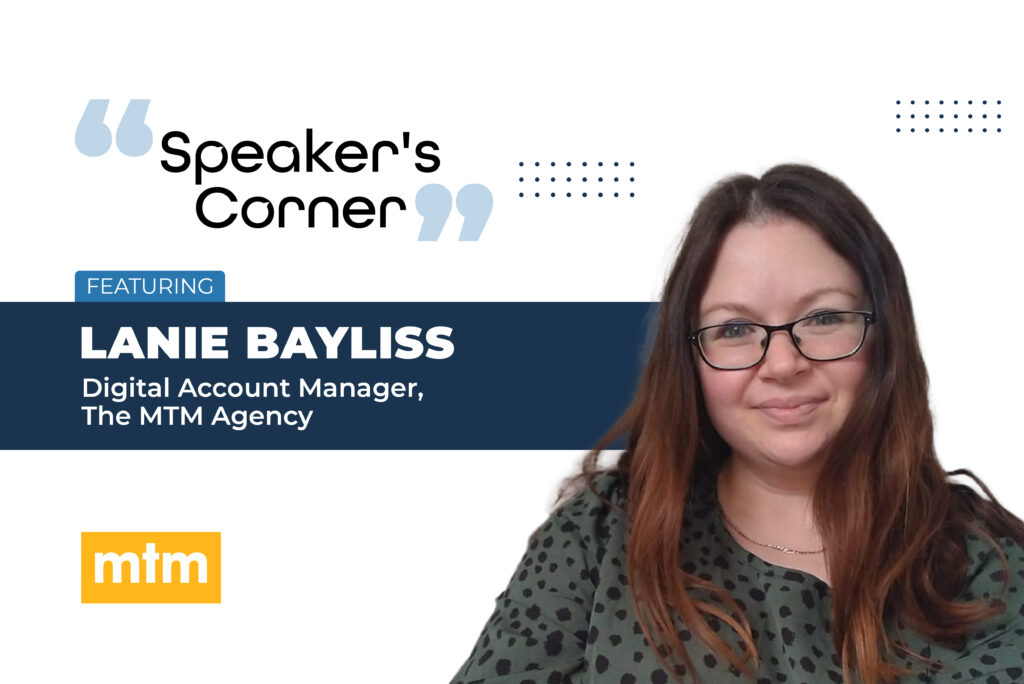 Speaker's Corner: Featuring Lanie Bayliss, Digital Account Manager, The MTM Agency
Tell me about The MTM Agency, its work and projects…   
The MTM Agency is based in Ocean Village in Southampton and is an agency that gets to solutions fast, integrating marketing and PR with digital innovations to give clients clear direction and a louder voice to accelerate their business growth. We work with a large range of clients including INEOS, England Hockey, Airbus, Nautilus and NHBC to name a few.
What are the challenges within the Marketing industry today?
There is a lot of noise in the industry. Whilst we might not be the loudest agency – that's only because we're focused on the doing. Often working in the background creating and innovating, something we have been recognised for by The Drum https://www.recommendedagencies.com/mtm
How has the COVID-19 pandemic changed the way you go about business? What trends do you see for the future…
The pandemic has given us a unique opportunity where we've grown our team substantially over the last few years and are continuing to make new hires to fulfil the demand we're currently seeing.
We put client satisfaction, creativity, agility and technical excellence first, we apply an approach that gets things done, and collaboration between our teams ensures we deliver exciting strategies and solutions that are implemented fast and deliver ROI. We've also seen (and proven) that we can do our best work from anywhere. Our team are based all over the UK and it hasn't hampered our collaboration or connectivity – in fact, the trend we're seeing is that having a mix of that remote/hybrid and office workers enhances our offering and makes us a stronger team.
What is your biggest objective as a speaker?
I'm a self-professed introvert and the idea of stepping onto any stage and giving a talk is the stuff of nightmares for me – however, the nature of my recent talk at BrightonSEO is something I'm so passionate about and the objective was to inform, teach and raise awareness.
Could you share with us the points of discussion (the input that you provided) during the panel(s) at the brightonSEO conference?  
The idea of taking any length of time away from a career in the digital marketing industry is daunting… More so for a person who is coming away to have a baby! Between huge FOMO and the worry of being left behind by an industry that is incredibly fast-moving and constantly evolving, I discussed the ways in which you can plan for some time out from your career and how to prepare yourself for your big return.
 As a leader, what are the factors both professional and personal that drive you? What keeps you going?
I wouldn't call myself a leader – but I do see myself as a valuable team member with ideas and opinions that get taken into consideration and listened to. My drive comes from working with a team that really encourages me and motivates me to be the best I can be. Having a strong and healthy company culture is integral to being happy in the workplace and MTM has got a perfect balance.
My personal drive comes from having always been a career woman. I'm proud to be doing well in my career as well as being a Mum, it's tough but it's rewarding. I wanted to prove that it is possible to be both and do both without having to make sacrifices. In my talk, I discuss why the traditional world of work is pitted against Mum's that want to go back to work and the need for a more flexible and parent-friendly approach.
In your opinion, do digital events give you a similar level of feedback/result vis-à-vis the live versions? What would you say were the biggest pros and cons of both formats? Which do you prefer?   
We've become so accustomed to digital events over the last few years – with a lot of our time now spent online for meetings, workshops, training sessions and more. Attending the in-person BrightonSEO event felt amazing because it's been such a long time since I was last in a room full of like-minded people and being able to network and talk face to face. However, the digital format allowed for mistakes – re-recording it every time I fluffed up meant I felt I had greater control over the message I was trying to convey and the story I was trying to tell.
 What is your take on in-person events? Do you prefer in-person events as compared to hybrid or virtual? How soon do you think in-person events would return?  
As a new Mum, having the ability to attend an in-person event digitally is amazing. No more FOMO and it gives those an opportunity that are unable to travel or take time out of their work schedule to attend an event that they would otherwise have missed out on.
 In your opinion, what are the top 3 challenges to returning to 'In-Person' events? How could we mitigate risks?
There will be people that still don't feel comfortable among large crowds after the pandemic – if events can ensure social distancing and other measures will be followed, it may help some feel safer in attending. This includes thinking strategically about the venue selection and how information is provided to attendees.
In my opinion, events should have a virtual version as default for those that can't (or don't want to) attend in person. It provides choice and flexibility.  I don't know about you, but after a few years of not being as sociable, socialising is pretty exhausting! Events should consider shorter sessions, more frequent breaks and have quiet spaces/good facilities available for attendees.
Eventible.com is a review platform catering to B2B events. Given how review-driven our lives have become today, do you think reviews will bring in a level of transparency to the events industry? Would you rely on event reviews from other speakers if you had to make a speaking decision?   
Personally, I rely on reviews heavily when making decisions in day to day life. Whether that is when making a purchase, renting an air-bnb or looking to attend an event, real-life feedback is invaluable. It helps you prepare, it sets expectations and in some cases, it can stop you from making a bad purchase/decision.
Finally, do you have a favourite mocktail or drink? We'd be delighted to know.
Banana Wharf does an amazing banana colada. There's nothing like it!
About Lanie Bayliss: I'm Lanie Bayliss and I am an account manager at The MTM Agency. My role as Digital Account Manager is varied and no two days are the same. You'll find me dipping my toe in SEO, account management, client training, copywriting, content marketing, strategy, branding, planning, analytics, websites, site audits, project proposals and more.
To view the event at Eventible, click here; to review, click here.