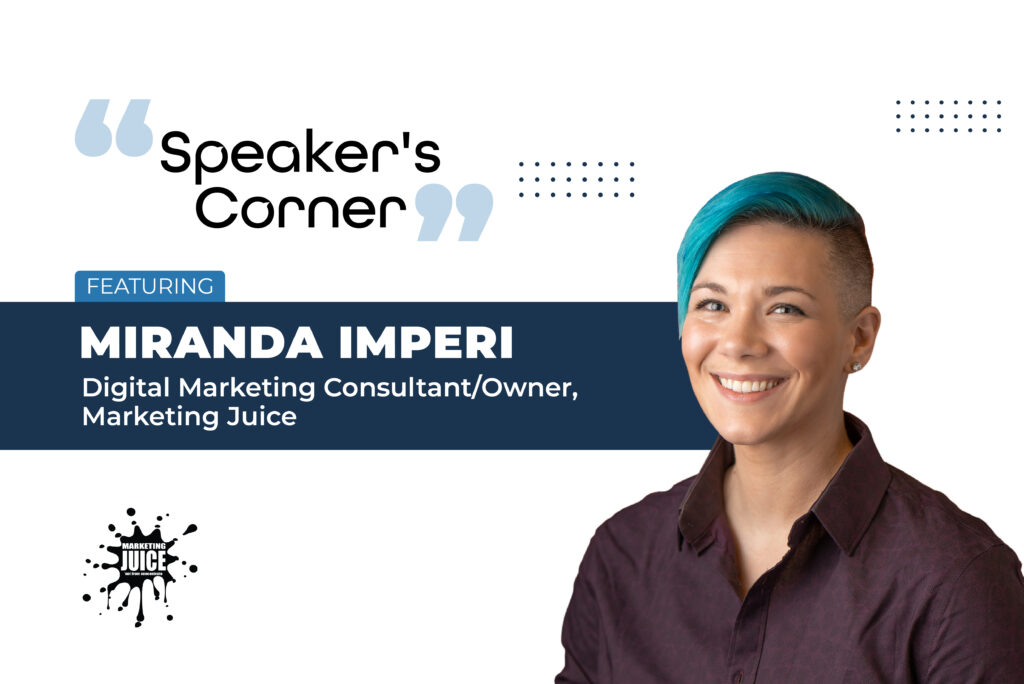 Speaker's Corner: Featuring Miranda Imperi, Digital Marketing Consultant/Owner, Marketing Juice
Tell us about Marketing Juice, its work and projects…   
Marketing Juice is a full service marketing agency catering to small and medium sized businesses. We offer a comprehensive approach to our clients' marketing campaigns. We pride ourselves in being a flexible agency, able to evolve with our clients' needs. We do an extensive amount of research for each client demographic and industry to make sure we can seamlessly integrate our content into their marketing strategies. We also offer a wide array of graphic design services and affordable website design services. We aim to function as an outsourced marketing department for the businesses we serve.
What are the challenges within the Marketing industry today?
Marketing is so fast paced today, making it challenging to keep your business top of mind. Our industry is changing at a breakneck pace and it can be really difficult for business owners to keep up with new technologies and platforms. I also find it difficult that there is no governing body in the marketing industry which can make it seem a little bit like the Wild West. Many clients come to us after working with unscrupulous marketing professionals and that can make it feel like we're constantly trying to disprove the notion that marketers and agencies are scams, especially for small businesses.
How has the COVID-19 pandemic changed the way you go about business? What trends do you see for the future? 
Although it feels odd to say, the COVID-19 pandemic benefited our industry greatly. It's been much easier to convince long standing businesses that they need to put a greater level of importance on their online presence. I also think the pandemic has made it easier for businesses to work with service providers across state lines. We're being approached by many more businesses outside of our local area, which is a refreshing change for our team.
What is your biggest objective as a speaker?
My biggest objective as a speaker is to motivate my audience to continue to learn more about my topics. I am a big believer in self education and I'm super passionate about learning how to learn. The most important skill I've ever been taught was how to learn and I hope to impart some of that knowledge through my speeches, workshops, and seminars.
 As a leader, what are the factors both professional and personal that drive you? What keeps you going?
I'm driven by my love of learning and sharing that knowledge with others to improve my community, social, and professional circles. I am constantly trying to find ways to be better tomorrow than I was yesterday and truly believe that when we hold ourselves accountable to the best versions of ourselves our world will change for the better.
In your opinion, do digital events give you a similar level of feedback/result vis-à-vis the live versions? What would you say were the biggest pros and cons of both formats? Which do you prefer?   
I find that digital events have been more of a time waste for me than a benefit. People are less engaged in digital formats and while virtual events were a literal life saving measure during the pandemic, it seems that most people have become disenchanted with them due to the volume of virtual events and meetings. When you have a small audience that is truly engaged and committed to the virtual event taking place there's definitely a better experience for both the attendees and the speakers, but overall I've had more success with in-person events.
 What is your take on in-person events? Do you prefer in-person events as compared to hybrid or virtual? How soon do you think in-person events would return?  
Expanding on my above response, I think in-person events are back and here to stay as long as the event planners and participants are doing so safely. It's hard to duplicate the organic conversations and networking that happens at in-person events in a digital setting. I'm eager to see how the virtual event softwares evolve to help fill this gap in the future. 
 In your opinion, what are the top 3 challenges to returning to 'In-Person' events? How could we mitigate risks?
It's important to consider the safety of everyone involved. I think utilizing mask requirements, vaccine checks, and social distancing measures are all good ways to manage in-person event safety going forward. I'm also interested to see what types of products and measures evolve from the healthcare space in order to preserve in-person events long term.
Eventible.com is a review platform catering to B2B events. Given how review-driven our lives have become today, do you think reviews will bring in a level of transparency to the events industry? Would you rely on event reviews from other speakers if you had to make a speaking decision?   
I think event reviews, especially from a speaker's perspective, are vitally important to the industry. I'm all for more transparency in every industry, to be honest. I love seeing new organizations like this popping up that hold event organizers to a new standard of accountability.
Finally, do you have a favourite mocktail or drink? We'd be delighted to know.  
My favorite drink is easily a pickle martini. It's just pickle juice, vodka, and a dill pickle spear. It's the best savory & salty treat at the end of a long day.
About Miranda: Miranda has been designing marketing campaigns for small businesses since 2010. Their experience in both the agency and corporate worlds drove them to challenge the thought process around small business marketing services and has ultimately led to the creation of Marketing Juice. Miranda is passionate about community and helping others. They are driven by their enthusiasm for the small business owner and their hope that Marketing Juice can help set a new standard in services supporting small business owners.
To view the event on Eventible, click here; to review, click here.