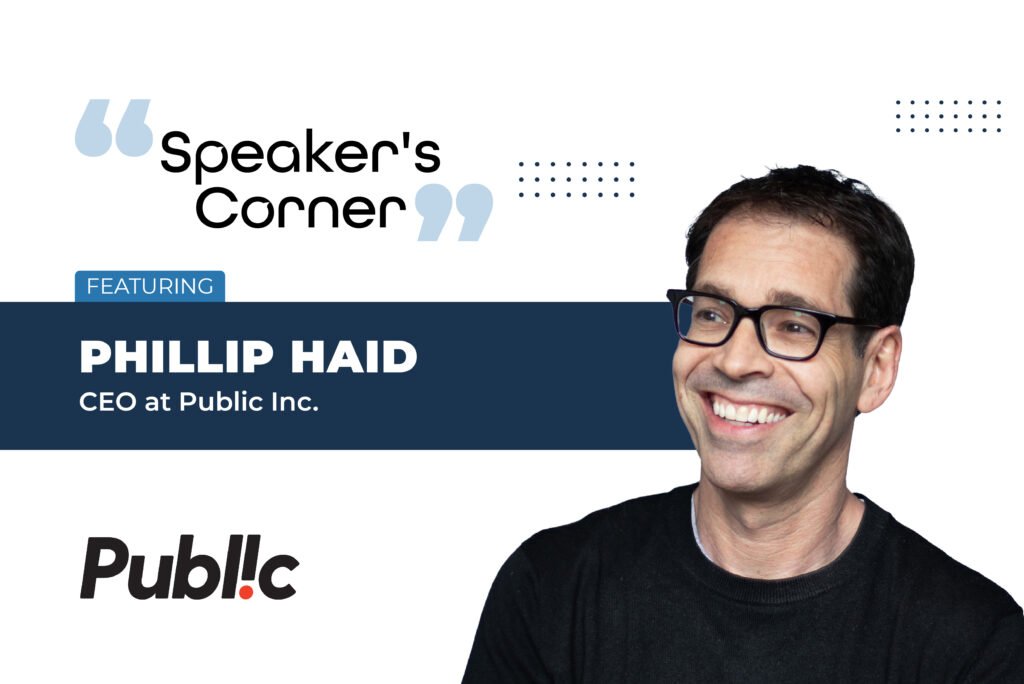 Speaker's Corner: Featuring Phillip Haid, CEO at Public Inc.
Tell me about your company – it's work and projects…
Public is an impact agency. We focus exclusively on creating large scale social and environmental impact for Fortune 500 companies, non-profits and governments across North America. We believe the path to greater impact lies in merging profit with purpose to create win-win scenarios for everyone involved.
Our work generally falls into four categories:
(1) Helping companies to define their purpose to help guide their decision-making and accelerate their positive impact on people and the planet.
(2) Helping companies create their community impact strategies and programs. The goal is to create something that is aligned and integrated into the business in order to leverage their strengths and create measurable societal and business impact.
(3) Brand and market companies ESG strategies to better communicate and engage key internal and external audiences.
(4) Create campaigns for companies, non-profits and governments to advance pressing social and environmental issues with measurable results.
The marketing industry is vast, what are the challenges that most affect your business? Are you engaging in any kind of problem solving? 
There are many but I would say the largest challenges are in advancing societal issues in ways that are unique, authentic, transparent and breakthrough. The work we do is tough and it's not easy moving companies and organizations forward when there are some many competing priorities and interests. But this is also what makes the work so exciting and meaningful. People want to do the right things. But how you do it, balancing business and societal needs is the challenge.
What is your biggest objective as a speaker?
To entertain the audience with insightful and useful information that will inspire them to act.
Could you share with us the points of discussion (the input that you provided) during the panel(s) at the DX3 Canada?
We explored how brands need to be tackling social and environmental issues to stay relevant with today's consumers and employees. We also discussed how it's not easy to do so and that transparency, while critical, is much easier said then done. We discussed how to build buy in within your organization and the courage it takes to advance issues where not everyone will agree. It's a long-term commitment that needs to drive the business and community.
As a leader, what are the factors both professional and personal that drive you? What keeps you going?
Impact, impact, impact. I started my company to create big impact in the world and to prove that companies can profit with purpose. Working with inspiring, creative people fuels my passion. Tackling pressing societal issues makes me feel I am making a difference. I feel very lucky to do what I do.
In your opinion, do digital events give you a similar level of feedback/result vis-à-vis the live versions? What would you say were the biggest pros and cons of both formats? Which do you prefer?
I don't think digital events are as good in terms of feedback and engagement. Nothing can replace being able to feel the energy of an audience and interact with them. Digital is a great alternative (especially during the pandemic) but I don't like it as much because the interaction is just not as dynamic or deep. But the positive side of digital is that it opens up the world to hearing and speaking with people from all over. So in this sense, it is far more democratic.
What is your take on in-person events? Do you prefer in-person events as compared to hybrid or virtual? How soon do you think in-person events would return?
They are starting to return already and I think we will see more and more of them come back in 2022 and 2023. It's hard to replace face to face.
In your opinion, what are the top 3 challenges to returning to 'In-Person' events? How could we mitigate risks?
Less accessible and more costly for people.
Less access to as many diverse people from around the world.
Bigger time commitment.
Philip's Bio: Phillip founded PUBLIC in 2008 to disrupt the way companies think about doing "good". Driven by a passion to prove that social and environmental impact is a key business driver to achieve profit with purpose, he set out to build a social impact agency – designing social and environmental purpose brands, strategies, programs and campaigns. As CEO, he is responsible for overseeing the strategic and creative growth of the business, including oversight on some of PUBLIC's North American clients: Canadian Tire, The Bay, Tiffany & Co., Johnson & Johnson, IBM, Canada Goose, and the Obama Foundation. Phillip is a frequent commentator and columnist for Fast Company writing on "profit with purpose".
To view the event of Eventible, click here; to write a review, click here.