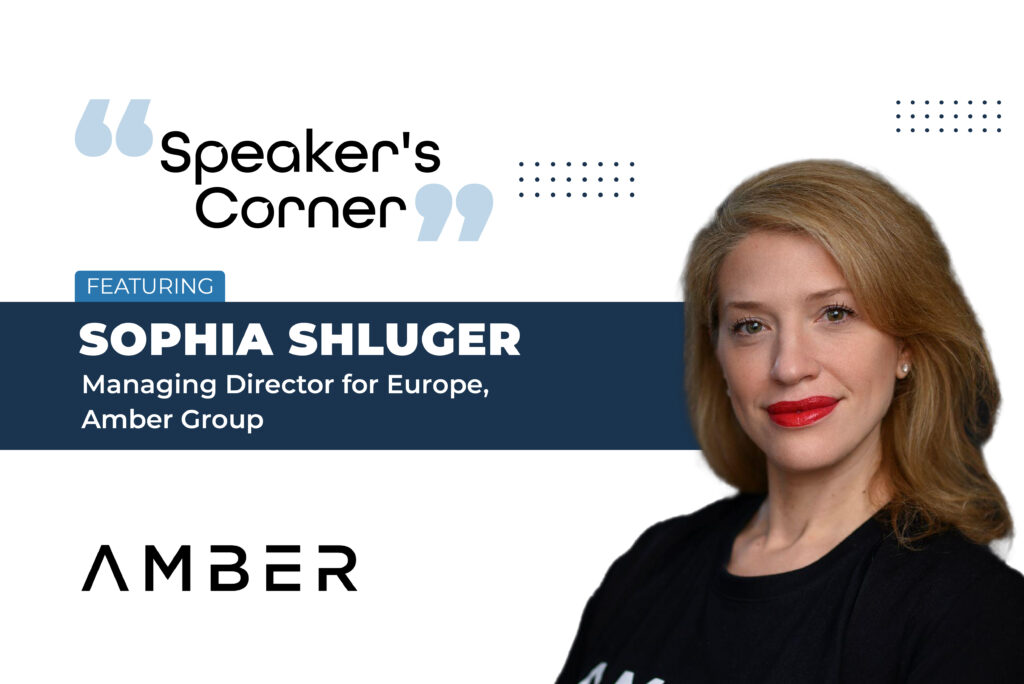 Speaker's Corner: Featuring Sophia Shluger, Managing Director for Europe, Amber Group
Tell me about Amber Group, its work and projects…   
Amber Group is a leading global digital asset company that provides a full range of digital asset services spanning investing, financing, trading, and spending. Its 24/7 trading desk serves over a thousand institutional clients globally while the integrated digital asset platform WhaleFin serves the individual investors via mobile and desktop applications. To date, Amber Group has cumulatively traded over $1T, with $5B in assets under management.
Recently, Amber Group raised $200M in Series B+ round led by Temasek at a valuation of $3B. To date, Amber Group has raised a total of $328 million in funding from world-class investors such as Temasek, Sequoia Capital, Paradigm, Tiger Global Management, Dragonfly Capital, Pantera Capital, Coinbase Ventures, and Blockchain.com.
What are the challenges within the Finance industry today?
I believe there will always be challenges around how quickly organisations are able to adapt – particularly in light of the speed at which both technology and customer needs are evolving. Diversity and inclusion also remains a huge opportunity for most finance organisations.
How has the COVID-19 pandemic changed the way you go about business? What trends do you see for the future…
Thankfully Covid-19 has not had much of a negative impact on our business. As we are a crypto native institution, we have always operated with a decentralised ethos. If anything, the pandemic has created more awareness and first hand experience interacting in our digital era (remember when we used to Zoom all day?).
In that vein, we just announced the launch of Openverse, a Web3 enablement platform for creators, brands and businesses that is a step towards creating a digital reality for all. As Michael Wu, our CEO says, Openverse is about unlocking the true potential of decentralization. It is backed by both our expertise and partnerships in the digital asset ecosystem and is at the forefront of bringing businesses and communities into the metaverse economy, which is estimated to be a $13 trillion industry by 2030.
What is your biggest objective as a speaker?
To convey in the simplest possible way a lasting message specific to my audience. It should also be delivered in a manner that's both educational and memorable. Ultimately I believe we are all here to learn and transmit knowledge to one another. That's the goal.
Could you share with us the points of discussion (the input that you provided) during the panel(s) at the Innovate Finance conference?  
Yes, I discussed a few topics, the most salient of which is how wealth is being rebuilt and redistributed in unprecedented ways in the digital era. We believe unequivocally that digital assets will be the most important category of wealth in the future. And at Amber Group we enable our global clients with both the technology and platform to build their digital wealth and capture long term value.
We are a global Fintech unicorn backed by world class investors and are passionate about creating a better future for all, one characterised by financial democratisation and equal access through digital asset technology.
What is Whalefin?
WhaleFin is our flagship all-in-one digital asset platform, designed to empower our clients to diversify, manage, and grow their wealth digitally in a secure manner. Built with our deep expertise in institutional and consumer markets, it is a gateway to capture long-term value in digital assets irrespective of experience level. Through Whalefin clients can access high yield saving and investing products and trade at true cost in over 100 assets. For example, our 'lite' version enables beginners to buy, earn and swap assets simply and securely while our 'pro' version offers advanced trading features for experienced investors and active traders.
As a leader, what are the factors both professional and personal that drive you? What keeps you going?
What drives me is having a tangible and positive impact on others, especially toward the achievement of their goals (whatever they may be). I've always been a very curious person by nature so I'm also motivated by professional development and self-improvement as well as maximising collaboration and effective workflows with my respective teams.
In your opinion, do digital events give you a similar level of feedback/result vis-à-vis the live versions? What would you say were the biggest pros and cons of both formats? Which do you prefer?   
They absolutely can, depending on the digital format utilised and the level of interactivity. For example, some platforms allow for live Q&A, while others use real-time voting or even both. It just depends on the setup and goal of the conference or event. Digital events (given the underlying technology used and how data driven they are) may allow for easier measurement of the ROI or event 'impact' when compared to an in person event.
What is your take on in-person events? Do you prefer in-person events as compared to hybrid or virtual? How soon do you think in-person events would return?  
I have found them to be preferable to digital or online events for relationship building and commercial deal making. That said, I think it's great to have the option to do both (separately or simultaneously)! I think in-person events have mostly returned around the world, but it remains jurisdiction dependent. It's great to see the extent to which companies are innovating to people with better ways of connecting in digital spheres.
In your opinion, what are the top 3 challenges to returning to 'In-Person' events? How could we mitigate risks?
I'm not sure there are many challenges to returning to 'In-Person' events to be honest! It is quite natural for us to want to meet and work together in person. There are of course potential public health considerations in light of the recent pandemic. That said, I believe we have all learned a great deal about personal accountability and risk mitigation. I think if we heed health officials' guidance and take the right precautions, we can find ways to work safely together in person again.
Finally, do you have a favourite mocktail or drink? We'd be delighted to know.
A spicy Virgin Bloody Mary or a Pina Colada (on the beach of course).
About Sophia: Sophia Shluger is the Europe Managing Director for Amber Group, responsible for institutional expansion both in the UK and across EMEA. A financial services executive and global business development professional, she has 10+ years of track record and deal-making experience from Goldman Sachs, XP, Santander Investment Securities and American Express, among others. Before transitioning into digital assets, she worked in an investment advisory capacity within  FX, equities, equity derivatives and private debt, with a focus on Latin America and responsibility for building out new commercial relationships and investment businesses.