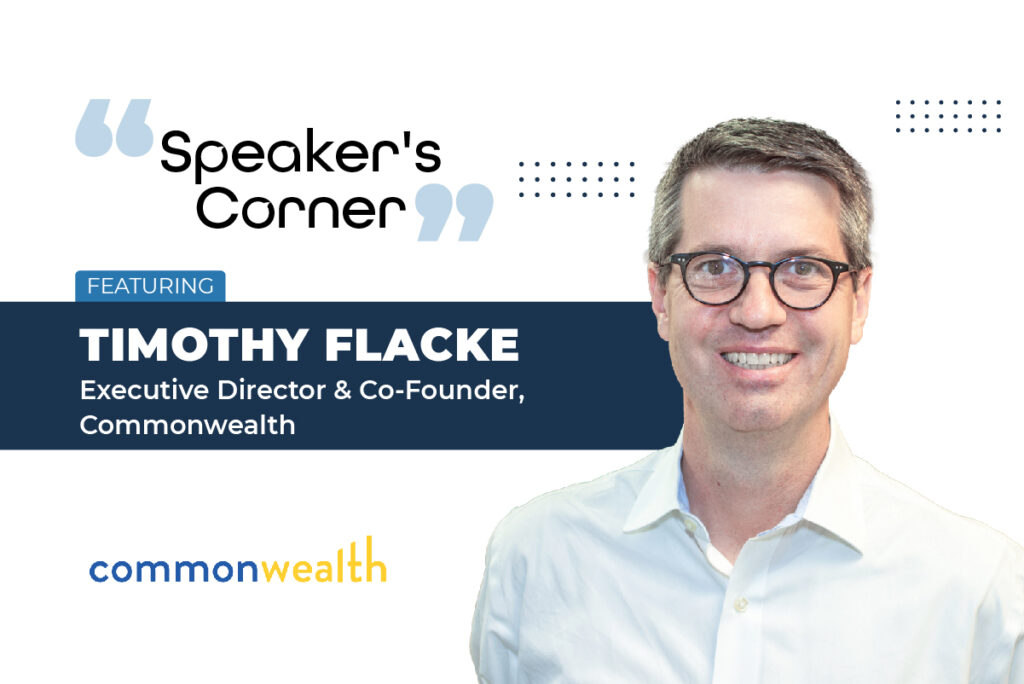 Speaker's Corner: Featuring Timothy Flacke, Executive Director & Co-Founder, Commonwealth
The shift to digital also has its advantages. Events and panels are more accessible to many more people, many of whom would not have been able to travel due to time or budget constraints, says Timothy Flacke, Executive Director & Co-Founder, Commonwealth, while in conversation with Ranjana Konatt, Managing Editor, Eventible.
Tell us a little about Commonwealth and the work that it does.
Commonwealth is a national nonprofit building financial security and opportunity for financially vulnerable people. We do this through innovation and partnerships to change systems.
Unfortunately, too many people in the US today lack financial security. For people to pursue their full potential, we need more wealth – of opportunity, of tools, of financial assets – and we need that wealth to be more widespread. Our fundamental purpose is to create a stronger and more prosperous society where everyone has financial opportunity. We accomplish that by building innovative solutions that make people more financially secure.
As we do this work, we are acutely aware that Black, Latinx and women-led households disproportionately experience financial insecurity, due in large part to longstanding systemic racism and gender discrimination.
Why do you believe there is a need for greater awareness when it comes to financial security and opportunity for all? What is the role played by fintech and innovation here?
Especially on the heels of COVID, there is much more awareness of how widespread financial vulnerability is, how harmful it is to families, communities and the economy, and of its systemic causes. That's important and encouraging. We believe that fintech and innovation have a critical role to play in addressing many of these systemic issues, and that doing so is often in everyone's interest. For this reason, we see that cross-sector partnerships can produce both business value and social impact.
We are big believers in learning through doing, and find that fintechs are often kindred spirits – nimble, creative, willing to iterate new designs, and passionate problem solvers. These are vital ingredients for systemic change, whether one works directly with consumers or indirectly through financial institutions, employers and other critical institutions. If fintechs understand the true challenges undeserved and lower-income consumers face, and the larger issues that often underlie financial insecurity, they can create innovative, impactful solutions that people will use – and that gradually reshape the financial system.
It's important for innovators to understand that financially vulnerable consumers may have different needs than other parts of the market, and a key to serving them successfully and impactfully is to address their specific needs. A big part of our work is deep consumer research with underserved and lower-income people, often paired with pilot testing new concepts that enable saving and wealth creation. The data and insights we produce are a valuable asset that fintechs can use to power their work and bring quality solutions to market.
What is your biggest objective as a speaker?
With 20 years of experience leading Commonwealth, I know the power of collaboration. My goal is to continue helping other impact-oriented organizations, be they for-profit or non-profit, established or startup, to better understand how important it is for everyone to have financial opportunity – and how to play a part in realizing this goal. I hope to find new potential partners for our own work, and help seed other collaborations, by raising awareness of the needs and potential of underserved people, and the opportunities to do so through thriving and successful businesses.
Take us through the core points of the panel(s) you are participating in at LendIt Fintech. What are you hoping to accomplish via your session(s) there?
I'll be speaking on a panel entitled "Is the way to financial health through employers?" at LendIt Fintech. My fellow panelists are Laurel Taylor of FutureFuel.io, Jon Shlossberg, former CEO of Even, and Dan Macklin of Salary Finance, and our moderator is Deidre Clute, co-founder and CEO of Rightfoot.com.
We'll be discussing the fact that employers are increasingly aware of their role in their employees' financial health and exploring the new breed of fintech startups that are providing tools for employers to help workers pay down student debt, increase savings, and borrow on favorable terms. My role on the panel will be to share insights from our own work with employers and benefit providers, and share research about what works to enable employee financial security. I'll also be emphasizing the needs of low and moderate-income workers, which are often not the focus of the conversation.
I'll also be touching on the periodic payments that are coming to households with kids as a result of the American Rescue Plan (ARPA) and the opportunity that presents in advancing financial security and wealth building – and the vital role that employers can play in unlocking the full impact of a groundbreaking federal policy.
As a follow-up, do you feel that digital events give you a similar level of feedback/result vis-à-vis the live versions? What would you say were the biggest pros and cons of both formats?
Of course, you can't replicate the connections of being in person with others during a live event or conference, both the energy in the room and the face-to-face connections one can make. I look forward to having some of those opportunities again.
However, the shift to digital also has its advantages. Events and panels are more accessible to many more people, many of whom would not have been able to travel due to time or budget constraints. There is also a proliferation of these events now that the barrier to entry is lower – a pro and con, of course, as this means more content to wade through, but also many more opportunities to learn, share and connect.
I hope to see in-person events resume again, but am pleased at how far digital events have come in the past year or so, and hope that enables us to bring information to and share knowledge across a wider number of people.
Finally, do you have a favorite/go-to cocktail? What is it?
Honestly? Diet Dr. Pepper.
To review the LendIt Fintech, click here.
About Timothy: Timothy Flacke is Executive Director of Commonwealth (formerly D2D Fund), a mission-driven organization that builds solutions to make people financially secure. Tim helped launch D2D in 2001 and has served on the organization's board of directors since that time, drawing on twenty-five years' experience in the non-profit and private sectors helping working people to build savings. Under his leadership, D2D has grown from a start-up social venture into Commonwealth, a nationally recognized innovation incubator which partners with leading financial service firms and receives support from the world's most respected philanthropic foundations. Tim speaks widely and comments in the media about Commonwealth's work, the need for broader financial security, and the role of fintech and innovation in addressing this need. He has directed signature Commonwealth efforts including the Refunds to Assets project, linking federal tax refunds to savings, and Online IDA, a scalable infrastructure for matched savings programs built on industry-leading 401(k) recordkeeping technology. These and other efforts have thrice impacted the federal tax code and spawned new financial products and public policies responsible for helping hundreds of thousands of Americans to build hundreds of millions of dollars in savings. Before Commonwealth, Tim worked as an independent consultant, author and grant writer in the field of financial empowerment and asset development. He served as a VISTA volunteer in rural Vermont, and earlier in his career, held leadership positions in corporate human resources and risk management for Filene's Basement, Inc. He holds a Masters in Public Policy from the Kennedy School of Government at Harvard University and a Bachelor of Arts in Philosophy from Boston College.