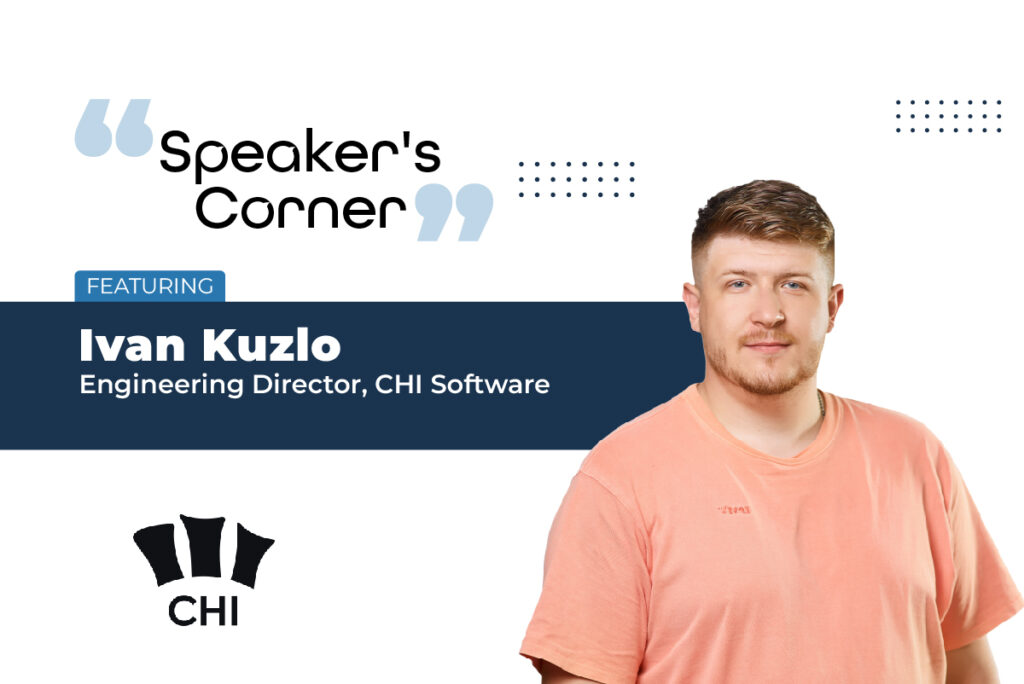 Ivan Kuzlo is an Engineering Director at CHI Software and his primary responsibility is to mobilise the engineering department to achieve short-term business objectives and long-term sustainability at startups and high-growth companies. Additionally, he oversees all engineering efforts at CHI Software and ensures that the team is productive and meeting all deadlines. CHI Software is a team of like-minded professionals who put quality first on their priority list and help businesses expand and make a positive change in people's lives by building progressive solutions for web and mobile.
In this article, Ivan speaks to Eventible about his journey, CHI Software, information technology trends, his approach to overcoming challenges, growth strategy, and the like.
We believe that everyone has a story to tell. Tell us your story. What has your journey been like?
My name is Ivan, and I have eight years of experience in the IT field. I would be a liar if I claimed it was an easy journey. However, I enjoyed every minute of it.
I started my career at the Android Internship in 2014, and since then, never stopped learning and developing to gain solid expertise.
After eight years of persistent work, I got the position of Director of Engineering at CHI Software. I`m proficient in 14 programming stacks: Kotlin, Java, C, C++, C#, Swift, JavaScript, TypeScript, Ruby, and others.
Can you tell us about CHI Software and what it is that you do?
CHI Software is a software development service provider that has been operating in the global IT market for 16 years. Our company has representatives and development centres in different parts of the world: the US, the Republic of Cyprus, Ukraine, Poland, Spain, and Japan.
The company provides the full range of development services: from business analysis and UI/UX design to DevOps. We always focus on complex and challenging projects with unique sets of features based on Artificial Intelligence, IoT, cloud computing, and other innovations. What can I say? We love non-standard approaches and projects requiring creativity and active thinking.
Currently, I`m leading a team of IoT engineers building products for various industries, like agriculture, automotive, electronics, and others. Our priorities are profound consulting, high-quality coding, and customer-driven thinking.
What kind of trends have you noticed recently in IoT? Why do you think it's a game-changer?
There are a lot of new technologies in IoT these days, but two of them deserve special attention. They are Artificial Intelligence and satellites.
As for satellites, new companies with low-orbit IoT connectivity will likely offer the option of connecting devices everywhere with fast networking and low power. Of course, nowadays, many companies are providing satellite connections. Still, I'm expecting faster and more reliable networks for lower prices to be able to collect real-time data with satellites (now, sending a small message can take a few minutes).
Also, I can`t wait to see how emerging AI innovations will change devices and their production.
For instance, if you want to create a custom IoT device, you need to design schematics, PCB (Printed Circuit board), and select a microcontroller available on the market. So, it takes a lot of time and effort. In the future, AI technology could accelerate this process. In combination with FPGA (its programmable hardware), we can also design IoT devices that use only the needed features of microprocessors to reduce power consumption. We will soon see a lot of companies allowing clients to create IoT devices for their purposes in a few clicks.
As a Ukrainian company, you may have been facing many challenges. What does the future look like for you'll?
This year was the most difficult for our country and company as well. Despite any challenges, the critical business priorities of the company remain unchanged, and we did our best to return to the average work pace. We've managed to accumulate all our resources (including personal resilience) and demonstrate our flexibility to clients, partners, teammates, and the whole world. Nevertheless, the Ukrainian IT industry remains one of the national exports' driving forces.
We constantly adapt our infrastructure to the realities of wartime. Our offices are equipped with all necessities to maintain the uninterrupted and productive work of teams:
i) Key systems are installed in the Cloud,
ii) a diversified network of Internet providers, in particular, due to the global satellite system "Starlink",
iii) the premises are equipped with generators intended for backup power supply.
Despite all these difficulties, our team has managed to work in blackouts, and every employee shows flexibility in the new conditions. All of us meet the deadline and do our job well.
It's said that even after the darkest night comes the dawn. Now a lot of Ukrainians are hoping that our dawn is coming soon.
I believe the biggest business challenges for us will involve developing new labour markets, attracting specialized support for employees (lawyers and psychologists), dealing with clients' doubts, and managing risks. However, we face challenges bravely and strive to provide innovative solutions.
What, according to you, is the future of IoT?
The future of this technology is in popularisation and bringing it closer to businesses and their customers.
There are three popular IoT use cases now:
a) Smart home. It's a relatively cheap system but sometimes limited in capabilities.
b) Industrial IoT. It costs a lot of money but works perfectly.
c) Developing or setting up an innovative solution for customers. Undoubtedly, it needs a lot of time to build something really useful.
Personally, I'm interested in the latest option: building a platform enabling anyone to easily set up an IoT system for their home, business, research project, or for their community. Even a tiny town can quickly become a Smart City without significant investments and in a relatively short period of time. So, it's a challenge to make the integration of Smart Cities and Smart Homes available for everyone. But it's closer than many might think.
Personally, what has been your growth strategy over the years?
To be honest, my strategy is very simple. I just always try to learn something new. I'm fond of the idea of optimising things. So I spend all my free time automating things and hoping it will save someone's time.
What, according to you, is the biggest challenge for your customers, and how do you wish to overcome it?
For obvious reasons, I can figure out the main concerns that appeared before clients. Among them:
Global connectivity. In most cases, customers want to create a device that would work everywhere.
Ecosystem complexity. The problem of integration of IoT devices with each other.
Data protection and information security. IoT devices generate and collect a vast amount of personal information, that's why there is a high risk with its privacy protection.

What factors, professional and personal, drive you as a leader? What keeps you going?
My leadership style is more camaraderie than strictly managing. And my work is my hobby that's why I used to communicate with my team on an equal footing. We definitely have one big common interest. I have more experience than others.
When I find out something interesting and share it immediately with the team, that drives and inspires me a lot. I work among like-minded people, so I focus on this. Some news or innovative examples may help my colleague with a difficult task. It's a constant synergy that's very inspiring.
What has been your key takeaway from IoT Tech Expo 2022?
To tell you the truth, it was my first experience as a speaker at such a big conference. And the more I talked with tech developers, the more ideas and approaches came to mind. The event helped me look at IoT trends from another perspective and reconsider some tools and approaches I use at work.
This year we see the comeback of many in-person events. What is your take on in-person events? Do you prefer them over hybrid or virtual?
In-person presentations and communication with people are the spice of my life. Hence, I'm glad offline events have been back after the COVID-19 restrictions were lifted worldwide.
Eventible.com is a review platform catering to B2B events. Given how review-driven our lives have become today, will reviews bring a level of transparency to the events industry? Would you rely on event reviews from other speakers if you had to make a speaking decision?
Nowadays, most of us pay more attention to reviews before deciding. And I`m not an exception. We need to make widely known review platforms such as Eventible.com because it could help future speakers and attendances to evaluate conferences and receive different and independent views about the specific event. I would take into consideration all the comments from other speakers before deciding to participate as one.