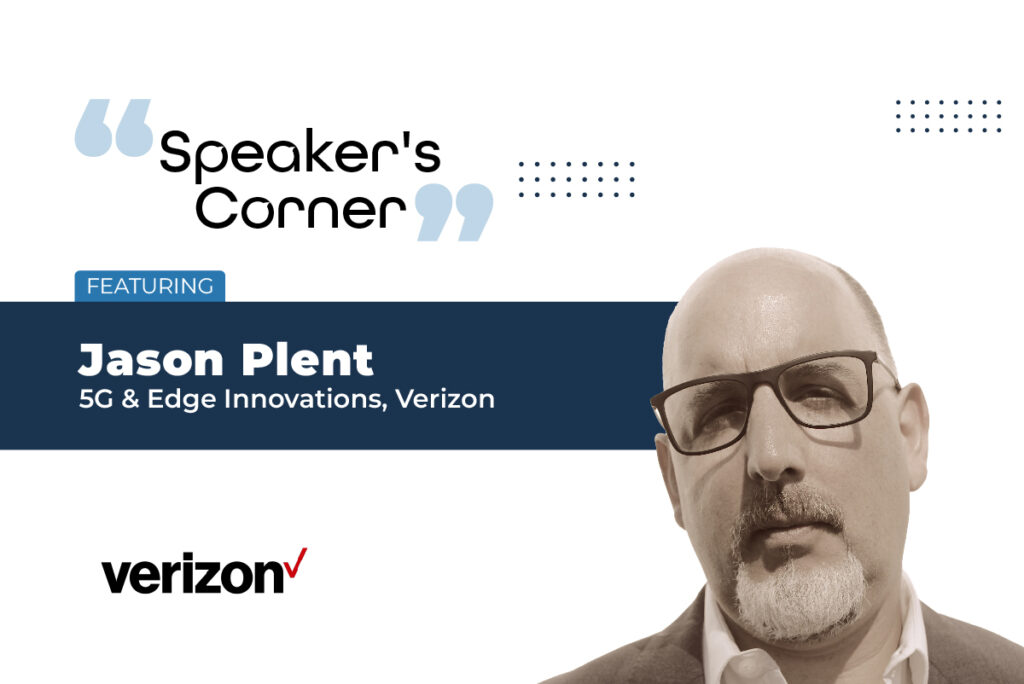 Currently working on 'Near Edge' 5G connected interoperability and optimisation technology innovation, Jason Plent is always looking for customer value. He strongly focuses on data science and machine learning/AI applications in the field, particularly in Manufacturing, Smart Cities, Energy, Transport, Ports, Airports, Mining and Smart Agriculture. He works with a number of global delivery partners in the US, UK, EU, APAC and MENA. Apart from that, Jason delivers lectures on sustainability and innovation theory and practice, is a dedicated mentor to students and businesses embarking on a career or investing in corporate social responsibility (CSR), develops companies to deliver technology solutions and much more.

In an interview with Eventible, he speaks about his journey so far, the challenges he faces and his strategies in overcoming them, new opportunities in 5G, and much more! Read along.
We believe that everyone has a story to tell. Tell us about your journey so far (before and after joining Verizon)
Before Verizon I worked for FogHorn Systems. FogHorn was a Silicon Valley scale-up that created one of the first data streaming platforms for analysis at the edge. FogHorn was funded by Bosch and Saudi Aramco in EMEA and my role as the VP for EMEA was to further the working relationships with those strategic investors and our client base, innovating and developing projects with them. It was great to see FogHorn acquired by JCI in 2021. My whole career has been focused on new technology and it value in the marketplace and I'm still very focused on that.

You are currently working on 'Near Edge' 5G connected interoperability and optimisation technology innovation. What are some of the challenges you face in this field and what's your strategy in overcoming them?

The biggest benefit we have at Verizon is our scale. We operate in many countries and have nearly two hundred thousand staff focused on making things better for our customers, existing and new. With innovation the challenges are always explaining technology advances to a customer in terms of how they can use those advantages in their business, but its that challenge I enjoy the most. It will take a while for product development to work with our partners to ensure all the devices we want for customers are available and investment returns are proven, so we are very happy to see the early adoption market advance and move to scale. It's a fascinating time. Our strategy is easy in that we plan to relentlessly deliver value for our customers, and with that as a mantra, we work hard to maintain it.

What new opportunities is 5G creating across industries like ports and logistic hubs, stadia, healthcare, energy, and sustainability projects?

5G is creating lots of opportunities across the industry, particularly ports and logistics. Since the dawn of modern logistics, port operators have been looking for seamless and pervasive high-speed connectivity across their locations. 5G enables this for the first time, and so it's a real breakthrough for those types of clients. Their early adoption means that they are now starting to develop applications for the edge that help orchestrate the business and drive efficiency. We are also seeing new types of Logistics hubs open in the UK with the Government supporting the opening of many new Freeports in 2023. It's an exciting time as Private 5G is such a leap forward in terms of power, efficiency, and coverage for new initiatives such as Freeports. It's also a really exciting time for healthcare as we see AR and VR enable better diagnostics but also edge efficiency release humans to do the things they do well better. There is so much pressure on healthcare provision right now that we all really want to see efficiency gains in public healthcare provision and Private 5G could have an enormous impact. That's why Verizon is very keen to support the initiatives we have with our partners. For sporting venues, we have unparalleled delivery for the NFL in the US and we are taking that technology to clubs like Liverpool FC in the UK. It's about a better fan experience but also about how can we use the connectivity to provide that experience at a lower cost for the venue, so a win-win. All verticals are looking hard or should be, at their energy spend and carbon footprint and Verizon is very keen to innovate our delivery to help our customers be more responsible using the technology we can offer.
In your opinion, how will converging 5G, AI, and Edge create the ultimate industrial environment?

We are already seeing applications using deep learning algorithms developed specifically for various verticals. As the advantages of edge processing become clear – it's faster, cheaper, easier, more dynamic, and more cost-effective, then its influence will spread and its relationship with cloud provision from the hyper scalers will advance, develop, and be clearly understood. You will be able to see data in real-time, interact with that data, automate the response and push control signals back with ease to all kinds of applications and devices, and it's very exciting to be at the forefront of that.
What are the factors, both, professional and personal, that drive you as a leader? What keeps you going?
From a personal point of view, I'm fascinated to see how the relationship between deep learning, analytics, streaming data, and containerized forms on the edge develop, and what that means for business, efficiency, sustainability, circular economy, and the drive to Net Zero. Private 5G is the perfect backbone connectivity for the provision of the effective edge, 'grounding the cloud' as my US colleagues call it. What keeps me going is the hope that technology can, in a really significant way, help us achieve Net Zero faster and in a more efficient way than we imagined.
You are someone who wears many hats and dabbles in many things. You deliver lectures on sustainability and innovation, have been a consultant to companies to aid them in delivering technology solutions, end-to-end interoperability programs, and advisory services, and also mentor students and businesses embarking on a career or investing in CSR activities. What do you enjoy doing the most? Also, how do you manage it all?

Management of how time is utilized is a pain for all of us. I think that is something we all struggle with – we are trying to do the best that we can deliver in the best way that we can. I enjoy in equal measure, trying to spread the word about the efficiency of 5G, the capability of 5G, and how Verizon can be a force for good in the drive to Net Zero, while also improving our customers' ability and capability to do what they do in a much more advanced way. I feel that it's very important to educate those coming through that this technology is available and it's developing very quickly, but we also have an overriding need to understand how the technology can be used to slow down climate change, either through adaptation of what we have already or mitigation by using things in the way that we've not using before, or pure innovation where we bring in something that we've not seen before to help. We all have a responsibility to take this overriding challenge head on (I am writing this as the US and Canada report a winter storm that will mean Xmas at minus 45 degrees for a lot of the central northern US and Canada which is unprecedented).

What has been your key takeaway from IoT Tech Expo World Series this year?

I really enjoyed the IOT tech Expo world series, and I was grateful for the opportunity to talk to an audience about Verizon and the challenges we face to introduce private 5G services to existing customer base and how we are trying to attract new customers on the basis of the experience we have gained. It is a new market and with that newness comes a number of challenges, but it's really important to collaborate to overcome those to innovate and go further and faster. Verizon is really good at that and it's great to be a part of the push to deliver private 5G services in Europe. IT tech Expo is a great forum to discuss methods, challenges, processes, and collaboration in an environment, structured and moderated to make that really effective.

This year we see the comeback of many in-person events. What is your take on in-person events? Do you prefer them over hybrid or virtual?

I think I am as happy in person as I am with a hybrid or virtual event. I think since the COVID-19 pandemic we are now using communication technology in a more practiced way people are happy to attend events virtually, but as a human, there is no doubt that meeting humans, humanizing a chance to talk to them in groups or one-to-one is really useful and really productive. I think we all missed that over the last couple of years.
Eventible.com is a review platform catering to B2B events. Given how review-driven our lives have become today, do you think reviews will bring a level of transparency to the events industry? Would you rely on event reviews from other speakers if you had to make a speaking decision?

In terms of reviews for speakers, I think that's a good thing because it would be helpful to understand who is speaking, what their agenda might be, and how I, might be able to contribute better to the discussion planned, so I think in principle more transparency in the events would be a useful thing and should add value.