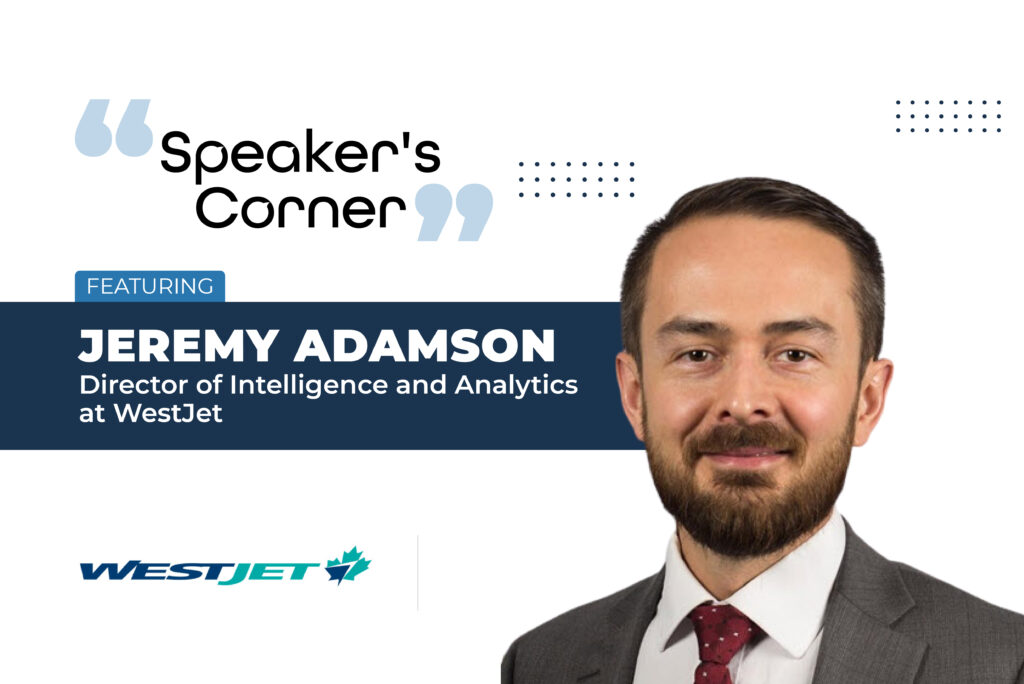 Speaker's Corner: Featuring Jeremy Adamson, Director of Intelligence and Analytics, WestJet
Tell us more about WestJet…
WestJet is a Canadian airline that began operations in 1996 and has grown from being a low-cost domestic carrier to a full-service international airline.
Airlines had been involved in a technological arms race prior to COVID, but since the pandemic began this has accelerated the pace of change and the adoption of AI. Competitive actions between airlines are moving away from being human-instigated and towards being based on predictive analytics and artificial intelligence. This rapid advance has led to challenges and an increased need for data science skills in the industry.
In what ways has the COVID-19 pandemic led to a shift in demand for air travel solutions – what are the current trends within the sector?
COVID has impacted every part of the industry, not the least of which is the change in consumer behavior. There are several factors that need to be taken into consideration to plan for demand. The move towards remote work, the decrease in business travel, rapid localized changes in travel restrictions, and pent-up demand for leisure travel. The interaction between all of these trends makes for a very difficult but very interesting demand modeling challenge.
What is your biggest objective as a speaker?
My first objective is to share one of the many interesting problems in aviation that AI and analytics have the potential to solve. Many practitioners do not think of this industry when they set out on their careers, and I would love to change that and to show what an amazing and underserved industry it is.
My second objective is to highlight the importance of culture change and strategic integration of the analytics practice. To truly add value to a company, practitioners need to be value-driven advisors to the business and not simply a pool of technical resources. I believe this is a key differentiator for organizations and for individual practitioners, and authored a book on the topic, Minding the Machines, which I discuss in my talk.
As a leader, what are the factors both professional and personal that drive you? What keeps you going?
My career has been built around building and leading analytics teams in legacy organizations. I believe strongly in analytics as a key strategic differentiator and want to help organizations find success in their adoption. On the personal side, data science and analytics professionals are some of the most interesting people to work with, and I absolutely love being part of this amazing field. It's a privilege to work alongside so many talented and passionate people.
In your opinion, do digital events give you a similar level of feedback/result vis-à-vis the live versions? What would you say were the biggest pros and cons of both formats? Which do you prefer?
If I can look on the bright side, digital events give a person an opportunity to attend many more events than they would otherwise. It's great to be able to hear from so many speakers. On the other hand, something is definitely lost in not being face to face. Shaking hands with attendees and exchanging stories after a talk is one of the most rewarding parts of the experience, and that just can't be replaced with Zoom calls. I definitely prefer in-person conferences, and they can't return soon enough for me.
I think the main factor will be the costs associated with these events. For the last two years, most conferences have been free. Many companies have stretched budgets due to the pandemic and will be hesitant to pay for attendance fees, travel, hotels, etc. for their staff to attend. I think the value of networking needs to be highlighted rather than the value of the talks themselves.
Eventible has recently launched a B2B Interactive in Person Event Tracker, tell us what you think? Do you think this is useful?
I think this is great. Usually, when planning out conferences for the year a person needs to visit multiple sites to find which are digital and which are in person. It's nice to have it all laid out!
Eventible.com is a review platform specially catering to B2B events. Given how review-driven our lives have become today, do you think reviews will bring in a level of transparency to the events industry? Would you rely on event reviews from other speakers if you had to make a speaking decision?
Absolutely – though there's something good in almost every conference I've been to, certainly some are better than others.
Finally, do you have a favorite mocktail or drink? We'd be delighted to know.
I'm not fancy – my favorite would be old-fashioned.

About Jeremy: Jeremy Adamson is a leader in AI and analytics strategy, and has a broad range of experience in aviation, energy, financial services, and public administration. Jeremy has worked with several major organizations to help them establish a leadership position in data science and to unlock real business value using advanced analytics. Jeremy is a Professional Engineer in the province of Alberta, holds an MBA from the University of Calgary, and a Master's in Engineering from the University of New Brunswick. He currently resides in Fredericton, New Brunswick.