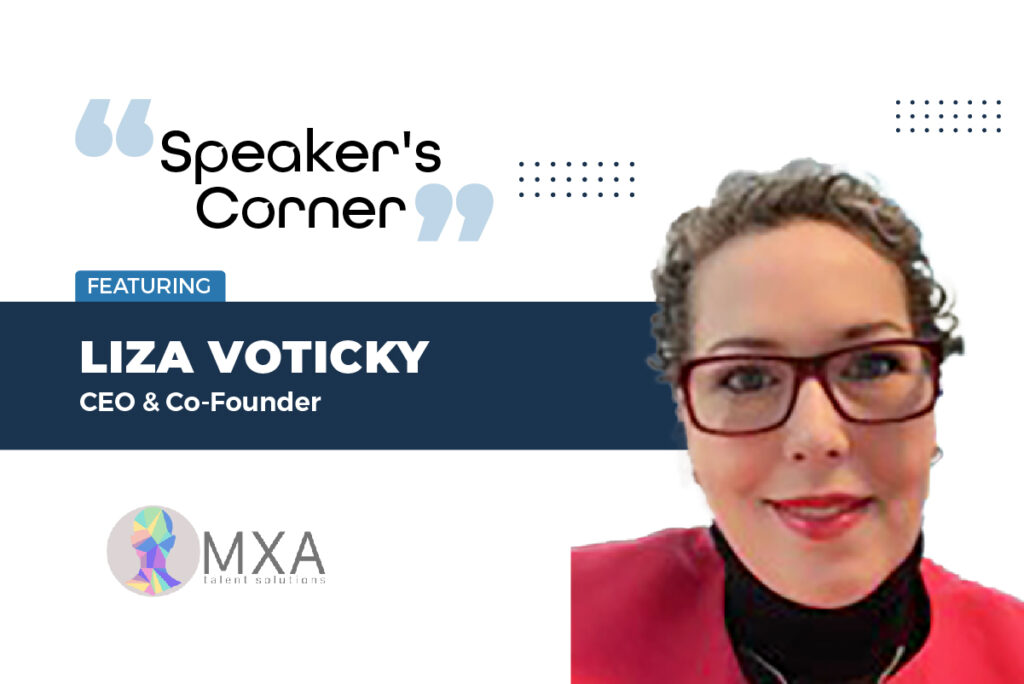 Speaker's Corner: Featuring Liza Voticky, CEO & Co-Founder, MXA Talent Solutions
Tell me about MXA Talent Solutions, its work and the projects undertaken thereof?
MXA Talent Solutions is a culmination of years of working in the Talent arena for many years and noting the various gaps that exist, even today, in how we select talent for our organizations, internal and external. The founders of MXA have a combined 100+ years in Recruiting, Talent Operations, Technology Implementation and HR Consulting.
We came together as a like-minded group who saw the need to modernize and disrupt the Talent Selection process. In the TA Consulting Practice, we built proprietary assessments of recruiting functions, diversity talent selection and overall internal TA team functionality. Our Recruitment Maturity Index™ gives a clear and concise path to building a truly integrated and functional recruiting team, and our Diversity Maturity Index™ will provide you with a roadmap for taking your diversity initiatives from the drawing board to measurable results.
In our Technology Implementation Practice, we have a team of experts within our network who are experienced in reviewing existing Talent Modules, making recommendations for optimization, and are strong partners with your needs in mind, when implementing new technology. We know from experience that some organizations over-customize talent technology, others take the out of the box solutions.
This happened when you don't have an expert on staff to help you determine what you must have versus what you want to have. We partner with you to develop the right configurations and customizations to deliver just what you need to elevate the talent function within your HR team. Within our Search Practice, MXA Talent Solutions offers a network of recruiters across North America to provide retained search, a "rent a recruiter" model, or contingent staffing. Long term, MXA Talent Solutions will be building a talent eco-system that will integrate with multiple HRIS platforms, delivering a unique and user-focused talent suite.
What are the challenges within the talent acquisition industry today? Are operations moving digital?
The challenges today are an extension of the challenges we've seen over the years in talent. The talent market today has changed over the generations and our workforce is often made up of 4 or 5 generations, all with different approaches to work and various needs that must be met by organizations.
There has been a sustained level of low unemployment that drives a candidate-driven talent pool, this has not changed over the past year, in fact, the Pandemic has intensified this. People left the low wage workforce, having to stay home with children or elderly at-risk family members. This has led to a new way of living, reducing spending and costs associated with childcare or eldercare, leaving many with the realization they don't "have" to return to work. The staffing industry is experiencing a surge as more and more people want flexible work opportunities and companies are struggling to attract talent.
Operations are moving digitally, and many have jumped on the AI bandwagon as it relates to recruiting/hiring. At this time, much of it is centred around chat-bots and automated scheduling. Outside of the hiring process, companies are looking at digital solutions more and more, driven by a challenging talent marketplace, if you can't hire people to do a job, can you use technology. This is especially true in discount retail companies who are turning more and more to automated check-outs, just as an example.
What is your biggest objective as a speaker?
My passion has always been tied to the Talent Selection space and how and why we select people for roles, what we rely on to make those decisions and how it impacts organizations. Talent Selection is the MOST strategic thing a company can do, have the right people in the right job at the right time is what drives companies forward. As a speaker, it's incumbent on me to share that message with HR people who may not see the strategic value in the Talent Selection process.
When it comes to DE&I, companies put rules and goals in place, but do they do the work to understand how their leaders are making hiring decisions? Are they holding each other accountable for the results? These are the ideas that I love to share, and I'm passionate about truly disrupting the talent selection space and helping leaders value this strategic opportunity.
Could you share with us the points of discussion (the input that you provided) during the panel(s) at the Social Recruiting Strategies Conference?
Networking is key to connecting to talent, focused and strategic networking. Too many people use LI to just build networks with random people. It's important to define the network you want to be connected to and work to grow that. Presence on social media should be separated into personal and professional. Your personal, political, socio-economical opinions should be kept to your personal network unless you're a politician!
As a leader, what are the factors both professional and personal that drive you? What keeps you going?
What truly fuels me is doing something that has a positive impact on someone else, it's why I've stayed in recruiting for so long. Working with leaders to help them define what success looks like for their teams, finding people who are aligned to those visions and bringing them together. There are so many gaps in how organizations select talent, that I am personally driven to shine a light on those gaps.
Personally, I am fulfilled when people open their eyes to the opportunities to leverage talent in a more strategic way, when they look at me and say "wow I never thought about it that way", then I've done my job.
In your opinion, do digital events give you a similar level of feedback/result vis-à-vis the live versions? What would you say were the biggest pros and cons of both formats? Which do you prefer?
I genuinely enjoy the personal touch of in-person events versus digital. It's still challenging to get feedback in virtual events. As a presenter, you're focused on the presentation, with no eye contact and the participants are typing questions in the chatbox, which isn't the same. I'm hopeful as the technology evolves this will improve.
What is your take on in-person events? Do you prefer in-person events as compared to hybrid or virtual? How soon do you think in-person events would return?
I like in-person events as it offers a way to communicate with people directly whatever message I'm delivering. I'm not a big participant in the networking events that come along with in-person events. I am hopeful that we will see a hybrid of in-person and virtual events, which will make them more accessible to more people.
The costs of in-person events are often very high, so being able to include people who otherwise wouldn't have the budget to attend an in-person event is good for everyone. I do think we'll see some in-person events beginning in late 2021.
In your opinion, what are the top 3 challenges to returning to 'In-Person' events? How could we mitigate risks?
I believe that for most people it will be a comfort level of being with a large group after so much time isolated. Providing transparency as to health measures being taken will help to mitigate the hesitancy. People are resilient and they have short memories, by the end of 2022, I imagine this past couple of years will be a distant memory.
Eventible has recently launched a B2B Interactive in Person Event Tracker, tell us what you think? Do you think this is useful?
I've not used it but it sounds like a very useful idea to me.
Eventible.com is a review platform specially catering to B2B events. Given how review-driven our lives have become today, do you think reviews will bring in a level of transparency to the events industry? Would you rely on event reviews from other speakers if you had to make a speaking decision?
I agree reviews are very important in today's world, and taking it to the event space is a great idea. It may very well evolve into the "Glassdoor" of events1
Finally, do you have a favourite mocktail or drink? We'd be delighted to know.
Oh my, that's an interesting question 😊 I'm a red wine drinker.
About Liza: Liza began her career in Toronto, Canada as a Staffing Specialist for a small temporary staffing agency. Throughout her agency career, Liza successfully moved through various roles in staffing, national sales, operations, communications, and senior management. She successfully transformed the largest branch of Manpower Temporary Services into a profitable branch with the highest customer satisfaction rates in Ontario and the lowest staff turnover rate in the Country. Today, Liza is the CEO and Founding Partner of MXA Talent Solutions, an organization built to help companies review, assess and strategize for the Future of Hiring. MXA Talent Solutions is a team of experts in talent attraction strategies, organizational design, complete transformations, technology optimization & implementation, employment branding and recruiting operations. Having spent most of her young life in Montreal, Quebec, Liza is a graduate of John Abbott College where she studied Political Science. She is bilingual, French & English and has a broad scope of expertise in Talent Attraction, Talent Management, Candidate Experience and Talent Marketing.