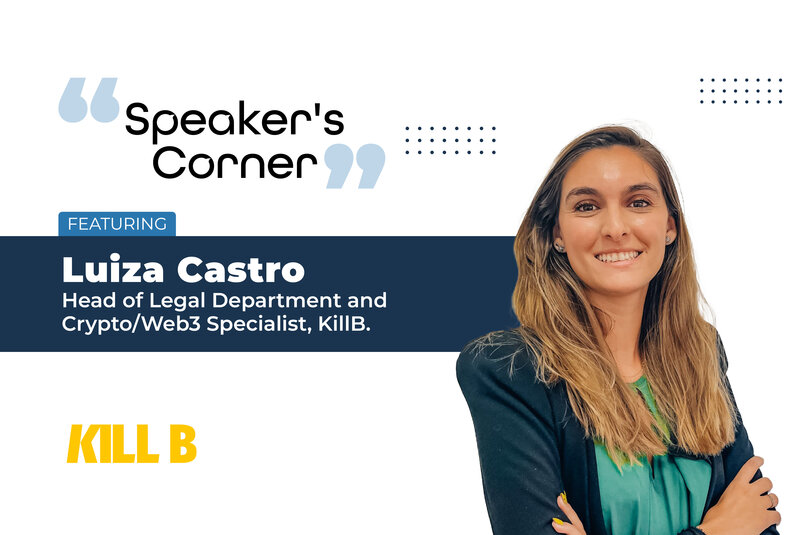 Luiza has years of experience in corporate law and contracts, notably civil law, real estate law, regulatory law, and international law, having worked as a lawyer in various multinational scenarios with notable experience in the United States, Latin America and Europe. She also has years of experience in crypto and Web3 and is a subject matter expert.
Luiza has a law degree and a postgraduate diploma in contracts from Pontificia Universidade Católica of Rio de Janeiro (PUC-Rio), a specialist diploma in M&A of Washington and Lee College of Law, a specialist diploma in Theory and Law of Intellectual Property from Boston College Law School and a Master's Degree of International Commerce at the University of Lisbon.
She is currently the Head of the Corporate and Crypto Departments of a Lisbon based law firm and aims to provide superior legal services and link traditional services with technology, always with the goal to simplify the contact with clients and ensure satisfied clients. Languages: English, Portuguese & French.

Now in an interview with Eventible, Kill B's Luiza Castro speaks about her journey so far, her role at KillB, and her vision for the future of the industry she is operating in, among other things.
Everyone has a story to tell? What's yours? What's your journey so far been like?

My interest in the technology sector led me to work with fintechs and startups after beginning my career as a contract and corporate lawyer. As a result of that experience, I naturally began using blockchain and smart contracts for business transactions, which finally brought me to the burgeoning web3 field. I've truly loved being a part of the space's expansion and development as someone who feels at home in this technical environment. But, there have been some difficulties along the way because I am a woman in a male-dominated field. Nonetheless, I have persisted and adjusted to the changes that come with working in a sector that is so cutting-edge.
What is your role as the Head of Legal Department and Crypto/Web3 Specialist in KillB?

My primary duties as the Head of the Law Department and a Crypto/Web3 Specialist are to supervise legal matters and offer professional knowledge regarding cryptocurrencies and Web3 technology. I oversee the legal department and guarantee that our business' operations adhere to all applicable laws and rules. I also counsel and advise other departments including finance, operations, and marketing on legal matters.

I can advise the legal team on matters pertaining to cryptocurrency transactions, smart contracts, and token offers thanks to my in-depth knowledge of blockchain technology, cryptocurrencies, and decentralized financing (DeFi). I ensure that our business operates within the law while taking advantage of the special opportunities that crypto and Web3 technologies present by having a thorough understanding of the legal ramifications of adopting these technologies.

I work together with other departments to guide our business through the legal and regulatory environment while also advancing technological innovation in the crypto and Web3 industries. As we advance in the cutting-edge field of cryptocurrencies and decentralized technology, it's a difficult yet extremely gratifying profession.
What is your vision for the future of the industry you are operating in?

Although the legal Web3 sector is still in its early stages, there are already a lot of intriguing advancements taking place in this area. The usage of smart contracts, which are self-executing contracts that operate on blockchain technology, is one significant area of growth. Many legal procedures might be automated with smart contracts, making them quicker, less expensive, and more effective.

Decentralized autonomous organizations (DAOs), or organizations that are run by code rather than by people, are another area of growth. DAOs have the ability to transform conventional corporate structures and offer a more decentralized and democratic method of managing businesses.

Other legal frameworks that are especially suited for the Web3 sector might possibly arise in the future. Decentralized technologies provide specific legal concerns that these frameworks would have to solve, including jurisdictional issues, regulatory compliance, and intellectual property rights.

In general, continuing innovation, teamwork, and the creation of new legal frameworks that can foster the expansion and advancement of decentralized technologies are likely to characterize the future of the legal Web3 sector.
How can you classify cryptocurrencies and other digital assets, and what are the potential regulatory repercussions for businesses engaged in this industry?

Depending on their qualities and intended usage, cryptocurrencies and other digital assets can be categorized in a variety of ways. The three basic categories of function or purpose, which can be used to categorize digital assets, are as follows:

Cryptocurrencies are digital assets that are intended to be used as a store of value or as a medium of trade. A couple of instances of cryptocurrencies include Bitcoin and Ethereum.

Utility tokens are digital assets that may be used on a blockchain network to obtain a specific good or service. For instance, the Brave browser accepts the Basic Attention Token (BAT) as payment for advertising services.

Security Tokens are those that reflect ownership in a specific asset or entity and are governed by securities laws are known as security tokens. Traditional financial assets like stocks, bonds, or real estate are examples of security tokens.

The regulatory environment for companies operating in the digital asset sector is continually changing and can differ greatly from one country to another. Businesses operating in the digital asset sector are typically subject to regulatory scrutiny from a number of governmental organizations, including tax authorities and financial regulators.

For instance, the Securities and Exchange Commission (SEC) in the United States has issued guidelines on the classification of digital assets as securities and has initiated enforcement action against businesses that have carried out unregistered securities offerings. The Federal Revenue Service (IRS) has also released guidelines on how to tax cryptocurrencies and other digital assets.

The regulatory environment for cryptocurrencies and other digital assets is changing in Europe as well, and firms may need to be aware of a number of regulatory authorities. For instance, the European Securities and Markets Authority (ESMA) has proposed that some categories of digital assets be subject to the current EU financial legislation and has provided recommendations on the classification of digital assets as financial instruments.

A new rule on markets in crypto-assets (MiCA) that the European Commission proposed in December 2020 seeks to establish an extensive legal framework for digital assets in the EU. If passed, the MiCA would establish regulations for service providers, including exchanges and wallet providers, as well as for the creation and trading of digital assets.

Before conducting business throughout the EU, MiCA would also require companies to acquire permission from their national financial authority; this might have a substantial regulatory and compliance impact on companies working in the digital asset sector.

In general, businesses need to stay current with regulatory developments and work closely with legal and compliance specialists to ensure that they are functioning within the law as the regulatory landscape for digital assets continues to change in Europe and around the world.

In order to ensure that they are working within the law, organizations involved in the digital asset sector need to be aware of the potential regulatory consequences and closely collaborate with legal and compliance professionals.
What should businesses do, in your opinion, to remain compliant with regulations whilst maintaining the long-term success and stability of the industry?

Businesses in the digital asset sector should adopt a proactive approach to regulatory compliance if they want to sustain the long-term prosperity and stability of the industry while remaining compliant with regulations. Here are some crucial actions that companies can take:

a) Remain informed: It's crucial for businesses to stay current with regulatory developments and changes in the law because the legal environment for digital assets is always changing. This could entail monitoring regulatory developments and evaluating their potential effects on the business while collaborating with legal and compliance specialists.

b) Create a compliance program: Companies should create a thorough compliance program that includes guidelines, procedures, and safeguards to guarantee adherence to all applicable rules and laws. The compliance program must to be customized for the company's particular risks and legal obligations.

c) Employ risk management strategies: To discover, evaluate, and reduce potential regulatory risks, businesses should also apply risk management strategies. This can entail performing routine risk analyses and putting procedures in place to handle hazards that have been identified.

d) Train staff members: Staff members are crucial to regulatory compliance, thus firms should offer training and education to make sure that staff members are aware of their responsibility to comply and the potential repercussions of non-compliance.

e) Interact with regulators: Lastly, firms should cooperate and communicate openly with regulators. This may entail asking regulators for advice on compliance-related matters, responding to regulatory questions or requests, and taking part in forums or working groups for the industry to help create regulatory policy.
How has the COVID-19 pandemic changed the way you work today? What trends do you see coming into force after the pandemic?

Globalization and remote work: The pandemic has demonstrated the viability of remote work across borders, which may encourage greater globalization and cross-border cooperation.
Since last year we have seen the comeback of many in-person events. What is your take on in-person events? Do you prefer them over hybrid or virtual?

Real-time interaction with speakers and attendees, the chance to network in person, and the thrill of taking part in a live event are just a few advantages of attending events in person. Events that take place in person also provide attendees the chance to discover different locales and cultures, which can be a fantastic source of knowledge and inspiration.

But, there are some disadvantages to attending events in person, including the time and money required for travel, significant health hazards, and a restricted audience for those who are unable to do so.
Nonetheless, there are several benefits to hybrid and virtual events, including improved accessibility, increased flexibility, and lower costs. In order to improve the attendee experience, virtual events can also provide elements like on-demand content, live streaming, and interactive tools.

The personal touch that comes with face-to-face contact is absent from virtual events, albeit they can also be less interesting. The best of both worlds is provided by hybrid events, which integrate in-person and online components. Participants can interact in real-time while also expanding their audience via online platforms.

Generally, the decision between in-person, hybrid, or virtual events is influenced by the event's objectives, target audience, and available resources. The best course of action is to select the format that best suits the particular demands and objectives of the event because each style has strengths and disadvantages of its own.

Eventible.com is a review platform catering to B2B events. Given how review-driven our lives have become today, will reviews bring transparency to the events industry? Would you rely on event reviews from other speakers if you had to make a speaking decision?

Having reviews from other speakers can certainly help to provide a clearer understanding and perspective on the situation. Reviews from other speakers can provide insights and information that may not be immediately obvious or apparent.