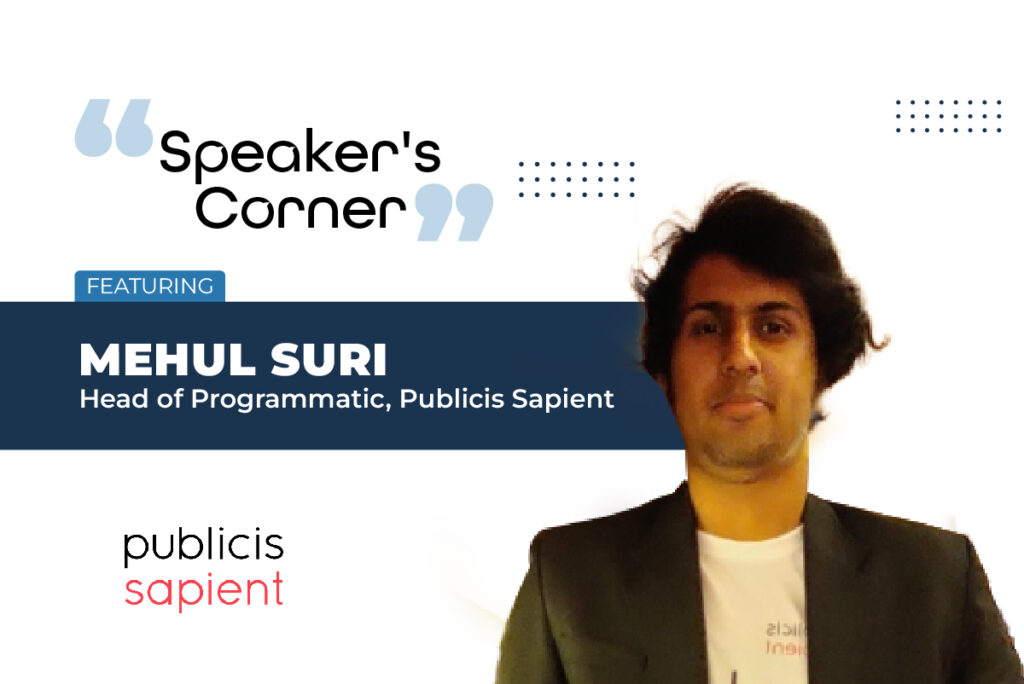 With over three years of experience across Programmatic Media and Analytics, Mehul Suri, the Head of Programmatic, Publicis Sapient, is adept at delivering performance analysis, strategy consultation, and forging strong client relationships to make sure the company's clients reach its potential customers and not just deliver impressions.

Mehul's primary role is to build comprehensive programmatic campaigns in DSPs, drive strategies and aggregate the post-campaign analysis numbers to drive optimizations to the future campaigns and provide campaign insights to the brand managers. In an interview with Eventible, Mehul Suri speaks in great length about his role, some of the biggest challenges he has faced, the future of Programmatic, and more!
Tell us about Publicis Sapient's Programmatic division and your role as the Head of Programmatic in the company.

We primarily cater to markets across three regions (APAC, North America and EMEA). The Programmatic team within our office is a 40+ member team responsible for catering through the complete journey of Programmatic buying, including category planning, media planning, campaign execution, trafficking and end-campaign reporting to the clients. My role primarily involves defining the scope from a Programmatic standpoint for our clients in terms of the SOW agreed upon between the agency and client and being able to grow it even further to expand the horizon of our team's staffing and responsibilities. It also involves defining best practices for our clients in terms of Programmatic planning approach, SPO, Savings Agendas, technology integration and much more.

What are some of the biggest challenges one faces in Programmatic today, and also, what have been the key milestones?

The very Programmatic channel is so diverse in nature. It has an endless list of publisher inventory sites to place advertisers' ads on, making it so hard to understand what is quality and what is not. This is where 'Supply Path Optimization' comes into aid for agencies and advertisers. The critical milestone for any advertiser is to filter out as much publisher inventory as possible to be placed on premium inventory in a brand-safe, highly viewable and fraud-free environment.
How does maximizing the value of technology contribute to delivering client experience?

When it comes to advertising, it's best served if it combines data, technology and creativity, apart from the media strategy and DSP's ad-serving capabilities. And technology, without a doubt, brings real success to any marketing objective as it helps advertisers build better personalization, which is the core KPI for enhancing brand value.

What, according to you, is the future of Programmatic? What is the one thing this field must improve moving forward to maximize value?

We are seeing more and more advertisers becoming flexible in their media approach, looking at the ever-changing consumer mindset. Outside of the usual Programmatic heroes (display, video, YouTube and native), we are seeing more and more demand coming in for CTV, Audio and DOOH. These 'rising star' channels are seeing significant traction coming in, which has become crucial for brands in terms of omnichannel advertising.
How has the COVID-19 pandemic changed the way you work today? What trends do you see coming into force after the pandemic?

Our company is functioning in a hybrid model, and employees can work from wherever they want as long as the output is not hampered. Though brands are to adjust post the pandemic era since so much has changed. It all starts with where you are investing your media budgets. And, of course, the demand for retail media has grown massively over the past few months CPG brands are always under the constant push to take utmost advantage of retail vendors such as Amazon, Boots, Tesco etc.
What factors, professional and personal, drive you as a leader? What keeps you going?

Any leader, no matter what field he is in, requires two things to be successful. First, a valued and ready team to work to any extent for you and work towards your shared goal/vision. And second, a management team that is open to your thoughts and ready to go the extra mile for your team. I'm fortunate that both these boxes are ticked in my case, which has been the core reason for my leadership success.

What has been your key takeaway from Programmatic Pioneers Summit this year?

Ah, difficult for me to pick anyone. After two years of the pandemic, Singapore's summit took place in person. One could see the joy of members meeting each other and exchanging ideas to be able to understand what each of the sectors in the world of digital advertising can do to scale/enhance effectiveness.
Apart from this, the speaker's agendas lined up over the two-day event were engaging. Most of the elements were around how consumer behavior had changed post the 'pandemic era' and what marketers/publishers/technology companies are doing to stay ever relevant around the intended consumers.
This year we see the comeback of many in-person events. What is your take on in-person events? Do you prefer them over hybrid or virtual?

'In person' all the way. Apart from listening to industry experts speaking on various agendas, these events are also the best networking forums. Meeting people from different fields of advertising and hearing out their company's service offerings and personal experience is a great way to collaborate.
Virtual sessions are also great to have, and they have their role to play as proximity is a factor that might not allow people to attend sessions in person but being able to gain knowledge virtually also is seen as a great benefit.

Eventible.com is a review platform catering to B2B events. Given how review-driven our lives have become today, will reviews bring a level of transparency to the events industry? Would you rely on event reviews from other speakers if you had to make a speaking decision?

Yes. Because the media world is so vast and endless events occur every month, a review system would be good to have in place so that it's easier for the audiences to cherry-pick the event they want to attend.