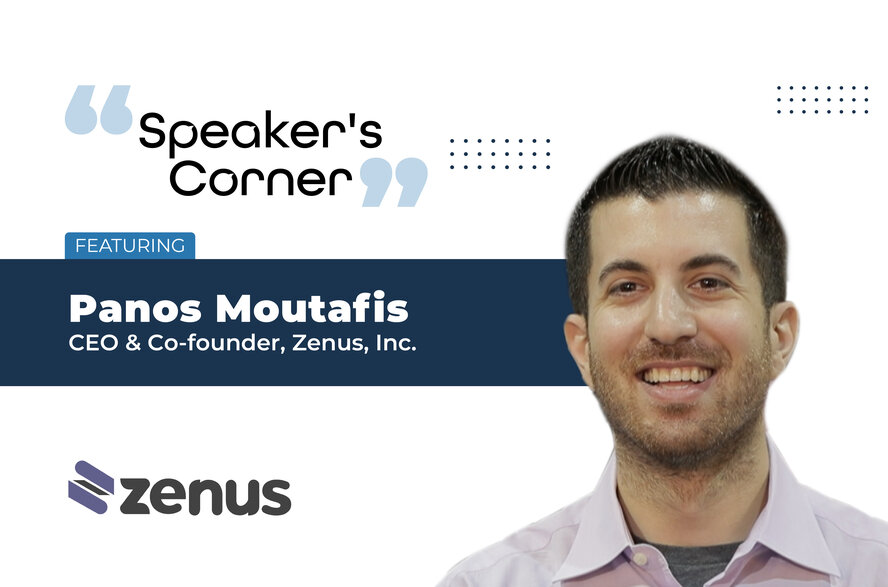 Dr Panos Moutafis has 12 years of experience in ethical artificial intelligence and is the CEO and Co-founder of Zenus. He received his B.Sc. in Statistics from the Athens University of Economics & Business in Greece and his PhD in Computer Science from the University of Houston.
Panos has a dozen publications in leading journals and conferences and a book chapter in Face Recognition Across the Imaging Spectrum. He has been internationally recognized as an expert in ethical facial analysis, with published articles in the Harvard Business Review and the Journal of Marketing Research. His distinctions include a TEDx Talk and the best paper award by the IEEE Homeland Security Conference Biometrics, Forensics, and Physical Security.
In a conversation with Eventible, he opens about his journey so far, Zenus, factors that drive him as a leader both professionally and personally, his growth strategies and more. So what are you waiting for? Let's get started.
What is the story and philosophy behind Zenus? What has been your motive and story behind co-finding it?

We built the company around three values: (i) protect people's privacy, (ii) practice radical honesty, and (iii) do things right. The vision has evolved into developing Ethical AI solutions with built-in mechanisms to safeguard privacy. This is what drives us.

In addition, our goal is to maximize the adoption of artificial intelligence. Trust and ease of use are critical to this end. An investor once told me that everyone understands the power of computer vision and facial analysis. But the company that makes the technology accurate and easy to use will be the one that wins.

The example he used was the light bulb that turns on when he opens the fridge door for a late-night snack. And this is what we did – it takes five minutes to set up our devices without any technical knowledge. Easy and highly reliable.

Who is on your team, and how did you come together?

Our team has grown to over ten people, with more to come as we gain additional traction. We have crossed paths in all possible ways – some were introductions from our network and others were heavily recruited.

The most important thing is that we are in this together. No task is too small, regardless of one's title and position. Everyone has some skin and made sacrifices to be a part of the team – we are working towards a vision more significant than ourselves.

What are the critical factors that have led to the company's success over the years?

Listening to market feedback while maintaining our integrity. Market feedback: It does not always matter what you know to be true if the customer believes otherwise – it will be an uphill battle. Instead, it makes more sense to double down on what is accurate, and the market preconceptions support it.

Integrity: We have turned down revenue opportunities that did not align with our core values. It might be painful in the short term, but it pays off in the long time. Nobody wants to be associated with bad actors.

As technology improves and innovations make data collection and analysis more accessible and less costly, the line between what should be private and what shouldn't blur. What is your take on it?

In my opinion, the line is not that blurry – people know what is right and what is not. Privacy regulations have also matured. If the data can be used to identify an individual, consent is needed before data collection occurs. The disclosure should convey what information is collected, how it is processed, for what purposes, and how long it is retained.

There should also be an (easy) opt-out mechanism and alternative methods to perform the same action. Newer regulation is underway, further clarifying what use cases are permitted. It is more about education at this point than anything.

What is your vision for the future of the industry you are operating in?

We touch upon multiple industries because our technology supports many use cases across the spectrum.
On a high level, our solution focuses on understanding human behavior to design better experiences.
As the access to goods and services becomes more accessible, the importance of experience design and consumer insights will continue to play an increasingly more critical role in our lives. We facilitate measuring and improving these experiences that touch everything in our daily lives.

How has the COVID-19 pandemic changed the way we work today? What trends do you see coming into force after the pandemic?

To a great extent, the pandemic has accelerated the adoption of digital technologies. People are also eager to go out and meet again in person. It is one of the reasons why offline experiences are gaining traction again.

What factors, professional and personal, drive you as a leader? What keeps you going?

One of my professors once said – if people are not feeling a little uneasy about what you do, you are not pushing the boundaries enough. We want to be at the forefront of technology and make a dent in the world for the better. Technology is the most significant contributor to improving human life across the board.

With this said, a lot of power comes with our solutions, and it is not enough to say – it is up to the market to use them properly. Companies creating the next generation of technology bear at least some responsibility for implementing safeguards. We are leading the way in the space, and the market responds positively.

What have been some of your growth strategies over the years? What's the one thing that you would like to share with us?

Focusing on the community and its needs always come first. Dozens of people believed in us early on. They propelled us forward without expecting anything in return – it was purely their faith in our mission.

It is equally important to focus on solving a genuine problem and filling a market gap. And also knowing when you do not. One of my favorite things is recommending a competing market alternative when our technology is not the right fit. It has never served us wrong. Instead, it often results in building more trust and long-term relationships.

Have you set any future goals for the company? What are they?

Yes, we have ambitious internal goals. And our way to reach them is by partnering with other industry providers. Some people have a zero-sum mentality: If you win, I lose. But it is also possible to make the pie bigger for everyone. This is what technology does – it creates efficiencies that unlock resources and more markets. And the best way to accelerate the adoption of new technology is to work with the existing industry players.

How was your experience speaking at PCMA Convening Leaders? What was your biggest takeaway from it?

It was an excellent show, and we held terrific conversations! One of the most exciting interactions was with an attendee who had privacy concerns. It was interesting that they could not think of a concrete risk regarding our protocol for deploying AI technologies.

But they were still afraid of it without being able to put their finger on it. That made me think about how people used to be afraid of online banking, and now everyone is using these services. It was also interesting that thousands of others are entirely comfortable with the technology. There will always be outliers, but we cannot make policies and decisions based on them.

Since last year we have seen the comeback of many in-person events. What is your take on in-person events? Do you prefer them over hybrid or virtual?

It has less to do with what I or we prefer. People want to meet in person whether you look at friendships, dating, or business settings. It is the fastest way to build trust and form a stronger bond. There is a place for virtual meetings.

However, there is a reason why concerts never faded away despite YouTube, the iPod, and all other online music streaming services. People want to go out and have an in-person experience. It is tough to substitute that.

 Eventible.com is a review platform catering to B2B events. Given how review-driven our lives have become today, will reviews bring transparency to the events industry? Would you rely on event reviews from other speakers if you had to make a speaking decision?

Reviews are an essential part of making decisions. When discussing our service, we always caution people to look at multiple data sources to get the complete picture. If the reviews are positive, surveys offer excellent scores, sentiment analysis is off the chart, and anecdotal feedback is positive, it would be extremely unlikely that an event is not good.