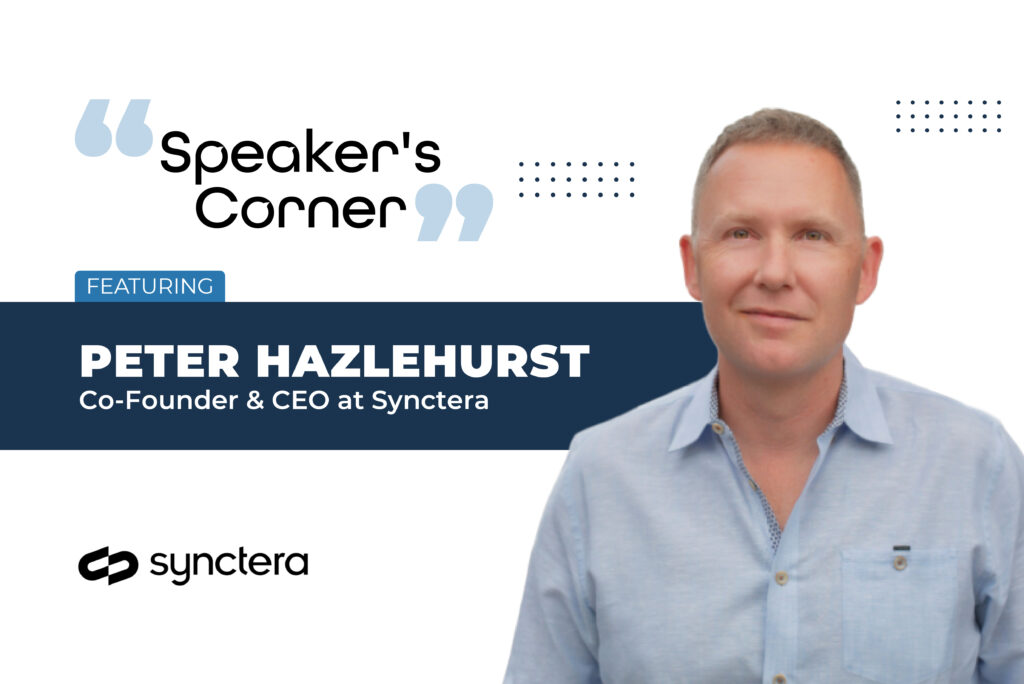 Speaker's Corner: Featuring Peter Hazlehurst, Co-Founder & CEO at Synctera
Tell us a little about Synctera and how it's working to close the gap between community banks and fintech.
Synctera is revolutionizing the banking industry by making it easier for community banks to partner with emerging FinTechs. Prior to Synctera, it was a challenge for community banks to form potential partnerships due to a combination of not understanding or being able to manage the compliance risks associated with FinTechs and having the operational skills to address the accounting, billing, and reconciliation associated with managing multiple partnerships.
With Synctera, community banks can focus on serving their communities while also enabling their FinTech counterparts to offer FDIC-insured mobile checking, ACH, KYC, debit cards, and savings accounts to their prospective customers. The platform is simple: Synctera connects community banks and fintech, making an otherwise complicated partnership easier and more streamlined.
How has your experience within the finance sector helped you in understanding and identifying trends in a constantly evolving market?
As the co-founder and CEO of Synctera, I was lucky to have spent a considerable amount of my career building and operating solutions from core banking to Uber Money. Over 25 years ago, we built a core banking system, Phoenix on Windows.
Since then I've been fortunate to work with great teams at Google and Yodlee on both sides of the marketplace either direct to consumer or in a platform way. I think that has enabled me to anticipate some of the more significant and emerging FinTech trends and ultimately create a platform that addresses an existing gap in the marketplace that community banks will likely need to address in the coming years.
What is your biggest objective as a speaker?
Arguably one of the biggest growth areas in the FinTech sector over the past year has been the embedded finance verticals. I think I can offer a unique perspective on the landscape, both as a builder at Uber and Google and as a provider at Yodlee.
I've been on both sides of the FinTech-as-a-Service coin: what it takes for FinTechs to go to market, and how community banks (an area typically underrepresented when it comes to digital innovation) can match with FinTechs in order to build a successful new line of business—a win-win for both sides.
Take us through the core points of the panel(s) you are participating in at LendIt Fintech. What are you hoping to accomplish via your session(s) there?
My LendIt panel is entitled "The Digital Banking Era Arrives" with Eric Sprink of Coastal Community Bank, and Ram Ahluwalia of PeerIQ.
During the session, we will touch on Synctera's ability to bolster community banks as the new wave of FinTech joins the financial landscape. Even better — I'll be collaborating with Eric, CEO of our first community bank partner. During the panel, Eric, Ram, and I will delve into the challenges in banking for community banks and how FinTech solutions can pave the way to new opportunities.
As a follow-up, do you feel that digital events give you a similar level of feedback/result vis-à-vis the live versions? What would you say were the biggest pros and cons of both formats?
In general, I'm much of a fan of a dynamic, in-person event as the energy in the room is kinetic. I'm so looking forward to everyone getting vaccinated and we can come back together. I do like the ability to address more questions in real-time via Zoom, but I'd do a live one by preference every time
Finally, do you have a favorite/go-to cocktail? What is it?
I'm a whiskey person. I love a good Macallan with one big ice cube.
To review LendIt Fintech, click here.

About Peter: Peter Hazlehurst is the Co-founder and CEO of Synctera. He founded the startup in 2020, bringing with him 25+ years of experience advising and building in the FinTech and financial services industries. Prior to founding Synctera, Peter held positions as the Head of Uber Money, Senior Director at GoogleWallet, CPO of Yodlee and more.