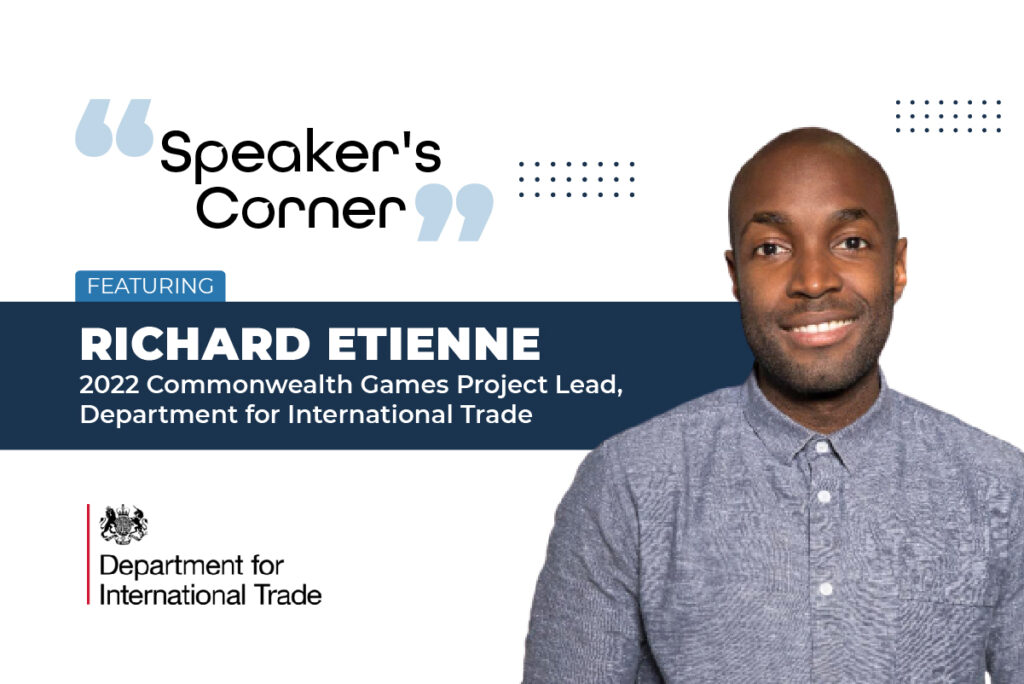 Speaker's Corner: Featuring Richard Etienne, 2022 Commonwealth Games Project Lead at Department for International Trade
Tell us in brief about the Department for International Trade (DIT)…
The Department for International Trade (DIT) is responsible for securing the UK and global prosperity by promoting and financing international trade and investment and championing free trade.
As of 1 January 2021, EU trade agreements no longer apply to the UK. DIT leads the UK government's ambition to reproduce the effects of trading agreements that previously applied to it to ensure continuity for UK business.
The department achieves this by securing free trade agreements and reducing market access barriers, ensuring that consumers and businesses can benefit from both; delivering economic growth to all the nations and regions of the UK through attracting and retaining inward investment.
Find out about the trade agreements the UK has concluded that are in effect and the progress of our discussions with other countries on GOV.UK.
What is your number one goal as a speaker?
My number one goal as a speaker is to ensure those in attendance leave with something of value. Their time needs to be worth it, and as time is one of (if not our most) precious commodities, I don't take my privilege as their invited speaker lightly.
Could you share with us the points of discussion (the input that you provided) during the panel(s) at the Diversity and Inclusion Leaders Forum?
During my session 'COVID19 and the rise of the introvert', I looked at how the presence of quiet power gained volume in remote and hybrid working environments across the world. Three main areas I analyzed was how introverts were:
becoming increasingly seen and heard in meetings
building extrovert allyship; and
benefitting from an increased volume of quiet reflection
Meetings are still one of the best opportunities to showcase one's personal brand, and introverts were making the best use of the full functionalities of virtual meeting apps. The raised hand and chat functions provided easier ways for less vocal participants to have their contributions heard.
Allyship is a key part of creating an inclusive workplace culture and promotes empathy, authenticity, and courage. Extroverted colleagues and more confident introverted colleagues became allies to quieter team members. They were mentors and enablers to such ones who possess the leadership qualities their team could benefit from.
As a leader, what are the factors both professional and personal that drive you? What keeps you going?
Achieving a job done well is my driver. I'm also driven by creativity. I feel it's in my blood and is the foundation of everything I do, whether that's as a colleague, father, or friend.
In your opinion, do digital events give you a similar level of feedback/result vis-à-vis the live versions? What would you say were the biggest pros and cons of both formats? Which do you prefer?
I feed off people's energy when delivering public events, so not being able to see my attendees or hear their verbal cues, or how my (funny or unfunny) quips are landing have been difficult during digital delivery.
On the flip side, I've witnessed some incredible discussions in the chat function during my sessions. Can you imagine talking with a colleague during a meeting while someone else is speaking? Me neither. However, this new approach has become incredibly effective in giving added voice to introverts.
What is your take on in-person events? Do you prefer in-person events as compared to hybrid or virtual? How soon do you think in-person events would return?
Human beings are social creatures by nature. Socializing and engaging with others is almost as crucial as food and water to our survival. So yes, overall, face-to-face communication fosters higher-quality interactions than online communication. I attended my first in-person event in almost two years at a 2022 Commonwealth Games preview gala in Birmingham. Although it took me some time to adjust back into the feeling of active participation as an introvert, I felt much more connected to those I was speaking with once I got in full swing.
In your opinion, what are the top 3 challenges to returning to 'In-Person' events? How could we mitigate risks?
Navigating our new norms of interacting with each other in a physical space. I didn't know whether to fist bump, elbow bump or shake hands with those I met in a recent networking event. Who leads who? How does one make the other feel comfortable?
Finally seeing and hearing speakers live and interacting in-person with attendees before, during, and after each session brought about a new type of fatigue: post-pandemic in-person fatigue. Making sessions shorter, hybrid and accessible to all will be key to easing people back into the in-person experience.
Health and safety is a big concern for many and so taking great care to make every participant feel safe is a challenge for organisers. Communicating early and frequently will help to mitigate risks.
Eventible has recently launched a B2B Interactive in Person Event Tracker, tell us what you think? Do you think this is useful?
I think it's a great timesaving way to keep track of the live events industry, ensuring events will always continue to be an integral part of the way we deliver excellence and build useful connections.
Eventible.com is a review platform specially catering to B2B events. Given how review-driven our lives have become today, do you think reviews will bring in a level of transparency to the events industry? Would you rely on event reviews from other speakers if you had to make a speaking decision?
Indeed. Websites like Glassdoor and Tripadvisor are usually taken as gospel over the word of the companies being reviewed and holds them to account. The B2B events industry would greatly benefit from this scrutiny and the feedback received will improve the customer experience.
Finally, do you have a favorite mocktail or drink? We'd be delighted to know.
As a child of the Caribbean, I cannot refuse a good rum punch. I finally learned how to make a replica of one I tasted in Barbados, so I'm really looking forward to sharing it with friends and family.

About Richard: Despite running a regular Guardian Masterclass series on how to become a successful introvert, a quick look at Richard Etienne's CV would suggest that he is anything but introverted. In his day job, Richard is the Head of Leadership Communications at the Department for International Trade (DIT) and was previously Prime Minister Theresa May's official videographer during her tenure at 10 Downing Street. Richard is the former co-chair of the BAME Network at DIT and was fundamental in the promotion of white allyship for Black, Asian, and minority ethnic (BAME) colleagues and increased BAME representation at the senior level.