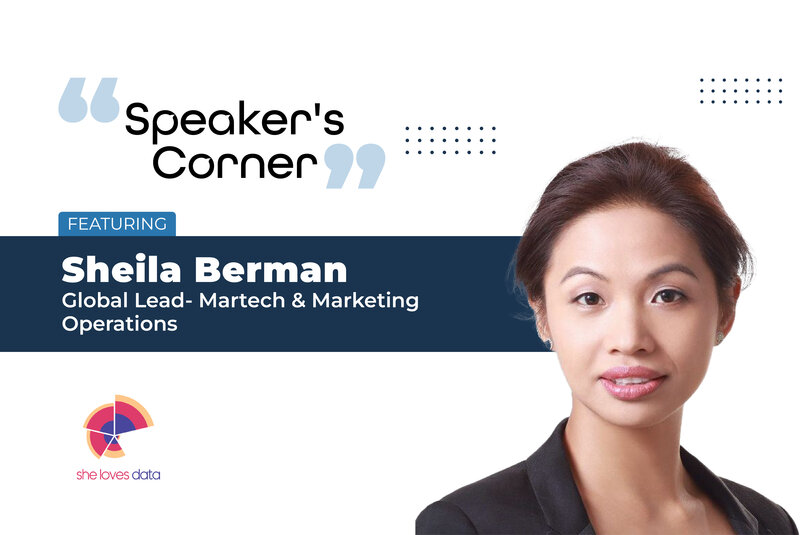 Before becoming the Global Lead for MarTech and Marketing Operations at She Loves Data, Sheila Berman has worked in consulting firms to help implement projects funded by the World Bank and the Japan Bank for International Cooperation.
In the past, she has also successfully co-founded and exited a start-up company, as well as handled P & L responsibility at Kmart Australia and New Zealand before delving into the world of digital marketing, and marketing in general. She has since worked as a Marketer in various leadership roles in training and development, real estate, not-for-profit, and chemical as well as distribution.
In conversation with Eventible, Sheila talks about her journey so far, her role in She Loves Data, her vision for the industry she is operating in, the challenges a woman faces in the IT and data analytics industry, and so on.
Everyone has a story to tell? What's yours? What's your journey so far been like?
My journey is not straightforward. I am a domain changer, having transitioned to different roles and industries over the past years. I lived in the Philippines, Australia, the United States of America, before choosing to live in Singapore for now. I co-founded a start-up focused on natural language processing while working in the merchandise planning department of a retail company. When the start up exited, I had already moved on digital marketing. Over the years, I started focusing on specific aspects of digital marketing until I chose to take on MarTech and Marketing Operations at She Loves Data.
What is She Loves Data all about? Can you highlight the thought process and philosophy behind the brand?
She Loves Data is a not-for-profit social enterprise with a mission to help move the needle on gender equality in the data & digital economy, by providing equitable access to free trainings, career development opportunities, and access to a global support network.
How has the COVID-19 pandemic changed the way you work today? What trends do you see coming into force after the pandemic?
The pandemic has shown us the importance of and investing in digitalization. Manual processes still have their place in the workplace; however, where the processes can be automated or efficiency improved using technology, the overall benefit can outweigh the financial cost.
Currently, everyone is enthusiastic or alarmed over AI-based technologies, notably chatGPT, and that will continue as Microsoft, Google, Bing, and other companies invest on these products and services. However, the results have shown us that we cannot simply rely 100% on these technologies. We still require human intervention to fact check or we would be seeing hilarious, inaccurate, or plagiarized content.
What is your vision for the future of the industry you are operating in?
I envision for the not-for-profit industry a future where people can clearly see and experience the impact of what our organizations are doing, and to have stronger mutually beneficial partnerships with businesses to provide support to the various initiatives prioritizing mental health, data and tech upskilling, and diversity and inclusion.
What factors, professional and personal, drive you as a leader? What keeps you going?
The knowledge that I am helping people, be it in their career progression or in their personal growth. As I help them, I also learn and grow with them. Leadership is not about knowing all the answers; it is also about knowing when to step back and trusting the team to do what they have been entrusted to do. This is a work in progress for me.
It can be challenging for a woman in the IT and data analytics industry. What is your opinion about the same, and what do you think needs to change for the women in this industry?
It is indeed challenging for women to be part of the data and tech industry. A Statista / BairesDev 2022 report showed that distribution of female employees in tech jobs worldwide from 2015 to 2021, by seniority level, ranged from 5% (Trainees) to 24% (Semi Senior).
What the various literature showed is that more needs to be done to 1) encourage women to consider data / tech as a career option, 2) enable women to get not only a mentor but an advocate in order for them to progress in their career, and 3) build a strong supportive network for women who are already in data / tech roles.
What would you advise other women looking to break into the IT and data analytics space and break the glass ceiling?
I would advise women to build or be part of a supportive community and to continue to upskill themselves. A community is powerful when its members are working together to reach the same goal. Breaking the glass ceiling will be difficult, not impossible, without a support system.
On upskilling, She Loves Data's recently conducted Southeast Asia consumer survey in collaboration with Milieu Insight showed that 3 in 10 women in Southeast Asia showed interest in learning about AI, Data and Analytics. The interest is there and, fortunately, the courses are also out there.
At She Loves Data, we provide free workshops in partnership with domain experts. Our new signature program SLDxDigital will provide reskilling pathways that will equip women with transferable skills in the areas of Digital Innovation, Digital Analytics and Data-driven Digital Marketing. The training materials have been reviewed by the Advisory Board with Georges Mao from Meta as Board Chairman, David Dubois from INSEAD, and with Jana Marle-Zizkova and Priyanka Dwivedi from She Loves Data. Full article here.
How was your experience speaking at the Global Virtual MarTech Summit 2023? What was your biggest takeaway from it? 
It was overall a good experience. I have spoken at various online events, and each have their flavour. I was pleasantly surprised by how engaged the attendees at our session, and the quality of the questions they were posting on the chat.
My biggest takeaway is that you can still get good engagement from online attendees if the topic resonates.
Since last year we have seen the comeback of many in-person events. What is your take on in-person events? Do you prefer them over hybrid or virtual?
There will be pendulum swing for a bit, where people would prefer online to offline, because of zoom fatigue. However, given the current situation where budgets are being tightened, more hybrid events are likely to occur, particularly for learning purposes. For offline events, the conference will need to be different from what is offered by others or has a clear outcome for the attendees.
Eventible.com is a review platform catering to B2B events. Given how review-driven our lives have become today, will reviews bring transparency to the events industry? Would you rely on event reviews from other speakers if you had to make a speaking decision?
Reviews are always helpful if they provide enough information. If they are mostly generic or don't provide details, they will not be useful for most people. I would definitely look at the speaker reviews about the event, the audience review, and the testimonial by both the event organizer and the speaker about the other.