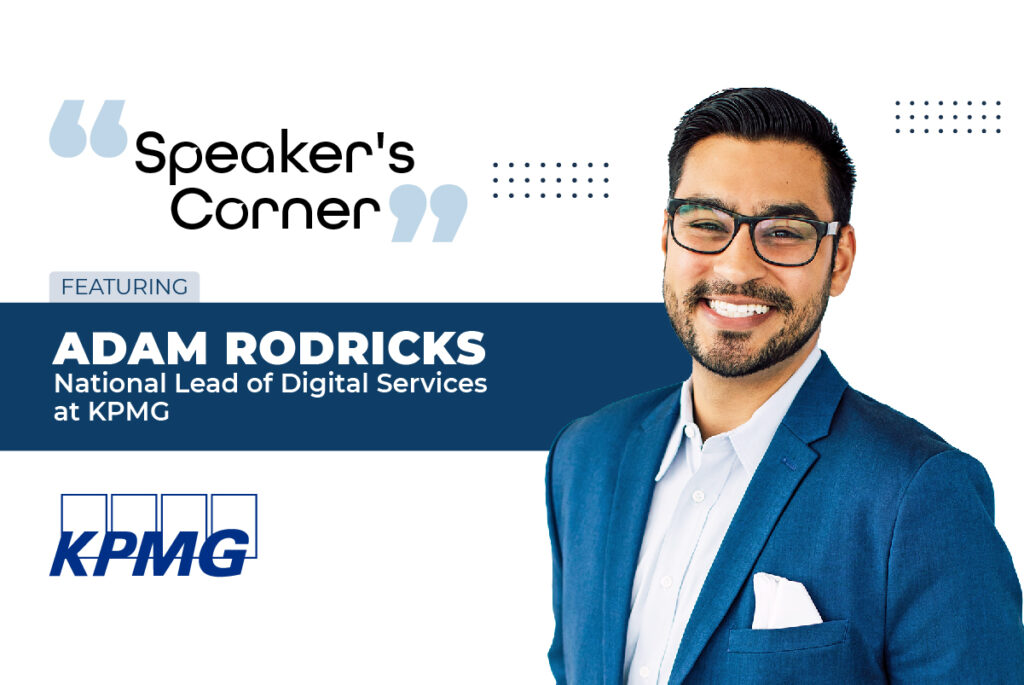 Speaker's Corner: Featuring Adam Rodricks, National Lead of Digital Services at KPMG
Adam Rodricks is an international award-winning social media strategist and speaker who has transformed "word of mouth" into a world of mouth for Fortune 500 companies. He's the National Lead of Digital Marketing Services at KPMG in Canada. In his spare time, Adam teaches the LinkedIn fundamentals course at George Brown College and serves as a Program Advisor on Digital Engagement Strategy at Centennial College. Adam has spent the last decade working as a digital and social strategist with such brands as Toronto Star, American Express and Staples Canada. His work as a social media influencer has been featured on CBC, CTV, Yahoo, BNN, DigitalJournal.com, MaximumPC, WhatCulture.com, Staples.com, Nintendo.ca and his own site: www.adamrodricks.com.
What are the transformations that you have noticed in the way companies run their operations today due to the impact and influence of social media?
The emergence of the micro-influencer model, people who have less followers but who are highly influential among them, has been a long time coming, and has transformed the ways in which brands collaborate. When we talk about the impact, building relationships with these individuals has enabled businesses to establish connections and conduct more conversations authentically; this is the new gold standard.
Micro-influencing transcends the social medium as well – you don't have to be on Instagram to understand the power of a trusted advocate: think about the last time you bought a car or how you voted. Odds are, you didn't make these decisions in complete isolation; you consulted one or a few people whose opinion on the matter you trust, and then you took action. That's micro-influencing at its finest.
What do you believe are the emerging trends within the digital space that companies and brands need to keep an eye out for?
Augmented reality can do far more than add cat ears in a Snapchat filter, and we're seeing that play out in the crypto-currency market as well. Brands who are successfully incorporating A/R into their content strategies are reaping the benefits of heightened engagement.
On the paid side, it's no longer sufficient to target ads only by broad, over-arching topics – the age of personalization is upon us and consumers expect nothing short of a 1:1 message on their feeds if they're going to click.
What is your biggest objective as a speaker?
If, by the end of my talk, I've compelled you to take action, I've done my job.
Jonah Berger said it best in his book Contagious, "Good marketing can make you laugh, scream or cry. But [the right speaker] can compel you to talk, share and buy."
Take us through the core points of the panel(s) you are participating in at Collision 2021. What are you hoping to accomplish via your session(s) there?
During my session 'Going Viral, Despite Vaccines', we're going to do a deep dive into the social media trends that have emerged as a result of the pandemic and what their lasting effects could mean for the social media industry in a post-pandemic world.
Why does snackable content reign supreme? Is there a correlation between Instagram shopping and bank fraud? Is it insane to run 1,000 variations of an ad for a campaign? These are just some of the questions we'll be answering on April 22nd at Collision.

As a follow-up, do you feel that digital events give you a similar level of feedback/result vis-à-vis the live versions? What would you say were the biggest pros and cons of both formats?
I'd be lying if I said digital events were every bit as engaging as standing in front of someone and making direct eye contact as you deliver your message. Just like a Zoom call with friends: it's lovely, but it's not the same.
But! Virtual events have enabled me to reach almost 100,000 people this year, more than any previous year in my speaking career. Going virtual has also allowed me to speak at conferences in India and China, and they've been the catalyst for conversations with people I wouldn't otherwise have had an opportunity to meet or collaborate with.
The downside, of course, is competing for your audience's attention: I teach a class at a local college in Toronto, Canada. When the cameras are on, you can just see how many distractions are present either on screen or in one's home. I know firsthand that it's not easy to be as impactful as I was in the classroom, so I've become inventive with the tools I use to reach people in new and exciting ways.
As you know, our start-up, Eventible.com, is a review platform for B2B events. Given how review-driven our lives have become today, do you think reviews will bring in a level of transparency to the events industry? Would you rely on event reviews from other speakers if you had to make a speaking decision?
Absolutely. I touched on it earlier, but micro-influencing is on the rise because of a very simple premise: people trust other people. From an attendee's perspective, if I know someone has similar objectives for attending a talk or a conference, and they tell me it was a great use of their time, that holds weight.
As a speaker, I'm basically a part-time juggler. If I'm not delivering a talk, I'm poring over my data to create the next one, promote the existing one, or working on my upcoming book about speaking. Testimonials from my peers are as precious to me as ever.
Finally, do you have a favorite/go-to cocktail? What is it?
I do! I'm a whiskey man. It's a bit of a post-game ritual for me to watch my talks back to understand where I can improve, and since everyone hates the sound of their voice on camera, the only thing that can coax me to endure it is often an old-fashioned.
You can follow Adam on LinkedIn and Twitter. Register for Collision 2021 here.