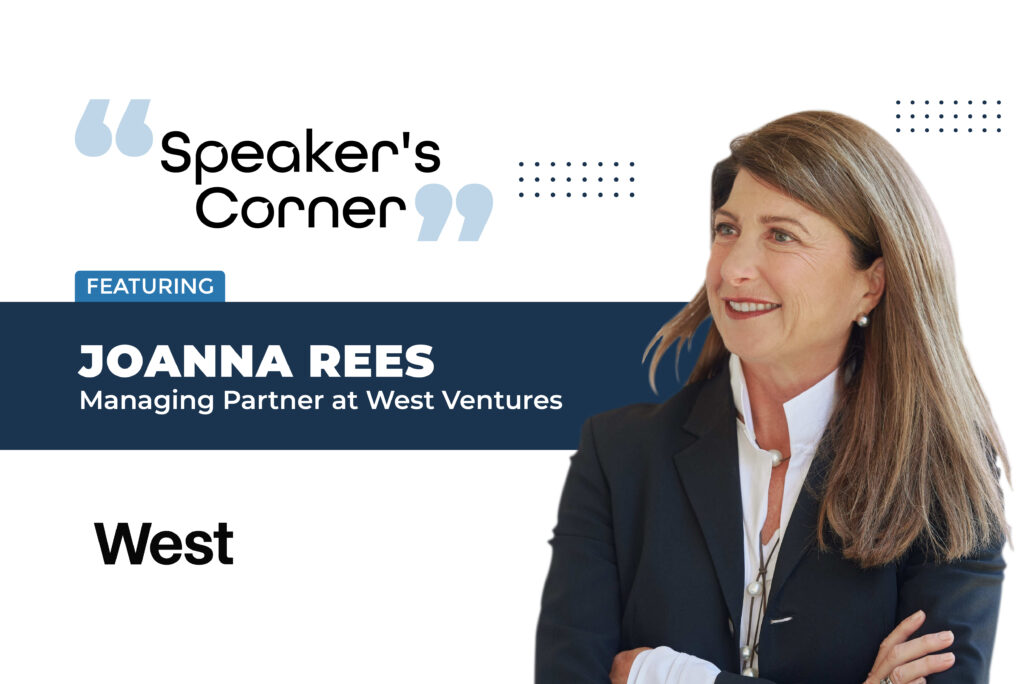 Speaker's Corner: Featuring Joanna Rees, Managing Partner at West Ventures
Joanna Rees has spent her career as a leading brand marketer and investor. She is the Managing Partner of West, a venture studio that specializes in designing, building, and launching brands including Twitter, Square, Impossible Foods, Prelude Fertility, and GoFundMe. She has served on the board of 30+ VC backed companies and three public technology companies. She was a Senior Advisor of the B Team and led the formation and capital raise for Endeavor Catalyst, Endeavor Global's impact investment fund. Joanna founded VSP Capital, a venture capital firm focused on early-stage companies combining technical innovation and market development.
What role does West Ventures play within the VC landscape?
West has a unique structure at the intersection of business and brand strategy, design and creative, and venture capital. We believe that the most innovative brands can only unlock their full potential when they reach new markets and build end-to-end experiences that surprise and delight customers at all points. So, we work with founders and their teams in our brand studio to help companies define their brands, capture their market opportunity and create new categories. We then selectively invest in the companies we work with to enable them to achieve maximum value as a long-term strategic partner.
Why do you believe there is a need for greater diversity within this sector?
Greater diversity is needed on a number of levels. In venture capital and the tech/startup ecosystem more broadly, we have so much work to do to ensure better representation of founders and those writing the checks. If we are only backing one type of founder, then only one set of problems are being solved (not to mention this keeps wealth creation in the hands of one small group). We also have to intentionally increase representation on the other side – those writing checks or involved in the venture capital ecosystem.
At West, we intentionally recruit talent with diversity at our core, because in order to create outstanding work, we need broad perspectives, backgrounds and skills. We want to make sure we don't have blind spots in our thinking. Diversity broadens and deepens our perspective to provide the most compelling and innovative strategy and execution for our partner companies.
What is your biggest objective as a speaker?
Anytime I am lucky enough to participate in an event like the Collision Conference, my goal is always to shed light on an important issue and elevate the perspectives and voices of those I'm fortunate enough to speak alongside. I believe business can be a force for good in the world if we make sure that business practices positively serve society.
What are you hoping to accomplish via your session(s) at Collision 2021?
Content makers play an integral role in society, influencing what we watch, what we listen to, and how we think about ourselves in the context of pop culture and society at large. Increasingly, tech investors are funding more startups that empower content creators to deliver their talents directly to consumers, thereby democratizing access to high-quality content that otherwise wouldn't be accessible or discoverable to the broader population. That's a step in the right direction, but given tech's outsized influence on our lives, and the role it plays as a gatekeeper in determining what messages break through, it's important to keep tech leaders and investors accountable for the intentional and unintended consequences of their decisions and to encourage them to be proactive and thoughtful in designing their platforms for inclusivity.
As a follow-up, do you feel that digital events give you a similar level of feedback/result vis-à-vis the live versions? What would you say were the biggest pros and cons of both formats?
What I've been enjoying most about the increase in digital events this year is that truly anyone can tune in from anywhere. The potential to hear the perspectives of great leaders is at an all-time high, there's more willingness from everyone to participate because you no longer have to travel. However, I do miss those in-person moments where you could catch someone quickly in the halls. Those off-the-cuff moments have been difficult to recreate on so many levels this year as we are all remote, all the time. You also do not build relationships in the same way it is possible at an in-person gathering.
As you know, our start-up, Eventible.com, is a review platform for B2B events. Given how review-driven our lives have become today, do you think reviews will bring in a level of transparency to the events industry? Would you rely on event reviews from other speakers if you had to make a speaking decision?
Anytime we're able to bring more transparency to an event, I think that can be beneficial.
Finally, do you have a favorite/go-to book? What is it?
I don't have a single go-to book. I have always been inspired by reading about the stories of leaders who have made a big impact, ranging from historic leaders like Harriet Tubman as an abolitionist and political activist to recent pioneers like innovator and Nobel Prize winner Jennifer Doudna for her work on CRISPR. Learning about their struggles, their perseverance, and their commitment to purpose always gives me strength to work through challenge and gain valuable new insights.
You can follow Joanna on LinkedIn and Twitter. Read reviews for Collision 2021 here.