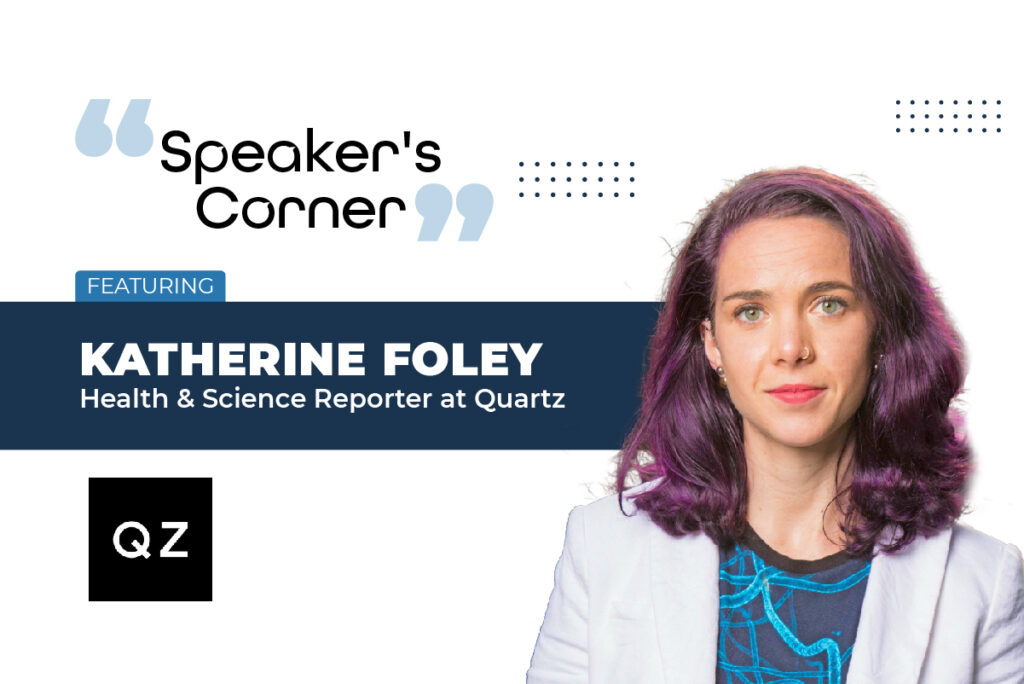 Speaker's Corner: Featuring Katherine Foley, Health & Science Reporter at Quartz
Katherine is a health reporter for Quartz based in Washington, D.C. She holds an M.A. in Journalism from NYU's Science, Health and Environmental Reporting Program (SHERP 33), and her undergraduate degree is from Georgetown University's School of Foreign Service, where she studied science, tech and international affairs. She is also a co-leader of the free fitness group November Project DC, and the co-owner of a very grumpy tortoiseshell cat.
As an experienced journalist within the health sector, you have had a front seat when it comes to rapid changes there, particularly over the past year. What have been the most important takeaways for you here?
I hope we've learned how important it is for the public health sector to be able to prepare for the worst events, rather than reacting to them after the fact. While I believe that hospitals, doctors, and everyone else in health care did a phenomenal job this year, they'd be able to do so much more if they had the funding and capacity to prepare for the next disaster. Unfortunately, I fear that once this pandemic is behind, we'll forget about it.
What do you believe is your role as a journalist in a world that is still trying to make sense of its "new normal"?
The spotlight has been put on a lot of processes around our healthcare system as they've acted in emergency capacities. We've seen how well they work together (and sometimes, what needs to be improved). Moving forward, I think people are going to want to see how these systems—like the US Food and Drug Administration, the US Centers for Disease Control and Prevention, CMS, etc.—actually work in regular capacities to bring the newest technologies into our healthcare systems.
What is your biggest objective as a speaker?
I just want to keep audiences engaged, and to actually teach them something they don't already know.
Take us through the core points of the panel(s) you were participating in at Collision 2021. What were you hoping to accomplish via your session(s) there?
For this conference, I spoke with Mario Schlosser, the CEO of Oscar Health. My main goal was to get Mario to talk a little bit more about how the disruptor of the US healthcare system is adapting to the disruptions of Covid-19.
As a follow-up, do you feel that digital events give you a similar level of feedback/result vis-à-vis the live versions? What would you say were the biggest pros and cons of both formats?
The biggest pro by far is the flexibility. It's far easier to attend a conference from the comfort of your own home, rather than traveling and taking off time from work. The biggest con, however, is that the chance meetups that often become fascinating conversations become much more limited. It's really on the attendee to be intentional about forming the connections with the people they want to meet up with the most.
As you know, our start-up, Eventible.com, is a review platform for B2B events. Given how review-driven our lives have become today, do you think reviews will bring in a level of transparency to the events industry? Would you rely on event reviews from other speakers if you had to make a speaking decision?
I would! Coming into an event, it's important to me to know that the event staff are easy to work with, and attendees are going to get just as much out of the experience as I am putting into it.
Finally, tell us about your current favorite read.
The Poppy War trilogy by R.F. Kuang.
You can follow Katherine on LinkedIn and Twitter. Register for Collision 2021 here.