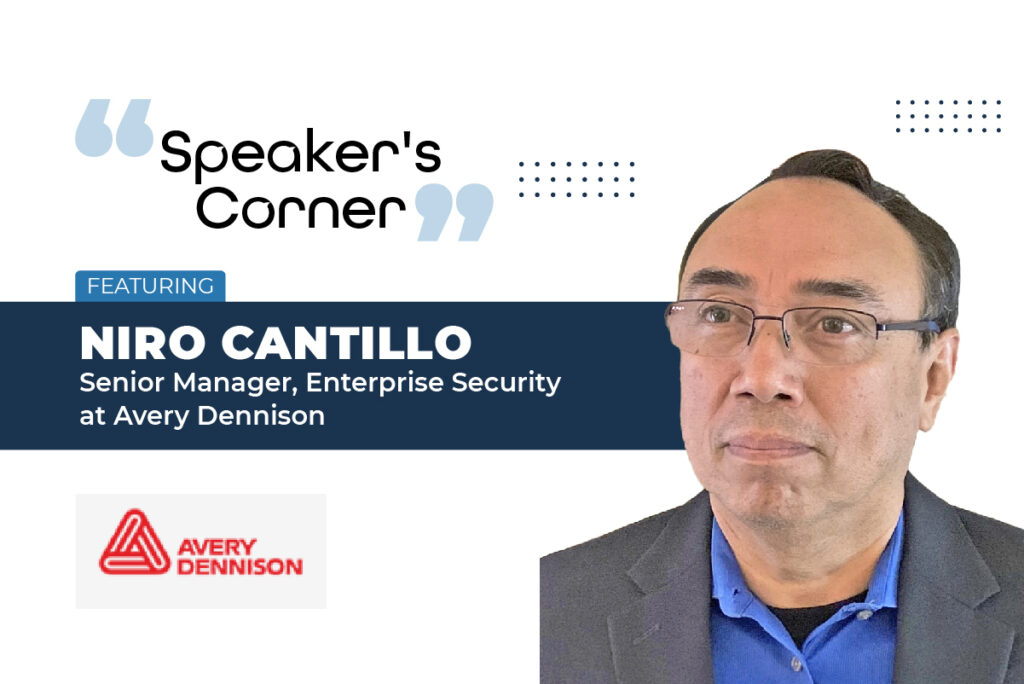 Speaker's Corner: Featuring Niro Cantillo, Senior Manager, Enterprise Security at Avery Dennison
Niro is an accomplished senior leader with over 25 years of systems engineering, information security, privacy, and compliance experience. He holds a bachelor's degree in Chemical Engineering as well as CISSP, CCNP, MCSE, MCT, and ITLT certifications. He has worked previously as a technology consultant for the DoD AFRTS, a technology instructor, and an expert witness.
How have your 16 years (and counting) with Avery Dennison helped you in understanding and predicting market trends in today's volatile environment?

I'm fortunate to work for a company that embraces technology and understands its benefits and importance. The agile and dynamic nature of our company and the demand it brings to the solutions we implement requires us to stay abreast of any directional change technology may take, regardless of the factors driving said change. Working at a global company, you come to realize that technical solutions behave differently, depending on multiple variables, so you are always thinking in function of what's coming next, how is that going to help you solve the challenges you may be dealing with, will you even consider implementing, etc.
Tell us a little about your experience with network and security design.
I've been involved in the IT industry for over 25 years and my first memory of implementing a network is the implementation of LAN Manager 1.1 for a consulting firm. Concepts or Role Base Access Controls were foreign at the time, but the idea of access to resources based on a need were identified (although very limited in implementation). From the days of LAN Manager, it naturally evolved to the mainstream network OS of the moment, "Novell, Windows NT, Windows 2000", etc. I taught network and security design for a while and became a core practitioner of the overall strategy as I worked on larger implementation, and have been doing this ever since.
What is your biggest objective as a speaker?
As a speaker, my main goal is simply to share something that I've learned, something that I've experienced. Perhaps help someone avoid the same mistakes I've made, and help them move faster in their journey with the system implementation they are working on.
Take us through the core points of your presentation at Oktane21. What were you hoping to accomplish via this session?
The presentation I'm doing is on the implementation of Okta Access Gateway and how/why we decided to move forward with this solution vs. Oracle Access Management (OAM) services. Part of this presentation is to highlight the challenges we were facing, mostly dealing with data normalization and time.
OAM is a feature-rich solution with great capabilities. However, we have the same with Okta, so we looked at a solution we could implement in the shortest amount of time, with the lowest disruption, and that is precisely what we got with OAG.
As a follow-up, do you feel that digital events give you a similar level of feedback/result vis-à-vis the live versions? What would you say were the biggest pros and cons of both formats?
I was just recently talking to someone about this and mentioned that I prefer the live version events over the digital ones, as you can engage with the audience almost at a personal level. When you are doing a live event, you get to see their expressions, their body language and that immediate feedback helps you change the cadence and presentation dynamic. Don't get me wrong, digital events deliver what they promise, it's just that I have a preference for live events.
As you know, our start-up, Eventible.com, is a review platform for B2B events. Given how review-driven our lives have become today, do you think reviews will bring in a level of transparency to the events industry? Would you rely on event reviews from other speakers if you had to make a speaking decision?
Reviews are important and they help us make decisions, not only from an event point of view, but from other activities we conduct, i.e., buy a new car, go on a vacation, etc. We hope that event reviews will provide the same level of insight that could assist us in our decisions to participate in any event, be it as a speaker or a guest (especially when the cost of the event is high).
Finally, do you have a favorite/go-to cocktail? What is it?
I'm a simple guy with very simple tastes. I like Irish whiskey, preferably Jameson, or vodka, preferably Stolichnaya. What I will drink depends on my mood and the occasion.
You can follow Niro on LinkedIn. Read reviews for Oktane21 here.