NOTE FROM EVENTIBLE FOUNDER
Fierce. Relentless. Inspiring
Just a few of the words I would use to describe the honorees for our 'TOP EVENT MARKETERS of NORTH AMERICA' program for 2022.
We started out by inviting hundreds of senior event marketers to share the details of their projects and the challenges faced across a tough 2021. The final list of 14 we see comprises tough-as-nails, fearless women who have left a mark, fought the challenges that came their way and emerged on the top of their profession.
No coincidence then that all 14 are women, this is something that I didn't expect at all when we opened nominations and now it explains everything! Therefore, on the very apt occasion of International Women's Day, I am so pleased to recognize and share these immensely talented marketers and event professionals with the world.
2021 was a year filled with challenges, the pandemic seemed to ebb and flow, virtual event formats tried to morph back into in-person formats and back to virtual as cities around the world grappled with newer waves of the pandemic. Virtual events, though firmly established as a solid option during 2021, brought along a newer set of challenges – such as falling engagement levels as attendees dealt with zoom fatigue and older worries of effective networking through virtual formats persisted.
Through this environment, our honorees refused to buckle, raised their game – as all champion players do – and through sheer force of will and a little side of luck, came through, battle scarred but much wiser. Their experiments and innovations with programming, content and marketing paid off and these are the stories we are attempting to bring forward.
I do hope that their stories will show you that tough is just another bump to get over and inspire you to reach ever higher.
Let's continue doing what we know best – happy marketing & good fortune!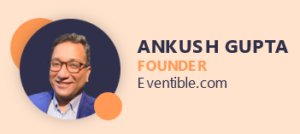 RECOGNISING THE TOP EVENT MARKETERS PRACTISING IN NORTH AMERICA
Click on profile card to learn more