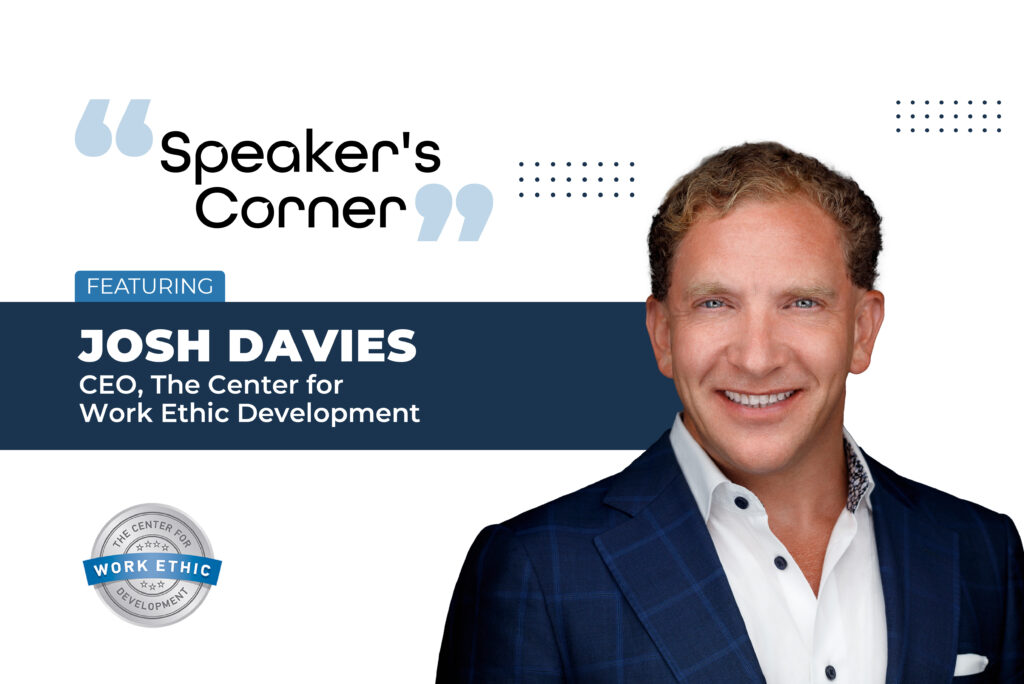 Speaker's Corner: Featuring Josh Davies, CEO of The Center for Work Ethic Development
Tell me about The Center for Work Ethic Development and its work…
The Center for Work Ethic Development partners with organizations around the world that are helping prepare people for the world of work. We provide a curriculum (both instructor-led and online) and certification that develops the seven foundational workplace skills that employers demand. Our partners include secondary schools, technical colleges, community colleges, universities, government workforce agencies, non-profit groups, community-based organizations, and even correctional institutions. We work with more than 750 organizations in 8 countries around the world.
What are the challenges within the training and coaching industry today?
The biggest challenge that every industry, including training and coaching, faces right now is the combination of volatility and uncertainty. The constant churn of change makes it difficult to move forward with any confidence. As a result, organizations are in a state of statis, not moving forward or backward as they attempt to keep up with the latest changes. What we need to do is be as agile as possible – find ways to adapt and evolve, often with little notice. Building multiple approaches and being willing to change direction on the fly are the best ways to thrive in this environment.
How has the COVID-19 pandemic affected the work ethic of employed individuals?
I don't believe that the pandemic has affected the work ethic of employees – what it has done is simply amplify those who already had those skills. Remote work is a perfect example. Employees who already had developed skills around accountability and attendance flourished in this new environment, while those who lacked the skills found themselves floundering. More than anything, the biggest impact of the pandemic has been the increased blurring of lines between work and personal time – and building strong boundaries between the two.
What are the current trends within the sector?
What sector are you referring to here? Just wanted to get a little more direction before answering the question.
What is your biggest objective as a speaker?
When I speak to an audience, I want to both give them some actionable new information and do it in an entertaining manner. The more engaging you can be, the more likely your audience is to put down some of their barriers and be open to seeing new information. I know I've been successful when someone tells me that they have never had so much fun learning something new. That's when I've hit the sweet spot.
Could you share with us the points of discussion (the input that you provided) during your presentation at the ATD Conference?
My presentation was titled "2020: Foresight, not Hindsight" and it focuses on the positives of this past year. Rather than simply looking back and thinking about all of the things that went badly, let's find the good things that we can take with us moving forward. As we move to our "new normal", what are the lessons we've learned that will help us be more successful in the future. It is often said that hindsight is 20/20, but we can use 2020 instead to provide foresight for us to build an even better future.
As a leader, what are the factors both professional and personal that drive you? What keeps you going?
I constantly want to learn more, and that curiosity keeps moving me forward. These past 18 months have upended so many traditional systems and norms, and I am so interested to see what takes root next. How will things change in the way we live and work? What happens to education, to our approach to learning, to the way we share and receive information? Trying to figure out the answers to these questions and just to learn things you never knew before is what drives me – especially when I then get to share my learning with others.
In your opinion, do digital events give you a similar level of feedback/result vis-à-vis the live versions? What would you say were the biggest pros and cons of both formats? Which do you prefer?
There are advantages and disadvantages to both approaches. The best advantage of digital events is that it removes the barrier of distance. You can now have an audience of people from anywhere and everywhere, since they don't have to get on a car or a plane to get to an event. The biggest challenge with that format is the lack of interactivity and feedback. Even the best platforms and technology still don't allow for the organic, immediate feedback that you can get from an in-person audience. The biggest challenge with live, in-person events is the health and safety of all the attendees. With the evolution of the virus and varying levels of risk tolerance, it will continue to be a moving target and source of uncertainty.
What is your take on in-person events? Do you prefer in-person events as compared to hybrid or virtual? How soon do you think in-person events would return?
Live events are currently still my preference – though as technology evolves, virtual formats may get to a point where they are superior. The biggest challenge right now is hybrid events. Rather than being the best of both worlds, most hybrid events right now feel like they are highlighting the flaws of virtual and live presentations. Many organizations are trying to do hybrid as a bridge until in-person events return, but I think most would be better off staging two separate events – one live in-person, and one virtual. I'm already seeing in-person events return, but I don't think they will be back on a consistent basis until there is a point when we collectively feel confident in how we are living with COVID.
In your opinion, what are the top 3 challenges to returning to 'In-Person' events? How could we mitigate risks?
The biggest challenge is for meeting planners and venues – how do you protect yourself from a surge in cases causing an event to be canceled? There has to be some sort of shared risk that ensures that both parties can be confident in signing contracts. Beyond that, the next challenge is participant confidence. How can you make participants confident in the health and safety precautions you are taking? And the final challenge will be handling the first two challenges and at the same time delivering an experience that adds value. If speakers and attendees don't feel like being in-person makes the experience any better and provides more than watching a TED Talk on YouTube, they won't come back.
Eventible.com is a review platform catering to B2B events. Given how review-driven our lives have become today, do you think reviews will bring in a level of transparency to the events industry? Would you rely on event reviews from other speakers if you had to make a speaking decision?
I think the more information that is out there is good for everyone – meeting planners and speakers. Transparency has become the norm, and for just about every interaction, reviews have become an expectation. Having a platform for that in the speaking/events industry would be a welcome addition.
Finally, do you have a favourite mocktail or drink? We'd be delighted to know.
This summer I have gotten into Aperol Spritz – it's light, refreshing, and perfect for a hot day.
About Josh: Josh Davies is passionate about helping others make a difference in their lives, jobs, and community. Through his work as a speaker and trainer, he has engaged and encouraged professionals across North America, the Middle East, and Asia. His engaging and connecting speaking style combined with relevant content make him an in-demand speaker, giving more than 75 keynote presentations and workshops to education, workforce, and corporate events annually. Mr. Davies has been named by the Global Forum for Education and Learning as one of 2021's Top 100 Visionaries in Education in recognition for his contributions to education globally. Additionally, Training Magazine named him as one of the top 10 trainers under 40 in America and the Denver Business Journal tapped him as one of Denver's 40 Under 40.
Davies is currently the CEO of The Center for Work Ethic Development, an organization committed to developing workplace skills in the global workforce. Partnering with organizations in all 50 states and 7 countries, they equip trainers and teachers to build the workforce of the 21st Century. A graduate of American University, Josh has been awarded the Mile High Energy Award by Visit Denver and an honorary Doctorate of Foodservice by the North American Food Equipment Manufacturers Association for his contributions to the industry. He finished serving his second term on the Executive Board of the Colorado Workforce Development Council, where he chaired the State Education and Training Steering Committee. He also led the P-Tech Selection Committee for Colorado and served on the board of the Colorado Opportunity Scholarship Initiative. In addition to his work in the public sector, Josh also served on the Board of Directors for the National Association of Workforce Development Professionals, was President of the Council of Hotel and Restaurant Trainers (CHART), and co-chaired the Colorado State Youth Council.
To view the ATD Conference on Eventible, click here. To write a review, click here.